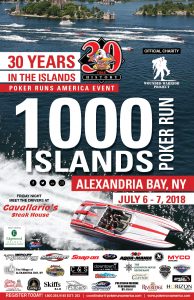 1000 Islands – Alexandria Bay has been the host venue for Poker Runs America's THUNDER ON THE BAY Hall of Fame Poker Run for more than 25 years!
This year's exciting season opener falls on July 7th, the weekend after Independence Day. This amazing spectacle of offshore performance boats will gather at the Village Docks for public viewing on Saturday morning. At 10 A.M., the start flag drops and the fleet heads north up the St. Lawrence River at 80-120 miles per hour, to Ogdensburg, then heads back south to Clayton for lunch at the Johnston House. After lunch, the poker runners make their way down to Cape Vincent for a card stop before heading back to Alexandria Bay.
You can catch the action from the shoreline as these magnificent boats roar by Clayton and Cape Vincent, or join the spectator fleet to watch the Poker Run from the water!
The Poker Runs America THUNDER ON THE BAY Hall of Fame Poker Run runs from 10 am-3:30pm July 7th, 2018. Don't miss it!
CALL US TODAY! 1-800-354-9145 EXT. 252! OR EMAIL COORDINATOR@POKERRUNSAMERICA.COM
The following is included in your entry fee:
Boat entry for the driver and navigator
Friday night poker run participant welcome party
Breakfast for two on Saturday
Lunch for two on Saturday
Tickets for two – Saturday night Banquet Dinner & Award Ceremony Outdoors
Event coverage in Poker Runs America Magazine/Power Boating Canada
Prizes and/or cash for 1st, 2nd, and 3rd place
Keeper trophy for 1st, 2nd, and 3rd places
Official event tee shirts for the driver and navigator