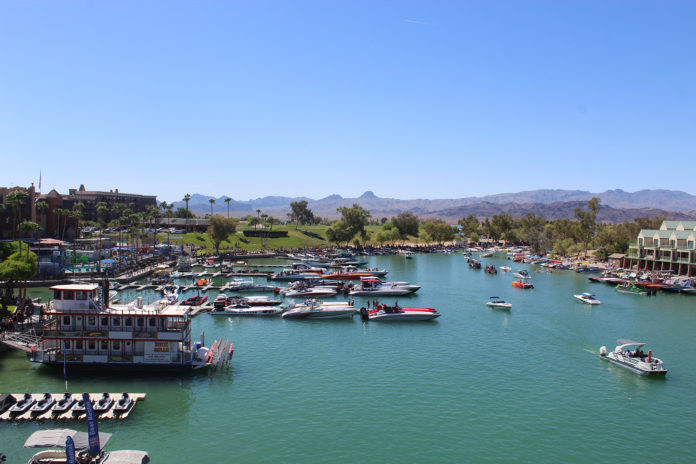 The Desert Storm Poker Run on Arizona's Lake Havasu celebrated its 25th anniversary in 2023 and the event's new owners celebrated it in style.
More than 100 poker run boats participated in the poker run, a relaunched shootout saw a 204.1-mph run and organizers threw the biggest street party in the history of the event.
The late April event was a smashing success for Jim Russell and Steve Ticknor, who purchased the event in November 2022 and saved it from an uncertain future.
"There are so many moving parts to this event, it's more than just the poker run," Ticknor said after Friday's poker run. "We wanted to get through this year and put on a good show. We tried to keep things as much status quo and not reinvent the wheel this year because we had no time."
The street party, poker run and shootout are the unofficial kickoff for summer on the West Coast and the boatbuilders turned out in force. West Coast builders Eliminator Boats and DCB Performance Boats as well as MTI were well represented. Ilmor Marine even introduced a new sterndrive during Desert Storm.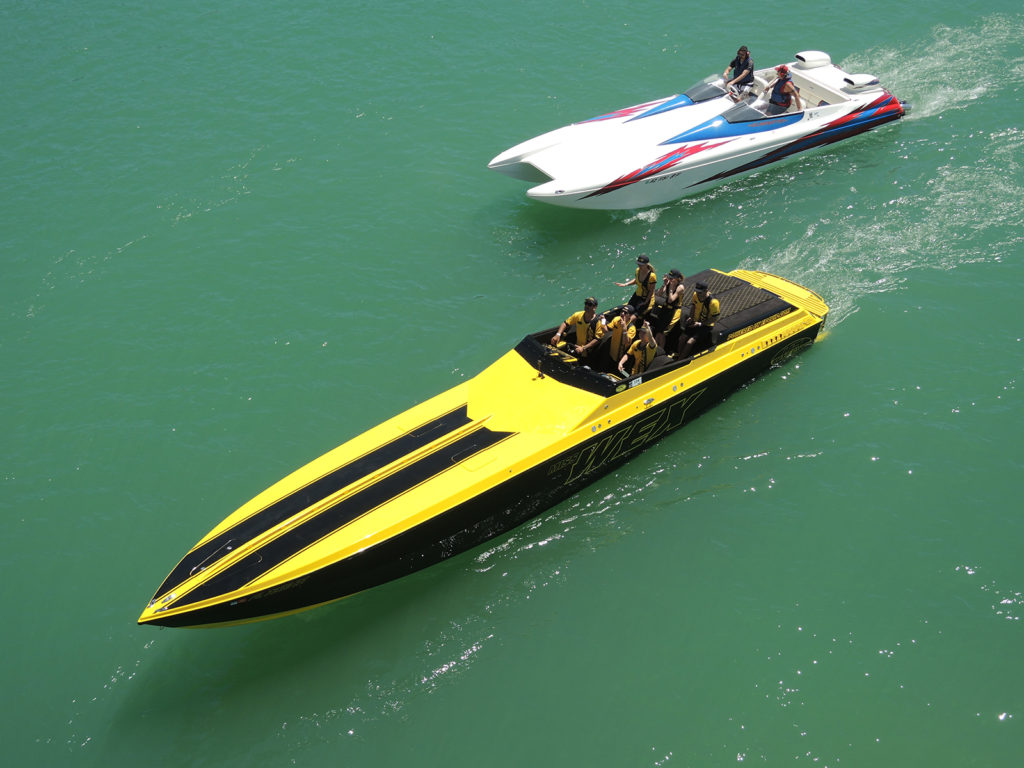 The Street Party was a huge hit taking over 1 mile of McCulloch Boulevard with boats, trucks and trailers lining both sides of the street. City officials estimate as many as 20,000 people turned out for the street party that started at 1 p.m.
"By 1:15 p.m. it was so crowded our staff could not drive down the street with their golf cart," Ticknor said.
XINSURANCE founder Rick J. Lindsey surveyed the crowd as the sun was going down on the warm spring evening. His company was displaying the new XINSURANCE/Good Boy Vodka boat that will race Class 1. The 50-foot Mystic Powerboats with turbines drew a crowd checking out the canopy boat.
"It's a lot bigger event than I expected," Lindsey said. "Walking from one end of the street party and back I almost had a heart attack."
Friday's Desert Storm Poker Run presented by Anderson Powersports started with the parade through the Channel before the 100-plus boats ran on Lake Havasu. The poker run wasn't without incident, however. Two people were injured when an Outerlimits V-bottom crashed and sank, according to the Mohave County Sheriff's Office.
Organizers retooled the Shootout, bringing in Ross Wallach of RPM Racing Enterprises to grow the Saturday event. Thousands lined up along shore to watch Gary Smith lay down a 204.1 mph pass to earn the King of the Desert.
One change Russell and Ticknor implemented this year was to set up the main event site on the lake under a large canopy. Previously, the parties took place at the city's Convention Center. It's improvements like this that organizers hope will bring more participants in 2024.
"We're always open to new ideas and making things bigger and better," Ticknor said. "We're looking at things to get people more involved and look forward to having a full year to plan the 2024 event."