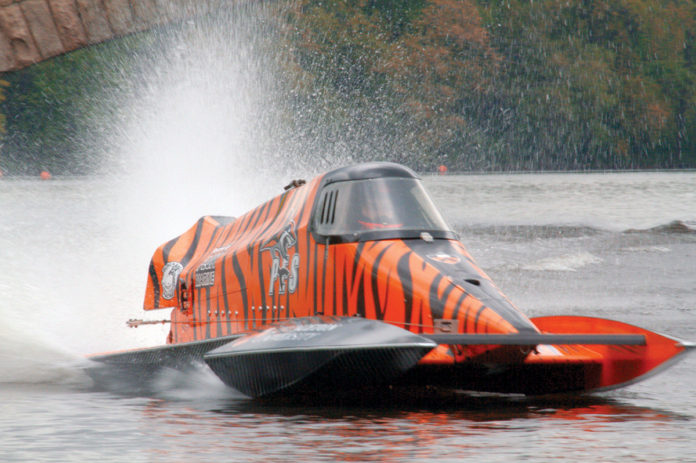 Since his last unlimited hydroplane race on Seattle's Lake Washington in 2017, J.W. Myers has not slowed down. In fact, he plans to break the World Water Speed Record for an electric-powered boat next month. This time the former unlimited hydroplane driver and one-time owner will not be driving but is lending technical assistance to a non-traditional racing crew — students from Princeton University.
Myers, a well-known American Power Boat Association (APBA) outboard hydroplane driver and 2003 rookie-of-the-year in the unlimited hydroplane class will be assisting Princeton students, alumni and long-time A.P.B.A. members when they attempt to break the APBA straight-away kilo-record for an electric powered boat, Thursday, October 26, 2023, on Lake Townsend, in Greensboro, N.C.
The team, Princeton Electric Speedboating Club, consists of 30-plus Princeton students that include economics, mechanical engineering, and computer science majors. They will attempt to break the existing sanctioned electric power boat record of 88.61 m.p.h. established in 2018 by Jaguar Vector tunnel hull race boat.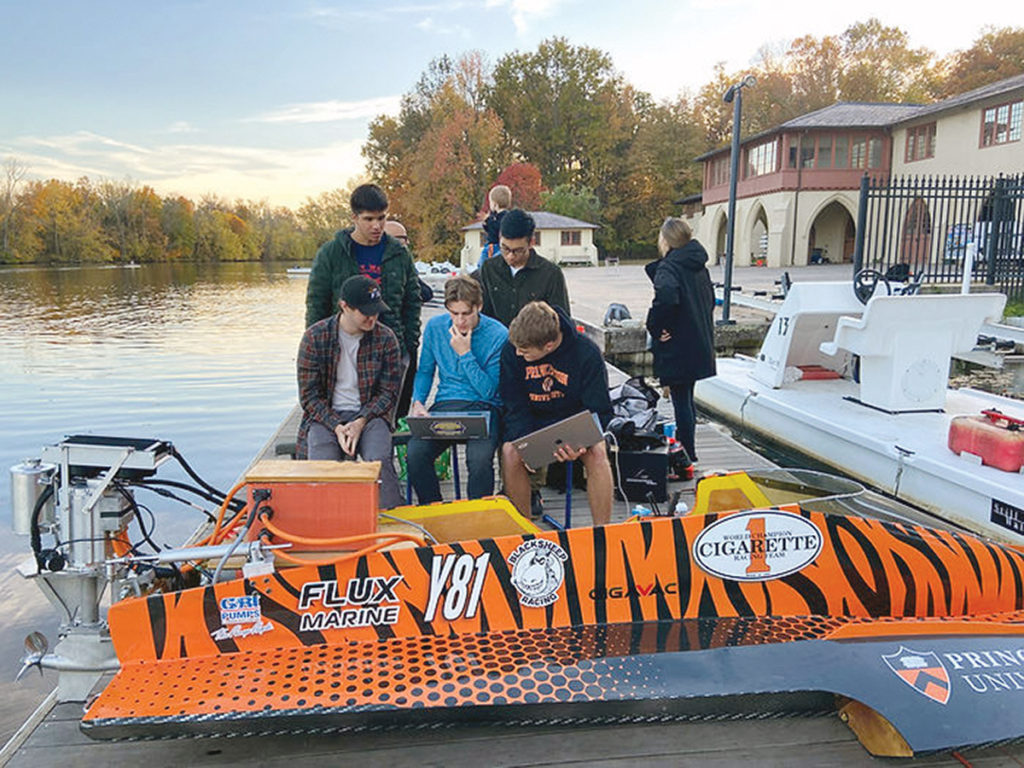 To set a world record in the United States a speed-record attempt requires a sanction from the A.P.B.A. and must take place over a one-kilometer course and requires a set number of runs. The record speed is determined as an average speed over the distance rather than the boat's peak speed.
According to the team's Chief Technology Officer, Andrew Robbins, the boat testing has produced speeds they believe are fast enough to break the record which requires their race boat to travel the measured kilo course in both directions and the two speeds are then averaged.  Also, rules for electric boat speed runs also do not allow for recharging or replacing batteries between initial and return runs.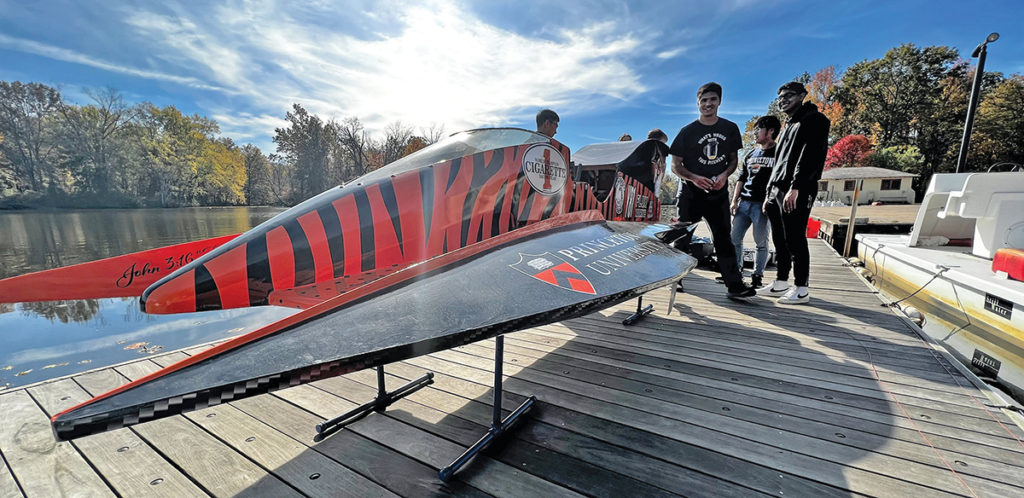 According to Robbins, the project started in February 2022 with the goal to break the 100-m.p.h. barrier for an electric boat.  
"We acquired our latest hull in 2022 from Jim Dernoncourt from Detroit," Robbins said.  It's a 14-foot "Pro-Outboard" hydroplane built in1993 by legendary race boat designer and builder Ed Karelsen.
"As soon as Jim heard about the project, he was on board with us using it," Robbins said. The race boat went through a full restoration by Dernoncourt prior to leasing the boat to the team. Robbins said they originally leased the boat because Dernoncourt "deeply did not want to part with his race hull."
Finally, with the convincing of Myers and long-time hydroplane driver John Peeters, Dernoncourt sold the boat to the team this summer. Peeters, from Arlington, Washington will be the Princeton Electric Speedboating's hydroplane driver. Peeters currently holds multiple A.P.B.A. driving records.
The enclosed-cockpit race boat was designed for a 700 cubic-centimeters or 1100 cubic-centimeters outboard motor, but the Princeton University club rigged it with a three-phase AC permanent magnet motor that weighs a mere 65 pounds. Powered by 400 volts, it has an energy capacity of 24 kWh. Robbins said overall the package will produce in excess of 200 horsepower.
Following testing that included speeds needed to break the record, Myers expects the record to fall. "These kids are the smartest, hard-working, dedicated group of kids I have ever known. That's no b.s. It's an honor to be a small part of the team's venture."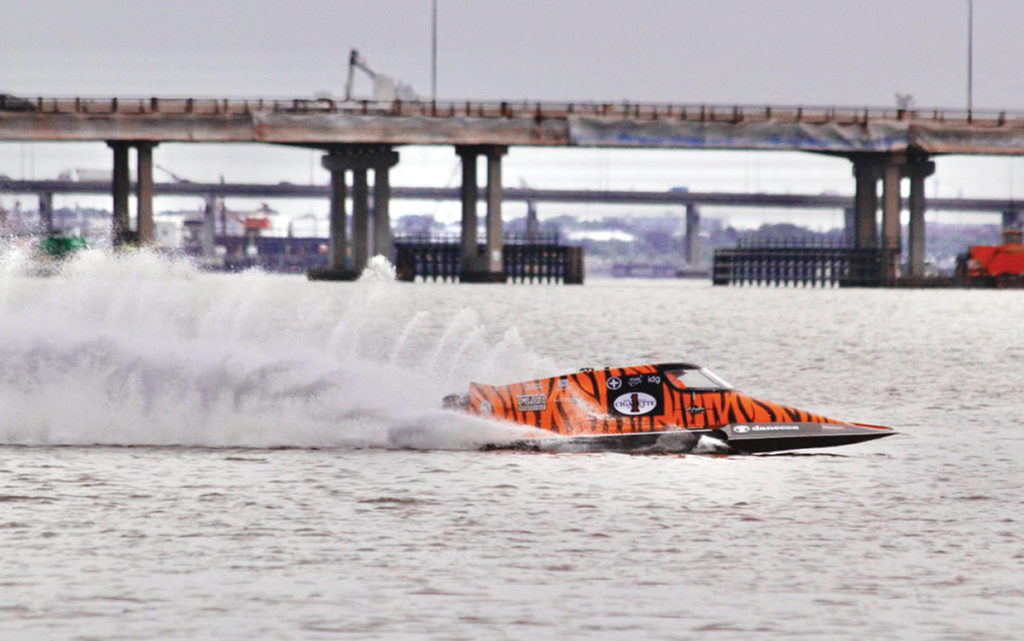 The team's business and marketing arm have worked with two major contributors, Flux Marine and Cigarette Racing, who are partnering in the record run attempt.
In addition to driving for seven different unlimited hydroplanes, Myers is known for promoting youngster's introductory involvement in powerboat racing. 
For several years Myers, with the assistance of the Qatar Marine Sports Federation, brought the J-Stock hydroplane category to the middle east, exposing boat racing to kids halfway around the world in Doha, Qatar.
This past year Myers began providing J-Stock hydroplane boat kits to children aged nine to 16-year-olds to a program in Valleyfield, Québec. The program, led by Bob Abbott, aims to inspire and introduce the next generation of hydroplane drivers to powerboat racing.
This month's speed record attempt is just another way to expose people to hydroplane racing, Myers said.
"I still remember the first conversation I had with J.W.," Robbins said. "I was waiting for a meeting with my professor. We talked for about 30 minutes, and it was incredible to end the call knowing this (breaking the record) could really happen."  He added, "J.W. was all for it from the get-go."— Owen Blauman