Continuing its Tradition of Starting the Miami Boat Show with a Bang, Mercury Racing Made Some Big Introductions at this year's event.
(Pictured above:  Mercury Racing's new 860 sterndrive will run on 89-octane with a 2 year warranty)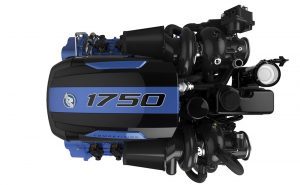 Mercury Racing unveiled four new products at the 2017 Miami International Boat Show starting with the latest engine in its QC4v series, the 860 Sterndrive. Designed, developed and manufactured in-house the naturally aspirated 9.0-liter engine features the company's exclusive aluminum four-valve cylinder heads and dual overhead camshaft valvetrain. The heads are integrated with Mercury Racing's proprietary V-8 cylinder block that features hardware designed specifically for the engine manufacturer. The valvetrain enhances performance and durability and lets the engine produce 860 hp at 6800 rpm on 89-octane fuel. Mercury Digital Throttle & Shift (DTS) is standard on the 860, which comes standard with the Mercury Racing M6 surfacing drive.

At the upper echelon of the power range for offshore powerboat racing, Mercury Racing has stepped up the power to its QC4v 1750 Competition, which increases power output over the company's current offering, the 1650 Competition. In addition to making more power and massive torque, the turbocharged engine sports a bold new color package to differentiate it from other QC4v offerings.
On the outboard side, Mercury Racing took its wildly popular Verado 400R and stepped up its graphics with the 400R Carbon Edition, an exotic high-performance Verado outboard that features contemporary layered surfacing sculpted out of lightweight carbon fiber composite. All Carbon Editions share the industry leading performance characteristics and creature comforts of the Phantom Black and Cold Fusion 400R.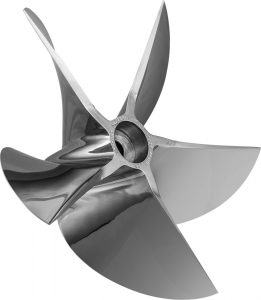 Finally, to put the power of the Verado 400R and 400 ROS offshore racing outboard to the water more efficiently, Mercury Racing introduced a new CNC Outboard Cleaver Propeller. The precision-machined five-blade propeller is produced on the same CNC machines as Mercury Racing's five- and six-blade stern drive cleaver propellers. The surface-piercing propeller is designed to maximize top-end speed on hulls powered by 400R and 400 ROS outboards fitted with the Mercury Racing Sport Master gearcase. Models range from 14 ½" to 15 ½" diameters with a 15-degree rake and pitches including 32", 32.5", 33.5" and 34". For more information, check out www.mercuryracing.com and keep an eye on future issues of Poker Runs America for feature articles on these exciting new products.