Mercury Marine's once again sponsored the 1000 Islands Gananoque Poker Run this year and recently showcased an array of exceptional prizes, among which two standout products from Seachoice, a trusted name in marine accessories, garnered significant attention.
Seachoice "Sea Carpet" Floating Foam Pad

The Seachoice "Sea Carpet" Floating Foam Pad measures 6′ x 12′ x 1-3/8″, and this pad boasts a vibrant Yellow/Teal colour combination that not only catches the eye but also signifies its quality.
Crafted with ingenuity, the Sea Carpet boasts extreme durability, ensuring it remains a steadfast companion on all your aquatic adventures. Its ripstop design prevents tares from worsening, maintaining the pad's pristine appearance. A factory-installed tether kit, along with storage straps featuring pad protectors, enhances convenience.
Made from 100% cross-linked polyethylene foam, this pad is not only maintenance-free but also UV stabilized, courtesy of its graphic film layer. With a capacity to accommodate 750-900 lbs. or 5-6 adults, it's a social hub on the water. Whether used for sunbathing, socializing, or as a springboard for aquatic fun, the Sea Carpet promises endless enjoyment.
Seachoice 10'6″ Inflatable Stand-Up Paddle Board Kit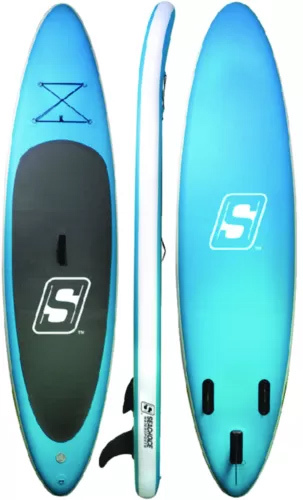 For those seeking a dynamic water activity, the Seachoice Inflatable Stand-Up Paddle Board Kit presents an exhilarating solution. In Aqua Blue, this inflatable paddle board offers unmatched stability, adapting seamlessly to various water conditions and positions.
Portability is a prime feature, as the iSUP can be deflated, rolled up, and effortlessly carried in its backpack-style bag. This makes it an ideal companion for adventurers on the go. The 6″ drop stitch construction and 0.7 mm extra supported fabric ensure the board retains its shape under high pressure, while the dual PVC layers in the sidewalls enhance air retention.
The kit is a comprehensive package, comprising the inflatable board itself, a three-section aluminum adjustable paddle, a manual dual-action pump with a pressure gauge, a repair kit, built-in and removable fins for added maneuverability, and a coiled safety leash with an ankle cuff.
Both the Sea Carpet Floating Foam Pad and the Inflatable Stand-Up Paddle Board embody Seachoice's commitment to quality and innovation. These prized products from the 1000 Islands Gananoque Poker Run are not just items; they are gateways to unforgettable experiences on the water. Whether it's relaxation or exhilaration you seek, Seachoice delivers. www.landnsea.com