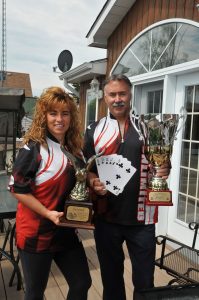 Wayne and Julie Casey were camping with their four children on Stovin Island in Brockville, Ontario, Canada, in the late 1990s when they heard a roar along the St. Lawrence River. The participants of the Poker Runs America 1000 Islands Poker Run sped by in their high-performance powerboats and the Caseys stared in awe.
"The poker run went by and we all went running to see what all the hoopla was," said Julie. "Then we started looking for a little bigger boat with more power," recalled Wayne. They moved up from their 23' Sea Ray to their first high-performance boat, a Baja 32 ES powered by twin 500 hp engines. Top speed was 72 mph. Not only were Wayne and Julie excited about the larger boat, their four kids Michael, (now 25), Stephanie 23, Melanie 20 and Valerie, 18, were elated just to have the extra space.
Wayne and Julie entered their first event at the Alexandria Bay Poker Run in 2000 and it was a family affair from the start. For the first few years, Stephanie took the port bolster while Wayne drove. Julie sat in the stern with the younger girls to keep them secure. Julie thought nothing of having her young girls in the boat while traveling at high speeds alongside a fleet of performance boats.
"That's why we love poker runners," she laughed. "They're crazy and just do whatever they need to do to keep going."
The Caseys are also avid snowmobilers and Julie remembered that earlier in 2000, they had attended a snowmobile rally that had temperatures in the 50s. At their first poker run on the water, the temperature was the same. They remained unfazed, bundled up and had a blast.
Thirteen years later, Wayne and Julie are still going strong on the poker run circuit, attending events as far away as Miami and Key West, FL., in their Cigarette 39 Top Gun Unlimited powered by twin Mercury Racing HP700 SCi engines with NXT-1 drives. Top speed is 104 mph.
"When we decided to go up to the 39', I said if we're going to do this, let's do this now," said Wayne. "We wanted to be able to cruise at 90 mph and the Cigarette is just perfect for that."
That they bought the boat says a lot for the confidence they have in the knowledge of their friend Reggie Doucette whom they met at a poker run. He checked out the boat, gave it the thumbs up and the Caseys cut the check. "We love our Cigarette so much," said Julie. "It was almost meant to be."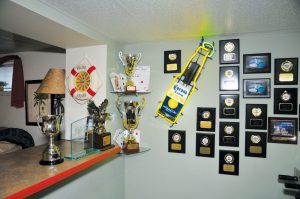 In addition to having good luck in the boat selection department, the Caseys have seen their fortunes change in the events they've attended. "We spent 11 years winning nothing at poker runs and then we got on a hot streak the last couple of years," says Julie. Their biggest win was a first place at the Casino de Hull Poker Run where the Caseys took home about $10,000 in prizes and money. Most recently, the Casey's claimed second place at the 2012 PRA Alexandria Bay Poker Run and the 2013 Tampa Season Opener earlier this year.
"The Casino De Hull was always our favorite," says Wayne. "We love sitting down at the docks and the accommodations were really good." During that run, the boats travel on the Ottawa River and the lunch stop is at the world-famous Fairmont Le Château Montebello in Quebec. "The way they have the docking, we can sit at the docks most of the evening on Friday nights and at the end of the day Saturday," added Julie.
While their earnings the past few years were no doubt pleasant, perhaps for Julie, the bigger streak of good luck came when she beat breast cancer, which she was diagnosed with in 2010. She is now in remission and appreciating every minute of life.
Coming from different backgrounds, Wayne and Julie were exposed to the water early in life. Julie grew up in a small town on the St. Lawrence and drove her first boat at an early age. She spent her high-school years waterskiing behind her older brother's Grew runabout, which was powered by an 80 hp outboard motor. "We'd go skiing with all the kids in the neighborhood and we would keep filling up that little red tank," said Julie. "If we weren't boating, we were swimming."
Wayne, on the other hand, was born in the big city of Toronto, ON, and moved to a small town on the St. Lawrence when he was 12. At first, Wayne didn't like the small-town atmosphere, but eventually, he learned to love the water when his father gave him his 16' Marquis Thundercraft runabout. His father kept hitting objects like rocks and trees with the boat and Wayne kept fixing it, so his father finally just gave the boat to Wayne.
He must have taken to the river because today Wayne and Julie live on the St. Lawrence in the rural community of Summerstown, ON, located approximately 45 minutes from Montreal, QC, and directly across the river from Massena, NY. In a classic Canadian love story, the two met at an ice skating rink. "I was taking the girls figure skating and Wayne was taking his son to skating lessons and we've been together ever since," said a beaming Julie. The two were married July 8, 2000, and look like they are still very much in love.
Of the four kids, only Valerie still lives at home, but Julie joked that they barely see her between the time spent with school, work and her boyfriend. Mom said that all the girls have boyfriends that both Wayne and Julie like. When asked which of the four kids would be most likely to kick Wayne out of the driver's seat, Julie and Melanie both chimed, "Stephanie" without skipping a beat. Stephanie is a motocross racer who had her fare share of good runs in the Ottawa, Ontario area in the women's division circuit
For the Caseys, poker running and snowmobiling are the preferred ways to get away from the business that helps them pay for their fun, Casey Mechanical, an HVAC and plumbing company that Wayne and Julie started in Cornwall, Ontario, Canada (approximately 12 miles from Summerstown) in 1992. Just one year later, in 1993, the Cornwall and Area Chamber of Commerce named Casey Mechanical Inc., "Entrepreneur of the Year". Additionally, Casey Mechanical sponsors many charitable organizations in the area including the Boys & Girls Club, United Way, Cornwall Community Hospital, Habitat for Humanity, the Children's Hospital of Eastern Ontario and many more. The Caseys also own and maintain a number of rental properties, including a vacation rental residence right next door to their home on the water.
So when they get the chance to get away from the rigors of running multiple businesses, they do so on the water. "It puts us in another world that we forget all the stresses of owning our own businesses," said Wayne.
That's not to say that they don't work together when they're at a poker run. Before purchasing their Baja, the Caseys ran with Debbie and Joe Neverett in their 38' Hustler 388 Slingshot and watched how the two worked together. When the Caseys bought the Baja 32ES, it didn't have sophisticated electronics so Wayne drove while Julie navigated when she wasn't securing little ones on the aft bench seat. "Wayne always asks me, where are we going from here?," says Julie.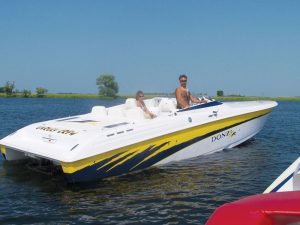 After a few years of running the Baja, the Caseys stepped up to a Donzi 35 ZR powered by twin 425 hp 496 MAG HO engines with Bravo One XR drives. The boat ran great, but Wayne said it wasn't fast enough. So the Caseys bought their current Cigarette.
As many poker runners do, they became regulars on the local circuit and they enjoyed the camaraderie and willingness of fellow runners to help another boater. If another boat has a problem during a run, the Caseys will help out and they have been the beneficiaries of assistance when they've had problems. "Just pull it into shore and just do what you can to keep going," said Julie. "We've done it for friends to keep going and they've done it for us. Most poker runners are extremely easy going."
As they became more comfortable with performance boating, the Caseys expanded their horizons, running at poker run events in Miami, Tampa and Key West, FL.
The girls joined them on the Miami Boat Show Poker run in 2011 and the family had a great time. "The great part of it all is there is always somebody to follow who have already navigated an event. It opened the doors for us for trying different poker runs for sure." Among the other events at spots around the country, Wayne said he would like to attend the Desert Storm Poker Run on Lake Havasu in Arizona.
The Caseys have also learned valuable operating lessons that can only be gained from participating in poker runs. "We used to think that starting off in the back was best," said Wayne. "But it was so rough. It was beating us and the boat up."
They then changed their strategy and decided to start in the front and let faster boats pass them. "It made a huge difference," said Julie.
As they've become more seasoned, Wayne and Julie also learned to recognize the overly anxious new poker runners who drive their boats as if they have something to prove. "We can spot them right away," said Julie. "You can tell by how they take off and what they're doing. They're just so focused on getting out in front and they don't realize…"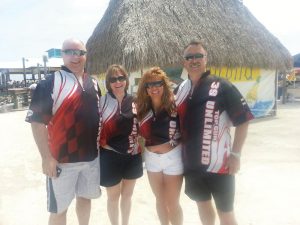 That's not to say the Caseys don't enjoy leaning on the throttles. "We do run wide open as much as we can," said Wayne, who has been told that he pretty much drove his Baja as if the throttle were taped in the wide-open position. "We can go fast and we've been in lots of rough water," he said.
Julie recalled a trip from Key West to Miami in the Cigarette when they were in some big waves and running fast enough just to keep pace with the conditions. "We were exhausted," she said. "But in the Cigarette I've never felt worried at all and speeds never bothered me."
The fastest the Caseys have gone is 140 mph in a friend's Skater catamaran. The scariest moment for Julie came when they had to wait for gas at a stop during a run in Belleville, Ontario. The marina ran out of fuel and they had to wait for more gasoline. By the time the fuel came, they were idling home in the dark and it was pitch black without even the benefit of a full moon. "It's amazing how screwy it is in the dark having to follow the buoys," she said.
But overall the poker running experiences for the Caseys have been nothing but positive. They've evolved from the days of bringing a babysitter for the girls to the event to going out to dinner with them and their boyfriends. They've made great friends like Mike and Lisa Ladouceur, who have a 38' Donzi and three daughters who are now friends with the Casey girls.
When asked how much longer they'll continue participating, Julie Casey says, "Sometimes we think we've done them all, but we love them so much and the people are great."
Julie concludes, explaining that when they're on the boat, "Wayne and I both look at each other, reach over to hold hands and know we are both loving it! PRA