The NMMA has recently reported that the 2016 Progressive Insurance Miami International Boat Show, scheduled for February 11-16, is shaping to be an exciting event with several features to enhance your overall show experience.
Hosted at it new location at the Miami Marine Stadium Park & Basin, the NMMA reported that the new location promises excitement with "an island oasis," ideal to browse more than 1,200 new boats – from hi-performance cruisers, center consoles and go fast boats to everything in between.
In its 75th year, the show will be a boater's shopping paradise with large, expansive and air conditioned exhibit areas featuring vendors displaying boats, engines, as well as accessories and latest boating technologies. Temporary vessel slips will also house more than 400 boats in a marina-style setting, featuring boat demonstrations and sea trials for serious buyers.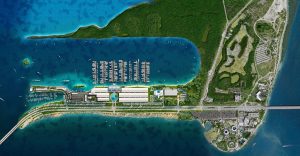 Discover Boating will also be in full force with its Hands-On Skills Training offering exclusive on-the-water power boating and sailing workshops, as well as providing the opportunity to enjoy activities such as kayaking and stand up paddle boarding. On-water dining options, popup restaurants, a beer garden and an upscale wine bar will be on the grounds and more convenience is provided by a new, free park and ride options with several pickup and drop off points for easy access to and from the event.
For all the details click here