Kevin and Kristy Kaczan are quite possibly the most compatible couple in performance boating
By Eric Colby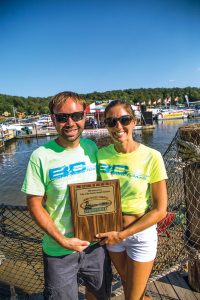 In the 1985 movie Weird Science, a couple of high school students attempt to make the perfect woman. Kevin Kaczan (pronounced Kay-zon) found his version of that perfect woman when he met his wife Kristy 11 years ago. Since their first date, the two have been inseparable. They own a company together as well as a couple of boats and personal watercraft. They spend every possible minute on the water. She doesn't mind getting her hands dirty and is more than willing to pick up a tool.
The day that I called to interview them for this story, Kevin answered and said, "Kristy just climbed out of the bilge cleaning up our mess."
When they take out their customized Cigarette 36' Gladiator, Unleashed, Kevin throttles and Kristy drives. When they first owned the boat, Kevin had planned to propose one day on Lake Michigan when they hit 100 mph, but one of the motors blew just before the boat hit triple digits.
"I was trying to wait until we broke 100 mph and I put the ring back in my pocket," said Kevin. "We're sitting there and I pulled the ring out and two seconds after, Kristy was like, Now what do we do about the engine?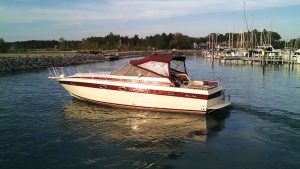 They got married on their other boat, a Burns Craft 40' express cruiser on a Wednesday. "We didn't want to ruin any weekends or poker runs," said Kristy. "It would have been better if it could have been on Unleashed, but we needed five people and there's only four seats on Unleashed."
Their birthdays are a day apart—Kevin's is July 31 (he's 33) and Kristy's is July 30 (she's 31). Their wedding anniversary is July 29.
When they saw Unleashed for sale online, they both instantly knew they wanted the rare canopied 36' Cigarette. Even though they still owned a Baja 33' Outlaw, Kristy said, "I don't care, I have to have it.
Added Kevin, "We wanted a boat with no rubrail. We wanted a boat that was bigger than the Baja and faster."
He explained that all the other Cigarette 36' Gladiator had XR drives, but Unleashed has Mercury Racing Number Five drives and Arneson rocker plates. Kevin built his own 572-cid engines from scratch with cast-iron Dart blocks with aluminum AFR 335 CNC heads and all the good stuff including Callies Magnum cranks, Carrillo rods, JE pistons and much more. The tractor pipes sticking straight up out of the hatches give the boat a sinister look and sound.
A year after buying the boat, the Kaczans took the boat to Boat Customs in Caledonia, Michigan. They talked to company owner Chris Mills about upgrading the graphics. "One thing turned to another and we ended up doing the whole boat," laughed Kevin. "They were just squeezing in a vinyl, but it turned into shaving the windshield, new graphics. I can't even think of all the things we did."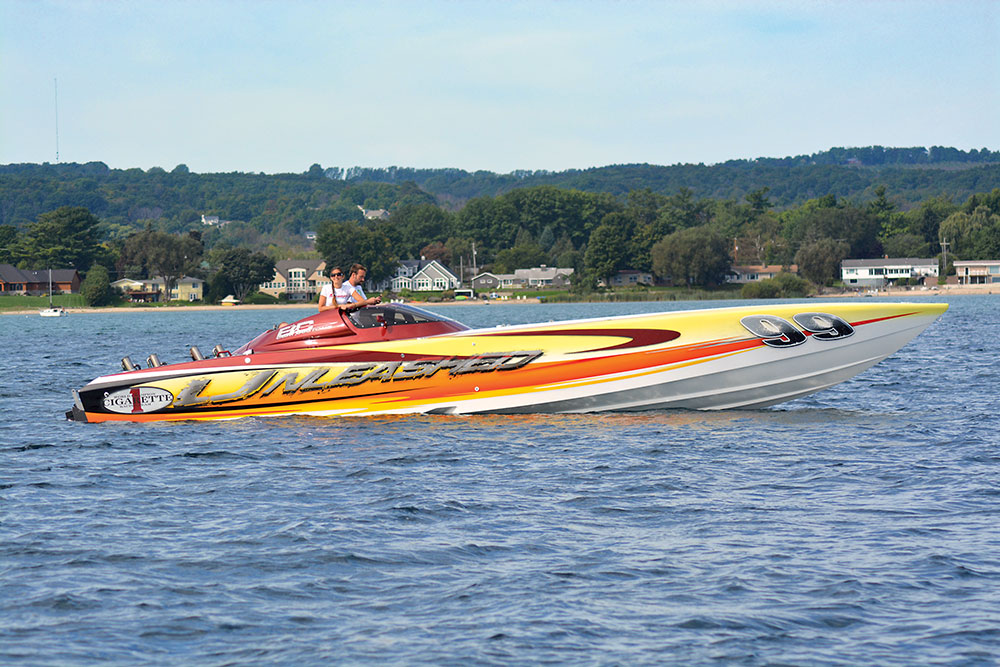 A new windshield from Aero-Marine was installed and the interior was updated so that now it's a comfortable four-seat poker run machine. The boat is kept in a garage every night whenever it's not on the water and if the Kaczans are at an event and rain threatens, they have a custom cover for the cockpit that secures to the cleats. Kevin doesn't like snaps any more than he likes rubrails.
Some might be surprised when they hear that the Kaczans wear five-point harnesses when running their boat because, technically, it has an open top, but Kevin talked to some rescue crews for offshore racing. He explained that because of the way the cockpit angles in over their heads, it might as well be an enclosed model. They wear Lifeline capsule jackets when running the boat hard.
But arguably the best thing about Unleashed is that Kevin and Kristy get to run the boat together. They met when Kevin was driving a Cornwell Tools truck and Kristy was working in the body shop at a Honda dealership. "I sold her a paint gun and got her phone number," said Kevin. "When I walked into that body shop, I just fell in love."
The two already had something in common, a love of performance cars. Kristy drove a Mustang GT with a 5-speed manual transmission and she had a poster of a Dodge Viper above her tool box along with a model of a Hemi Cuda.
Kevin had a Dodge Crossfire and a hot-rodded, lifted Dodge Ram truck. "She played hard to get, but she was intrigued," said Kevin. "She said, 'Don't you want my cell phone number?'"
On one of their first dates, Kevin took Kristy out on Yamaha WaveRunners, but not the sit-down model. "She got on the standup right away, no problem," recalled Kevin. "We do not ride sea couches."
And they didn't just buzz around jumping wakes of other boats. They covered a lot of distance so it wasn't long before they bought their first performance boat, a 27' Mirage Intimidator with twin 400-hp small blocks with MerCruiser Alpha One drives.
Looking back, Kevin would be driving and we needed to be careful not to get air because we didn't want to blow a drive," said Kristy.
It wasn't long before Kevin and Kristy moved in together in Traverse City, Mich., and Kristy bought her own Cornwell Tools truck. They were self-employed but working on the schedule of the businesses they serviced. They wanted more time on the water during their summer so they started a trucking business, Gearhead Haulers, in 2009 in Traverse City. The company specializes in automotive transport. They work all winter and live aboard their Burns Craft cruiser during the summer, spending as much time as possible on the water. Kristy's family is from Wisconsin. She has a younger sister, Holly, and her parents, Jane and B.J. are hard-core Green Bay Packers fans. Kevin is from the Traverse City area and has an older sister Jennifer and his parents are Kathy and Mike.
After owning the Mirage for about three years, they moved up to a Baja 272 Performance, but only had it for about two weeks before realizing they didn't like a single-engine boat. The Kaczans bought a Baja 32' Caliber with twin 454-cid engines and spent as much time as possible on Lake Michigan. When the Boyne Thunder poker run started, they watched the first few times or rode with someone else.
"Boyne Thunder had just started and it was so cool, there are a lot of boats here," said Kristy. "We were just so happy watching. It didn't even matter."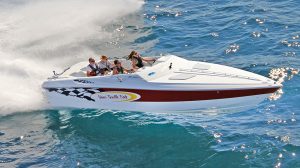 They got serious about going fast on the water when they bought a 2001 Baja 33' Outlaw powered by Mercury Racing HP 500s with ProCharger superchagers and IMCO Xtreme SC drives. The boat was a poker run model with an updated fuel system, beefed-up bulkheads and stringers and a minimal cabin. Top speed was 100 mph. They loved the boat and participated in some poker runs in it, but there was only one problem with it. "Whoever wasn't driving was waiting for his or her turn to drive," said Kristy.
Their current boat solved that and when they bought the Cigarette, it wasn't a matter of Kevin having to teach his wife to drive it. From the start, she has had the wheel. "We have been a team since Day One," said Kevin. While Kevin posted updates on Unleashed's engines on offshoreonly.com, Kristy posts videos of the boat on her Youtube channel, Neverthrottelback.
The Kaczans stayed close to home, attending the Boyne Thunder poker run this year. They will be at the Poker Runs America President's Cup V.I.P. All Inclusive Poker Run in Sault Ste. Marie, Ontario, On August 5-7. They are considering the Lake of the Ozarks shootout and poker run in 2016, but Kevin was uncertain about participating because he was still fine tuning propellers.
Whether they make the trip or not, he and Kristy will more than likely be on the water whenever possible this summer. If you're a friend of the Kaczans and are planning to get married during the spring or summer, you'll probably be crossing two people off the guest list. "I think people know us by now," said Kristy. "People don't invite us anymore because they know boating is No. 1." She sounds perfect.