Gregg Rosen and Rick Merola have a new boat and they're planning to conquer some of the most famous endurance records in performance boating.
By Eric Colby.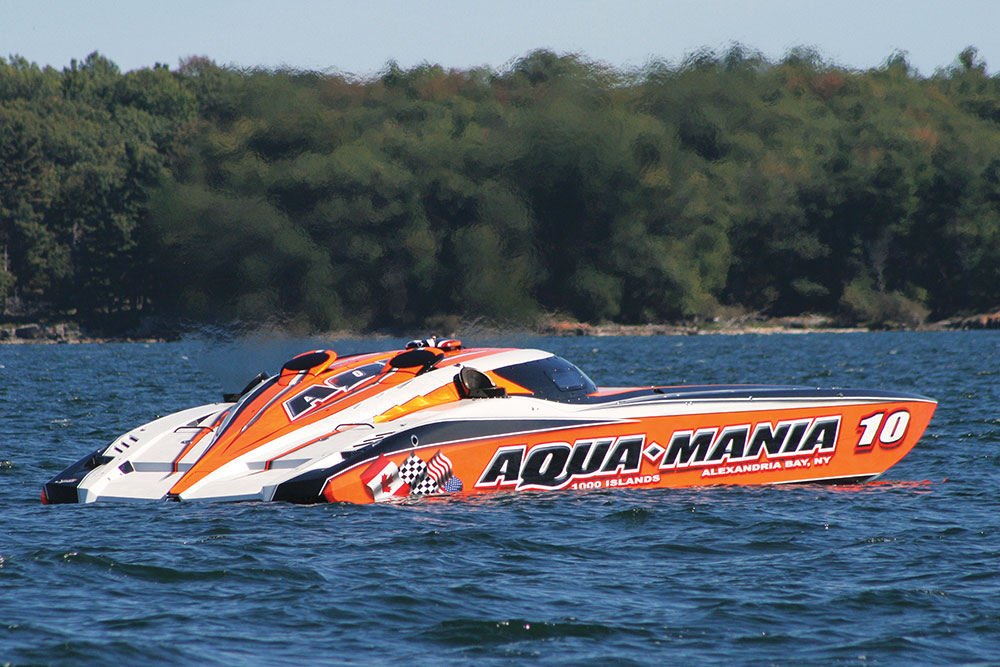 Former world and national offshore powerboat racing champions Gregg Rosen and Rick Merola are taking on a new challenge in a new boat. The G3 Race Team has built a 52' MTI catamaran with turbine power to go after endurance records and participate in poker runs.
Rosen, the owner/driver of the boat and Merola, the throttleman/team manager turned their friendship into a racing partnership in 2006 and began building and campaigning poker run and raceboats. The team made its mark flying the Aqua-Mania logo that includes the United States and Canadian flags. In their new venture, the team has set a goal to run from Miami to New York in 10 hours re-fueling once at sea.
"We think we can break the record big-time," said Rosen. Added Merola, "I don't have to do it in 10 hours. I just want to."
That means averaging at least 100 mph, which shouldn't be a problem. They took delivery of the boat in August 2015 and in their second outing, Rosen, Merola and four other passengers ran 201 mph. They had hoped to make their first attempt at Miami to New York this past August, but the boat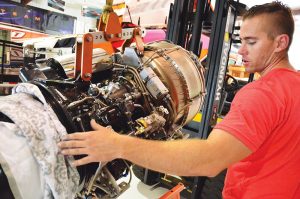 wasn't ready. It made an appearance at the Poker Runs America's Alexandria Bay Poker Run in July, but couldn't run full speed because of a gearbox issue.
In the latter half of the previous decade, Merola and Rosen raced in the Superboat Unlimited class in a Skater 46 and a Mystic 50' catamaran. These were advanced boats for sure, but Merola said the new 52' MTI takes things up a notch. "When (MTI president Randy Scism) and I sat and talked about safety, I thought he was willing to take it to the next level."
The safety cell on all new MTI raceboats has a double roll cage encased in carbon fiber with a 4 ½" thick polycarbonate windscreen. Below the false floor in the cockpit, the boat is built to prevent water from getting to the cockpit occupants.
Additionally, the MTI's running surface is 4' to 4 ½' longer than the one on the Mystic, which will make a big difference when the team is running in the open ocean. Merola asked Scism to raise the tunnel 2" taller than a standard 52' MTI to help it spill air better as speeds build and to carry the added fuel needed to run long distance in the ocean.
To give the one-off boat a unique look and to carry on the team's neon-orange trademark graphics, Merola worked through numerous designs and ultimately awarded the job to Mark Morris of Visual Imagination, who created the new boat's stunning paint job.
To better handle the conditions during a long run in big seas, the MTI is 4,000 pounds heavier than the Mystic was and the new boat has six fuel tanks with a combined capacity of 1,016 gallons. It's powered by twin Lycoming T53 turbine engines maintained by Whispering Turbines (www.whisperingturbines.com) in Montana. They are linked to BPM surface drives and Rosen steers with a rudder. In the engine compartment, there are salt filters, a distilled-water injection system to clean and cool the motors and a Fire Away automatic suppression system. For added safety, Merola and Rosen had a driveshaft breaking system custom-designed and fabricated.
Within the enclosed cockpit, six crewmembers strap into suspension bucket seats with five-point safety harnesses. Rosen drives from the right side while Merola is on the left. The crew navigates with Garmin screens that have NMEA compatibility. There are forward and aft facing cameras, plus units in the engine compartment.
The biggest technological advancement is a Pro Logic Controller (PLC) management system. During a long run, it will manage the fuel between the two engines and six fuel cells, which is critical to the boat's range. The PLC system can also alert the driver and throttleman before a small problem causes a failure. This is critical since attrition has always played a role in offshore racing and endurance runs.
Whether racing or tackling endurance runs, Merola and Rosen both call on a wealth of boating experience on the St. Lawrence Seaway and the Great Lakes. For more than 40 years, they have been operating powerboats of all kinds. Merola bought his first triple-engine raceboat in 1988 and continued to build, buy and race a variety of boats. He started Aqua-Mania, Inc., in 1986 and 30 years later, the company is still going strong. He lives in Brewerton, N.Y., with his wife Allison and two kids. Aqua-Mania sells a variety of new and used boats, as well as brokerage, full service and storage, Allison Merola owns and operates a fleet of rental boats as well.
Rosen also grew up on the waters of the Saint Lawrence Seaway, starting at a young age on the family's 28' Grew Jolly Giant that his parents named Mr. Gregg. When Rosen turned 13 at his Bar Mitzvah, he got his own 15' Grew runabout and he and his sister explored the waters of the 1000 Islands. By 16, he had a 24' Pantera with a 330-hp MerCruiser and a TRS drive. He named it Ragged Edge and soon Rosen was terrorizing the waters of Alexandria Bay. The Pantera was replaced by a 30' Scarab Sport. He sold the Scarab to focus on moving up in the family business, Kimco Steel Sales in Kingston, and to marry his wife of 30 years, Marla. They have three children, Sammi, 28, Cody, 27 and Ali, 20. Today Rosen is the President of Kimco Steel and Cody recently joined the company after playing professional hockey. Sammi is a lawyer in California and Ali is a two-time national boxing champion while attending the University of Miami.
Not long ago, Rosen bought a 42' MTIV center console powered by four Mercury Racing Verado 400R outboards. Upon taking delivery of the boat, he took his wife for a ride and tied up the boat at his home on Alexandria Bay. The next weekend when he was washing the boat and filling it up with fuel, his cell phone rang. It was his wife. "She says, 'Can we go for a boat ride?' I've been married for 30 years and we dated four years before that. Never in 34 years has she ever asked to go for a boat ride. That's how great the boat is."
Prior to the center console, Rosen had owned a number of performance boats and he got most of them through Merola and Aqua-Mania. They became friends and one time when they were on vacation over Valentine's Day with their wives in Florida, Merola was reminiscing about his days in offshore powerboat racing. Intrigued, Rosen said, "If you ever want to race again, I'd love try."
He continued, "Two months later I got a phone call from him saying, guess what I found us a raceboat."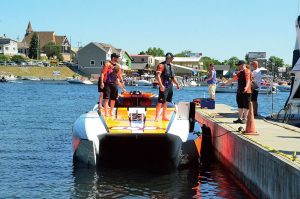 Rosen bought a 46' flat-deck Skater powered by Sterling Performance engines from offshore racing legend Dave Scott. With the boat re-named Aqua Mania, Merola and Rosen found success quickly, winning in their first race at New York in September 2007. They had the Skater for 1 ½ years and won the national and Florida championships, finishing second to Scott and Tomlinson at the world championships in Key West in their 50' Mystic, Budweiser Select.
With Rosen firmly committed to the sport, he and Merola decided that they needed their own Mystic. Rosen bought one and had it rigged with Lycoming T-53 turbine engines and BPM surface drives.
The 50' Mystic, Aqua-Mania, made its debut in New York in 2008 and won. It was fast and Merola felt it was the safest on the circuit. Later that year in Key West, they found out just how safe it was when they rolled. "We crashed at 110 and 130 and it was uneventful," said Merola.
With the boat repaired, in 2009 the team established a record of 43 minutes, 43 seconds for the 106-mile Bimini Memorial Ocean Race, a record that still stands. The team averaged close to 150 mph in the Atlantic and Merola still calls the run, "one of the most intense experiences of his offshore career." The team won the national championship in the turbine class racing against Miss GEICO and JBS Racing in 2008 and 2009 and the world championship in 2010 and 2012.
In 2009, Rosen fought a different type of battle when he was diagnosed with colorectal cancer in February. He began undergoing treatment that April and has been in remission since completing the regimen. The G3 Race Team prints calendars every year and the proceeds from the sales of the calendars and all team apparel go towards cancer research.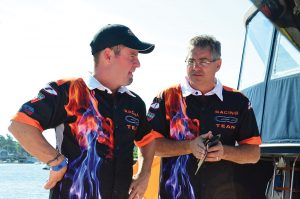 Looking ahead at the endurance records, Rosen knows that the team will be prepared for virtually any eventuality. The crew will have plenty of extra parts including propellers and the equipment needed to make changes during a record attempt.
"We're trying to give ourselves the greatest chance at success for 1,000 miles," said the strategist Merola.
The one variable will be the weather. "We'll know the weather when leaving Miami and we're going to plan for one fuel stop, but if the seas build, we might need a second fuel stop," said Rosen.
All attempts will be streamed live at www.g3racing.com so Rosen said he's not concerned about being stuck in the middle of the ocean without people knowing where the boat is. "Everyone will know everything about us except our heart rate," Rosen laughed. "They don't need to know that."
One thing that fans of the G3 Race Team know is that Merola and Rosen are used to accomplishing what they set out to do. That means some new times for New York to Miami, San Francisco to Los Angeles and other records are going to be established that will be tough to beat.
"It gives us something to look forward to other than going for a boat ride," said Rosen. "We're going for a boat ride for a reason."