Black Thunder Powerboats has renovated its 57,000-square-foot production facility and Bob Jenkins and several critical co-workers have returned to oversee manufacturing and quality control.
Three hulls are ready for engines, electronics, and interior installations. The company says that every boat that leaves the facility will be equipped with state-of-the-art navigation/entertainment systems with components from companies like Garmin, Alpine and Klipsch audio. Buyers can select interior colors and work with the paint design team to finalize a boat's color scheme.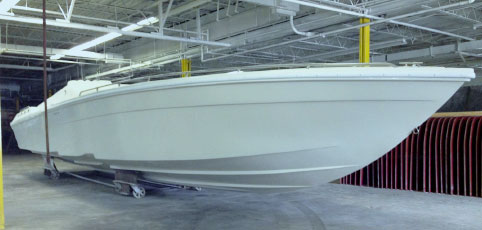 Boats currently in production that are ready for engines are a 46' Raised Deck Offshore with twin Mercury Racing 860 engines and M6 drives and two 43' models, a Raised Deck Offshore with a choice of engines available and a Flat Deck Poker Run Special powered by staggered twin Mercury Racing 860s and M6 drives.
Company founder Don Jenkins brings 60-plus years of design/build experience to the new era of Black Thunder boats and Bob Jenkins will oversee new-model development, manufacturing and quality control.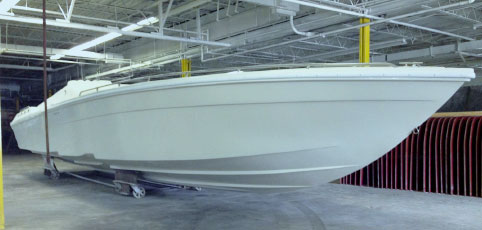 Lance Hedrick of Hedrick Motiv Werks is the company's technical advisor for race engines development and special performance packages. J.J. York will advise for new products and equipment integration. Robert Mansur and John York are the directors of marketing. Kenn Davin brings 30 plus years of mechanical and electrical equipment design to the program and Becky Bailliez is technical advisor for Marine Smart Systems and advanced vessel systems.
Additionally, Black Thunder Boats have introduced the Black Thunder Owners Club to re-establish contact with the family of Black Thunder owners. The club gives owners company sponsored discounts, credits, discounts when trading in a used Black Thunder, custom apparel and a newsletter.