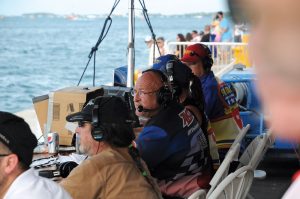 Twenty years ago when I was the new editor at Powerboat magazine, Bob Teague and I were sitting in a boat on the Colorado River during the publication's grueling evaluation program known as The Performance Trials. I mentioned that when we were finished with the 10-day grind I was looking forward to just staying on dry land. I asked him what his plans were and his response was something to the effect of, "We're staying out here and going boating."
I must have looked at him like he was about to jump out of the boat. But he explained a simple philosophy that has helped him turn Teague Custom Marine into one of the largest privately-owned business venture in performance boating. Again, I'm paraphrasing, but the idea was that if he made his hobby his career he would always love doing both.
"We know what our customers are doing because we are doing or have done the same thing," Teague said during a recent phone interview.
You can't argue with the success. After returning home from the Vietnam War, during which Teague proudly served his country in the United States Army as an infantry platoon leader, he established Teague Custom Marine in 1972. While growing Teague Custom Marine and attending college at Los Angeles Universities to attain his degrees, he also worked full-time as a Los Angeles City Fire Captain through the 1990s. At the same time, Teague was an integral part of the Powerboat Magazine editorial staff as a Lead Test Driver and Technical Editor.
The first Teague Custom Marine location was in Burbank, California. At that time, Teague focused on high-performance vee-drives, day cruisers and jet boats, working closely with boat manufacturers like Schiada and Spectra. Recently, Teague bought back one of the Schiada 21 foot vee-drives he built as a personal boat in 1987, and plans to restore it.
An early contribution to the success of Teague Custom Marine was Bob Teague's affiliation with Bob Nordskog's Powerboat Magazine endurance and offshore race teams. Teague and his brother Norm, maintained and built the engines for the marathon-class inboard boats and offshore hulls that Nordskog raced in American Power Boat Association, POPBRA and MBRA events. They also rode in the boat with Nordskog in the offshore races with Bob Teague as navigator and Norm as riding mechanic.
In those days, the navigator was critical because boats were running various long laps in the open ocean races that were as long as 250 miles. Teams had to stay on course because they were racing to a buoy in the middle of the ocean and there were no electronics. Teague kept the fleet of Powerboat Magazine Specials on course with nothing more than a compass, a paper chart, stopwatch, and a good set of eyes. He also navigated on several record setting endurance runs with Nordskog such as San Francisco to Los Angeles in five hours, and 57 minutes, which still stands today.
Later, Teague would run a pair of record setting runs in his 39' Extreme V-bottom, Team Woody, from Pucusana to Ancon and back in the grueling waters near Lima, Peru with Lizardo Benites upsetting a record set by Fabio Buzzi in his four-engine diesel raceboat, La Gran Argentina.
While he was part of Nordskog's team, Teague was also building his own legacy as a fierce competitor in the Grand National Class in marathon racing in a pair of Grand National inboard marathon boats starting in 1977. The second of the boats is his famous GN 77 laid up by Schiada. His success in the class earned Teague several championship titles and his first induction into APBA's Hall of Champions in 1988, which is the equivalent of being named a member of the hall of fame in other sports.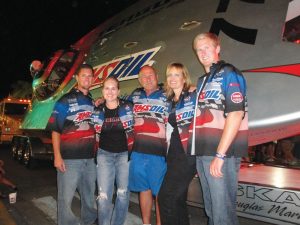 Teague has had one of the most storied careers in performance boat racing with arguably the longest tenure in the sport's history. He has to think hard to remember all of the boats he has raced. As of October 2013, an educated guess is that Teague has raced more than 1,000 in various classes. His passion for competition has resulted in more than a dozen world championships and numerous national titles. Along the way, Bob also set course speed, endurance, and kilo records, and has been inducted a couple of times into the APBA Hall of Champions.
After Nordskog passed away, Teague took over the reigns of the Pacific Offshore Power Boat Association, as if there was any choice other than for him to do so. After calling to duty a group of the best volunteers to help with the organization, what was supposed to be a West Coast regional organization flourished with fleets as deep as 60 boats at its most popular races.
Teague was instrumental in bringing a national-class event to California when he worked with Powerboat Magazine to put on the Ventura Offshore race. In the mid-1990s the POPBRA fleet went to Key West in force and won every class except one. Bob has continued to serve in various volunteer capacities such as Endurance Inboard and Offshore Commissioner, Technical Chairman, Referee, Inspector, Race Chairman and so on because he believes that he has an obligation to give back to the sport and industry.
In the early 1990s, Teague throttled for two teams, Larry Kramer's 40' Fountain, Harry's Hoffbrau, in the Super Vee class and Rob Storelee's 34' Magic, Magic Potion, in the Offshore B class. Kramer's team also competed on the National circuit and the Teague Custom Marine name started gaining momentum nationwide powering such teams as Nigel Hook's three Scarabs in A, B, and Super Vee classes, Archer Marine, Citgo, and Furst respectively, Rigue Ford's fleet of Skaters that raced under the Ragamuffin banner, Rick Bowling's Gone Again, Bob Vila's Phase II, Jerry Sorrentino's In-M'Ocean Phantom, the late Harry Christensen's All Out Advantage, Ben Curtis's Running Wild, Mike Smahlik's Ettore Streak Free, a fleet of Factory I, II, and III boats, and more. Teague and Kramer then campaigned the Universal Studios sponsored Extreme, Team Woody, for a few years in Super Vee. In the Factory II Class, Bob throttled for Greg Rivera in the Sun Country Formula and later throttled for Mike Flannigan in the Lightning Strikes Donzi Super Vee winning a UIM World Championship in Key West.
More recently, Teague partnered with John Talley in the first of two silver Skater 36s that he would make famous. The Liquid Metal team ran successfully in the Super Cat light class powered by twin Mercury Racing HP525s, winning the APBA World and National Championships in 2003, which lead to the induction of Talley and Teague into the APBA Hall of Champions. When the team sold the boat to Roger Bourget, Teague ran a season with Bourget while he was in the process of building a new Skater 368. He painted it silver and reached a sponsorship agreement with AMSOIL Products. He also found a super talented offshore racing driver in veteran Paul Whittier.
Whittier started racing in POPBRA when Nordskog was still alive with his friend Kurt Willows in an outboard-powered Velocity, Dirty Rotten Scoundrels. Whittier raced his way up through the ranks of offshore, competing primarily in the outboard-powered Stock class in a variety of Skaters named Secret Agent. Whittier eventually built a Skater 36 to race in Cat Lite (In Contempt and Ettore) and competed against Liquid Metal. Both boats were sold at about the same time so when Teague called his longtime competitor and friend Whittier to find out what he was up to, he said he was taking some time off to concentrate on a home building project. Teague invited Whittier to come and race in his new Team AMSOIL boat and what resulted was a hard team to beat.
"The main thing for me is he's an excellent driver and we think alike," said Teague. "The better the driver is, the better the throttleman is." The team holds an APBA-sanctioned kilo record of 131.982 mph on the Salton Sea and was among the most successful in its class. Team AMSOIL has won about 80 percent of the races it entered in the Cat Lite Class. Look for Team AMSOIL to emerge in a new class.
When Whittier isn't in the boat with Teague, John Teague joins his father. They ran the Miami to Bimini Run together a few years ago on Father's Day. And when John turned 21 four years ago, he asked his father (for the fourth year in a row) if they could race the Parker Enduro in the mothballed GN-77 boat. Much to Mom's chagrin, Dad had his son's back. "I told her, he's an honor student, a fine young adult, and he wants to race that boat." In the nostalgic raceboat's first time in the water in 16 years, Bob drove the first 100 miles, John drove the next 100-mile leg and Bob finished the final 100 miles and the team finished second overall, a mere 40 seconds behind.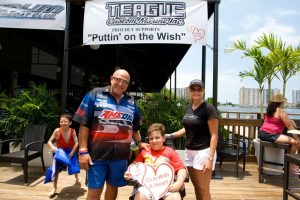 But perhaps it was an in-cockpit video that John posted of him and his dad in the Skater during a Michigan race a couple of years ago that shows his dad still has plenty left in the tank. When the green flag flew, Bob's meaty throttle hand thrust forward and appeared not to pull back until the checkered flag was theirs.
Between his testing at Powerboat, Teague Custom Marine, and involvement in racing and in organizations, there isn't a performance boat Teague hasn't run, including turbine-powered cats. He has the ability to figure out how to make a boat run correctly and safely (and indentify an unsafe one). I have experienced this personally on more than one occasion. He has a natural feel in a boat that you need to witness first hand.
All the while, he was also building his company, raising his two children, John, 25, and Cherilyn Noack, 28, who was recently married Josh Noack, a TCM employee —with his wife Andrea, and establishing a reputation for building some of the most reliable products and engines in the performance boating world. Both kids graduated with honors from Cal State University, Northridge and play important roles in the family business.
To say that Teague has unmatched energy would be an understatement. He would work at the Fire Department for days at a time and then pack up for a week to go to Florida to work with the Powerboat Test Team. We would be up at dawn for photo shoots, test boats all day and then while the rest of us were sleeping, he would go back and catch up full steam ahead at Teague Custom Marine.
Today, Teague Custom Marine is the only manufacturer of high-performance marine engines aside from Mercury and Ilmor to have a full line of powerplants above 650 horsepower that are compliant with the California Air Resources Board (CARB) emissions certification requirements.
"In our engine family there are actually five engines that have been individually emission certified," said Teague. The line starts with an 825 hp offering and goes up to 1365 hp. Teague hired a consultant to liaison with EPA and CARB officials and then worked with Whipple Industries in Fresno to accomplish the task, which required putting together a certified emissions bench to test the motors. In accordance to the requirements, they knew it was important to develop emissions compliant engines. In the process, better overall engines were developed with increased durability.
In addition to the engines, Teague Custom Marine offers a full line of performance engine and rigging components as well as accessories, most of which the company designs and builds in house.
"We have project boats going all the time," said Teague. "If we needed it twice, there's a pretty good chance that the industry will need it too."
Even Teague's approach to how he staffs his business is unique. "Everybody here is an adult and they're really good at what they do," he explained. "To that end, there's not what I would call a service manager. There is no boss of the people back there. They all have their own specialty, but everyone can pretty much do everything."
When a customer brings in a project, whether it's for routine boat or engine maintenance, a full re-power, or complete installation, one member of the team gets the assignment as the lead coordinator for that job. Teague remains intimately involved in direction and communication but the customer also has an open communication with the staff person assigned to his project. He also stresses the importance of being a one-stop shop for his customers.
"In order to do it right, you have to do it all. If you're building engines, you need to control the installation environment. When someone brings a boat here, we know there will be better success if we do the whole thing, not just one part."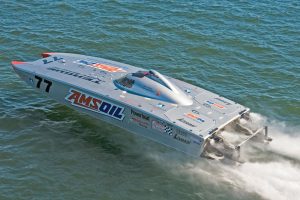 To get away from it all, Teague — what else — goes boating. He and Andrea own homes at the Colorado River and on Discovery Bay in northern California and Teague Custom Marine is a title sponsor of events in each area, the Desert Storm Poker Run and Monster Bash in Lake Havasu City, AZ., and the Big Cat Poker Run on the California Delta, which benefits the Discovery Bay Lions Club.
"We're gone more weekends than we are here when the weather's good," he said. "Even when the weather is less than ideal, there's something cool about going to these places like Parker and Discovery Bay when it's winter and gray and cold and have a fire, and of course do some boating."
Teague's personal boat fleet is one that would make most performance boaters drool. He owns a Skater 44 Super Sport with TCM 1365EFI's, a Skater 368 race boat, a 32 DCB with TCM 1200EFIs, an Eliminator 28 Speedster with twin TCM 825EFIs and Ilmor Indy drives. These and other boats are in-house project boats that Teague uses to develop and validate products. In addition to Teague products, the 44 Skater and 32 DCB were used to validate the Velvet Drive 72 LHP transmissions, and the 28 Speedster was used to validate the Ilmor Indy drive with the TCM 825EFI package. Teague still has a Malibu ski boat that he can slalom behind, while the GN 77 is alive and well and now the 21 Schiada is back in the fleet.
While he participates in many poker runs, the names of Teague's pleasure boats have little do with card games. The 32 DCB is called Stacked Deck One-Six. Stacked Deck is for Teague's Company D when he was in the Army, One is for First Platoon and Six is the platoon leader. The Skater 44 is called Roving Gambler, which was the name of Teague's Battalion in Vietnam and Cambodia.
His appreciation for veterans is obvious in his choice of charities. Teague Custom Marine supports the military charity, Soldiers' Angels, which assists veterans.
"We have to do something to give to this community of people who aren't as fortunate as we are," said Teague.
Other charities include New Horizons, Make-a-Wish, Havasu for Youth and the Lions Club. Teague and Chip Romer joined together to continuously sponsor the now-established Designated Operator program in Lake Havasu.
Teague's company does testing at Castaic Lake near the company's 30,000-square-foot headquarters in Valencia, California. Not too long after moving TCM to Valencia from Van Nuys, Bob became aware of a great program at the Lake that he decided to get involved in. For the 16th straight year, Teague Custom Marine is the title sponsor of the Los Angeles County Junior Lifeguards program at Castaic. The program involves training more than 400 youth and teens at the lake each year in such skills as swimming, teamwork, lifesaving and CPR.
Being a natural leader means that people are drawn to Teague — his charisma is undeniable — to fix problems at events he sponsors and when it comes to poker runs like Desert Storm that means trying to make them safer. "Over the years, I have encouraged several modifications to control the poker run speed and minimize the thought that it's a race. Adding a Shootout where boats can run at speed in a controlled environment, and endorsing rules for speed limits for boats with backseat passengers," he said. Ultimately, however, it could be as simple as remembering what kind of event you're participating in.
"Poker runs are regattas. They're not races. I don't race my pleasure boats, and I don't pleasure cruise my race boats," he said. "I've never had an accident in a pleasure boat while pleasure boating."
Whether you see footage of Bob Teague in a race or run alongside him in at a poker run, there's one constant. He loves boating—always.
"We don't just say we're boaters, we are performance boaters and that provides Teague Custom Marine the edge on making our customer's experience better." PRA