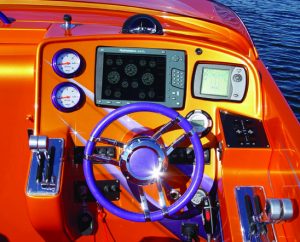 It was late in the day when Birchpoint Marina owner, Jeff Devolin, received a call from his good friend and customer, Brian Hoag.    "We just broke 100!", shouted an exuberant Hoag who for quite some time had watched his GPS speedometer read almost, but not quite, that elusive century digit.
Devolin was thrilled. "Brian worked hard and tried a number of things to get to this point. I've been out with him and saw 98 (mph), but he really wanted to crack 100 mph – and he did it. Brian was so excited that he called me from his boat in the middle of the lake!", says Devolin.
Indeed, Hoag's Hustler 344 Cheetah, Loose Screws, had reached 100 mph – no more, no less – as confirmed by a cell-phone photo taken of the boat's port-side plotter screen by Hoag's neighbor, Eric Wood. Hearsay being what it is, Hoag, who accompanied by Wood and his daughter during the run, wanted absolute proof that his very fast boat was, in fact, very fast.
That the boat runs as quick as it does without waves or wind amazes Hoag. "As strange as it seems to me, I always get my ultimate speeds in calm water". Having tested an early production Cheetah back in 2001, I recalled how well-balanced this model seemed. Tracking true and flying low, that boat with its patented variable 24-degree deadrise hull and ventilated Tek-Step bottom handled superbly at 85 mph, powered by Twin Mercury Racing HP 500's.
Seven years later and an additional 260 hp does make a difference – for one thing, a 15-mph increase in top-end speed. Hoag's Hustler is a multiple shingle-stepped monohull propelled by two Mercury Racing HP 600 SCi's, coupled with Bravo One XR Short Sport Master Drives and Mercury's ITS steering.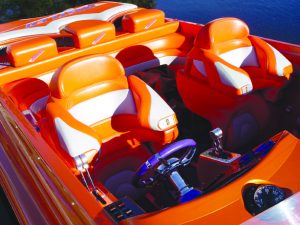 Mercury's 5-blade Maximus propellers are said to reduce slip by up to 12 percent – a statement Hoag agrees with having run both Maximus and Bravo wheels. According to Hoag, the 344 jumps up on plane much faster than when spinning the 34"-pitch Bravo's, with minimal ventilation occurring from a standing stop. Inefficiently propped for a quick hole shot, we were unable to determine true and accurate acceleration readings, but we did discover that when the trim tabs were slightly raised, the 344 would plane faster.
Cruising at 55 to 60-mph, the Hustler rides low and level. Bumping up RPM to 4500, one can feel the hull starting to release itself from the water and within a few seconds is hitting close to 75-mph. At 95-mph plus, the stern feels light and while the boat is riding level, there is an undeniable sensation of speed once into a rhythm.
On the limiter at 5350 RPM, with tabs up slightly above zero degrees and a half-tank of fuel, our two-mile long high-speed runs suggested that the 344 could easily handle post 100 mph speeds in a six-inch to one-foot chop. Still, you do have to drive this boat and the faster you go, the looser it feels.
This boat can corner. While gently easing off the throttle, I steered the Hustler into a wide sweeping turn. Respecting the speed at which we were traveling, the bow didn't drop until I trimmed the drives in. When its speed is backed down, the hull sets up nicely for a sharp turn, then lifts quickly when the power is punched and the drives are trimmed out.
Maneuvering more like a runabout than a 34-foot, 7200 lb. offshore model, the Cheetah is fun to drive. It feels agile, light and responds quickly to steering commands. It is indeed a boat that provides the sensation one would expect – but nevertheless feels solid and comfortable.
Some of that comfort comes as a result of the deck's aerodynamic lines – Brian Hoag actually wears a ball cap (peak forward) at full throttle. Unlike many farings and windshields that direct wind into your face, the Hustler's low-profile windscreen does its job well. Constructed like a raceboat, the 344 Cheetah's hand-laid, fiberglass bonded hull and deck includes five full-length stringers and transverse bulk-heads. Like other fine boat builders, Hustler vacuum bags their boats with tri-axial and bi-axial roving and uses numerous strength-producing and weight-reducing components like carbon fiber and Kevlar hybrids.
Hoag's Cheetah is the talk of the lake. With its hull-sides (above the water-line) painted in BASF Lamborghini Orange, the boat stands out. Air-brushed purple graphics and a white hull give it a clean, contemporary appearance. Being the perfectionist Hoag is, Loose Screws is immaculately maintained inside and out.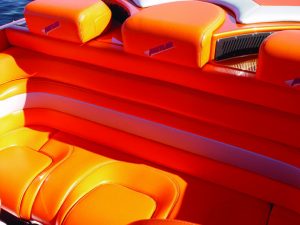 Oh, and speaking of inside, the cockpit is aggressively styled and packed with customized, yet sensible features. Being 6'2" tall, Hoag loves the operator and passenger floor cut-outs (with angled footrest) that place you lower into the boat when standing. To be expected, Hustler's color-coordinated orange upholstery is heavy-duty, sewn tightly to a three-person rear bench seat and twin custom McCleod electric bolsters. To help you get around – or up, as it might be, there are built-in steps and strategically placed grab handles leading to the deck.
The dash is crisp and clean with minimal instrumentation – just two Livorsi monster tachometers, Mercury's SmartCraft monitor and two centrally located Northstar 6000i Chartplotters – port and starboard – for the operator and passenger. Keeping in mind that this boat is "dual helm" equipped with Hardin Marine quick-release steering, the Northstar 6000i reproduces the look of all functioning gauges, including speedometers, tachs, and digital speed read-outs.
While the 344 Cheetah is generally found sporting a complete and luxurious cabin, Hoag chose the Poker Run option – no berth or major amenities – just the basics, thank you. It is, nevertheless, smartly finished with a power-hatch door, twin facing lounge seats forward, head, drained ice chest and a Corian countertop. To be expected, a wicked stereo system cranks out your favorite tunes with the help of a Sony remote mounted at the helm.
Another "keep it simple" feature is mounted in the engine compartment. For those who like to dabble with basic engine maintenance, a compact, reversible and self priming Reverso Oil Change System is installed. A flick of a switch pumps the oil out of the engine and reduces any chance of a spill – and from what I could see, you could eat off the engine room floor.
Having once competed on the offshore circuit, Brian Hoag is now very much a family man. Though it appears that his racing days are behind him, he maintains a youthful exuberance for performance boating and an absolute commitment to share it with others. Being a Hustler repeat customer, Hoag speaks highly of the company. He's a man who knows what he wants, and works away until he gets it. His life and his boat are in good order – and at 100 mph, that's a great thing.