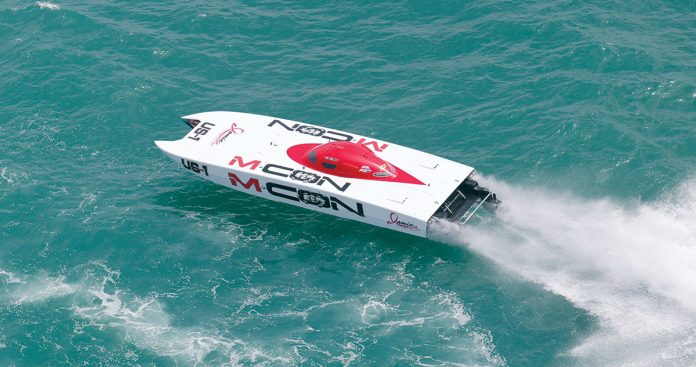 M CON's Monster Energy-sponsored 438 Skater is set to race in Class 1.
By Gregg Mansfield
When the new M CON boat joins the UIM Class 1 season in May, it will be the first purpose-built Class 1 boat in more than a decade.
It's no surprise the team turned to Skater Powerboats to build the canopied 438 Skater, which will be sponsored by Monster Energy as part of a multiyear agreement. M CON has been a longtime supporter of the Douglas, Mich., builder, having owned and raced three Skaters, including a 38' foot Skater the team campaigned during the 2022 offshore season.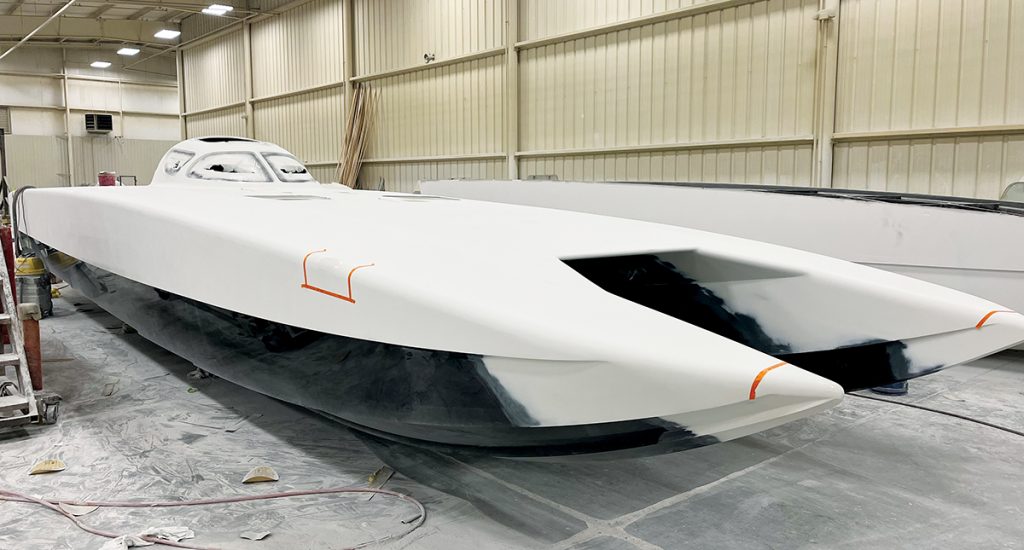 The team's latest 438 is the most ambitious yet as M CON jumps into the UIM Class 1, which starts its season in May at Cocoa Beach, Fla.
"We hope to be on the water with our new Skater by early April for testing at Lake of the Ozarks in Missouri and our aim is quite simply to get on the podium as often as possible," said Tyler Miller, team owner and throttleman. "It's a big deal for us and for offshore racing that Monster Energy is coming onboard and we want to put on a great show for the fans and our new sponsor."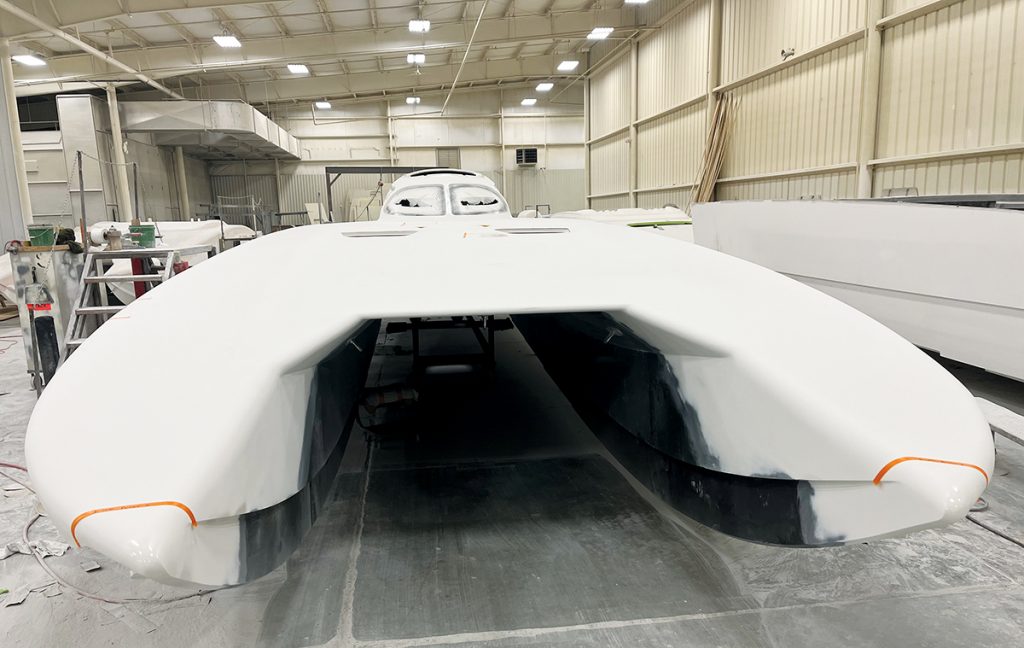 The new race boat is nearing completion in early February with Skater still needing to install the BPM surface drives, rudder and paint the catamaran before shipping it to Performance Boat Center in Lake of the Ozarks, Mo.
Performance Boat Center will install the Mercury Racing 1100 Comp engines and complete the rigging on the new 438. It's a tight timeline but Skater's Tony Cutsuries said they remain on schedule.
"We're very excited to have a new boat in Class 1," said Cutsuries, Skater's national sales manager. "When it comes to the Super Cat stuff, almost all the boats in that class are Skaters. To be competitive in that class, you've got to be in a Skater."
Cutsuries said the 438 Skater, like many of its boats, are custom creations rather than a one-size-fits-all approach. Miller visited the Skater factory in January to get fitted in the closed canopy to check the height, location and visibility.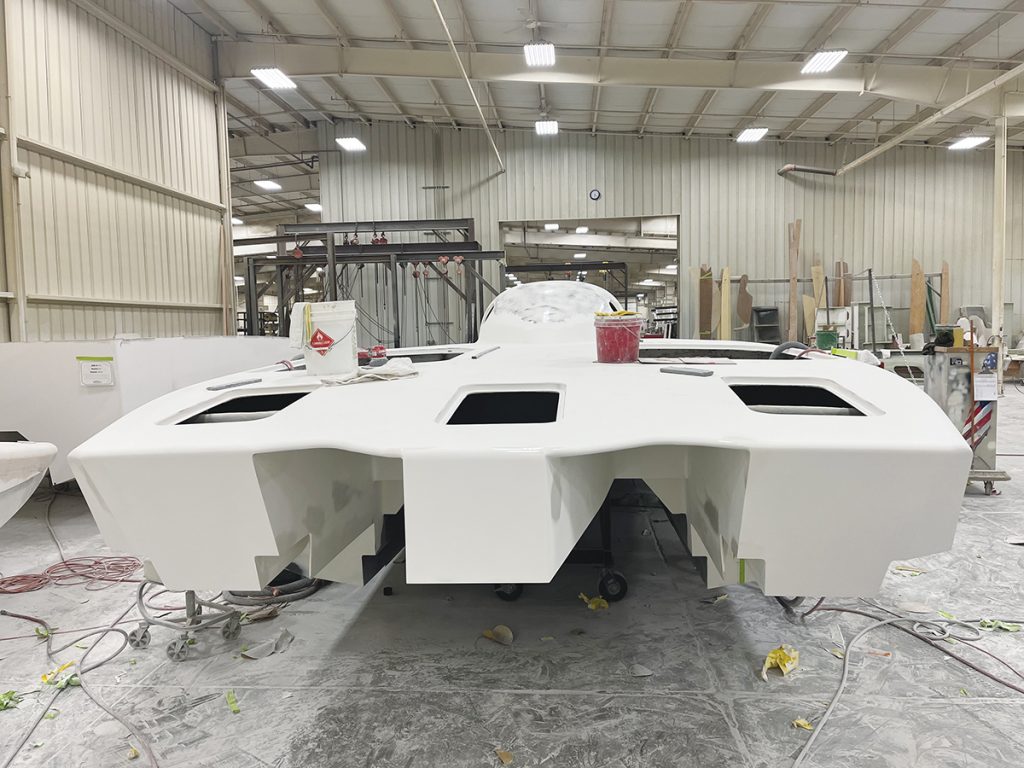 Driver Myrick Coil of Performance Boat Center and crew chief Jake Leckliter will handle the rigging that includes the race seats, safety equipment, electronics, throttles/shifters and engines. Skater Powerboats drills the holes (where needed) and lets the team handle the rest.
Cutsuries said there is little difference in how Skater approaches building a race boat and the recreational version.
"We build all of our pleasure boats and our race boats relatively similar," Cutsuries said. "That's the difference between a Skater and other manufacturers. They build a race boat totally different. All our boats are built almost like a race boat, even our pleasure boats."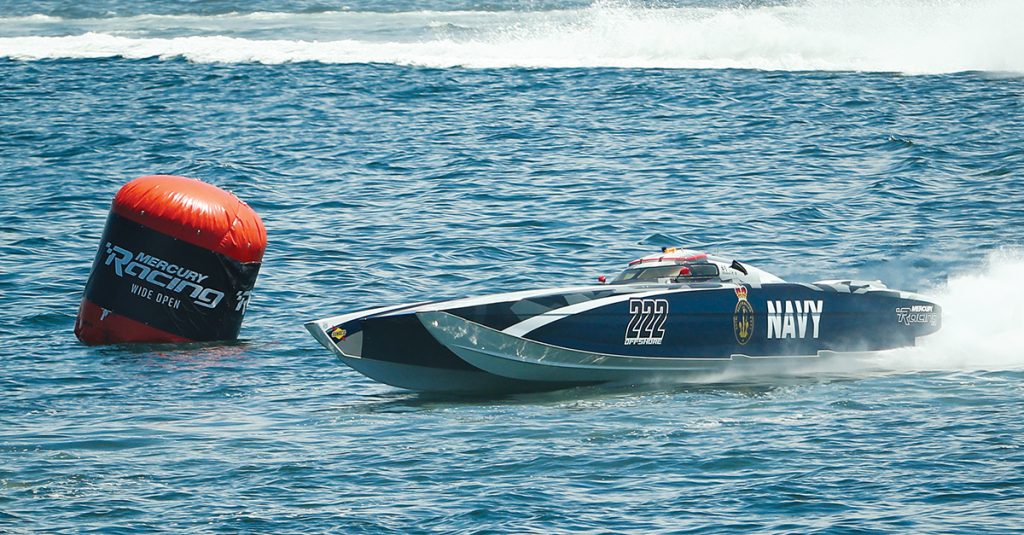 The addition of M CON has generated excitement in the Class 1 ranks, which will have eight boats competing in 2023. The goal is to grow the Class 1 ranks to 12 teams with an international race calendar in 2024.
The season kicks off in May in Florida with races over the summer and early fall in Sarasota, Fla., Michigan City., Ind., Sheboygan, Wis., St. Petersburg, Fla., and a race planned for Miami.
"M CON Racing is one of the most professionally run teams in offshore racing and, with the backing of Skater Powerboats and Monster Energy, they are sure to be a major force in UIM Class 1," said Powerboat P1 CEO Azam Rangoonwala.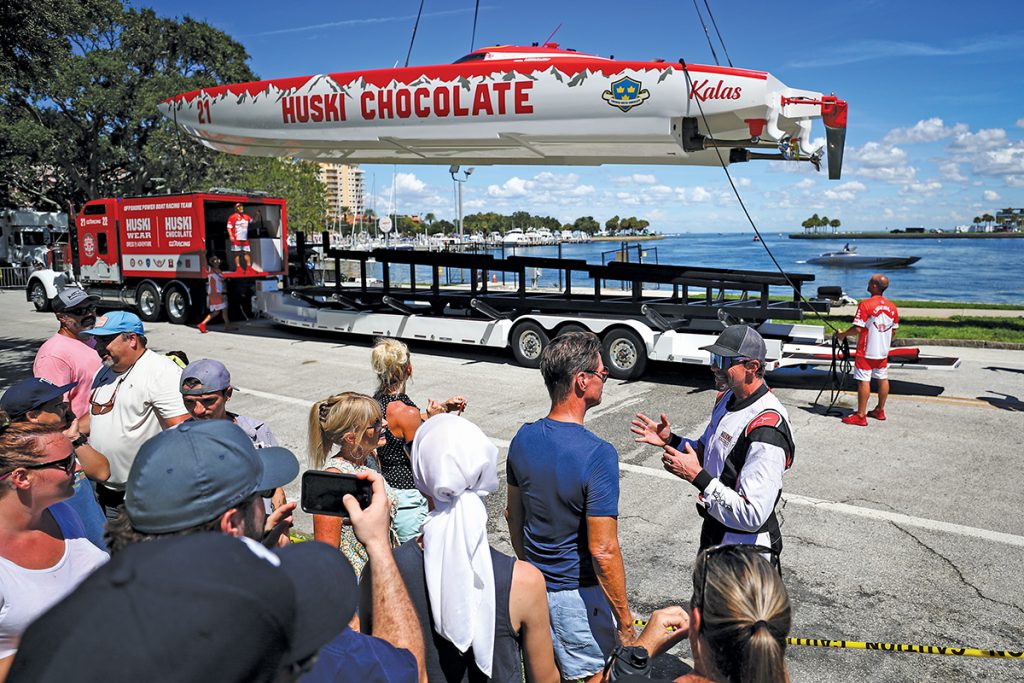 In addition to racing Class 1, Miller and Coil still plan to campaign the 388 Skater in the Super Cat class this season. The team in January joined the American Power Boat Association Hall of Champions after a season that included an APBA National Championship and a Union Internationale Motonautique World Championship.
Miller and Coil are expected to start testing the 438 Skater in April and Skater Powerboats founder and owner Peter Hledin will be there to provide any assistance.
"Peter stays pretty involved with the guys on the setup," Cutsuries said. "If they have an issue, they can call Pete and say, 'This is what we've got going on.' Pete's the genius on all that stuff. It's pretty amazing.
"He doesn't even have to get into the boat to know what to do."