For the past decade, the majority of performance-boat manufacturers have been building center-console models and the category has evolved beyond its utilitarian roots.
It's no surprise that the most popular models in the performance-boat market for the past few years have been center consoles. With their stepped hull design and multi-engine installations, they offer performance close to their sport-boat siblings but with the amenities and comfort found on family boats. As bigger and bigger outboard motors come to market, these popular boats are only going to get bigger and more elaborate. Let's take a look at some of the most popular center consoles in alphabetical order.
---
CIGARETTE RACING TEAM

The best-known name in offshore powerboats has four center con-soles including one of the only boats in this category with stern drive power. The flagship of the Cigarette Racing Team center-console fleet is the 42 Huntress. It measures 42' long with an 11'9" beam and power for this boat ranges up to five 350-hp Mercury Verado outboards. The helm features three 15" Garmin touchscreens with programmable digital gauges and a 7" Mercury Vessel View screen. The cabin has a hydraulic door, 6'7" of headroom, a stainless steel microwave and refrigerator and a private head with an electric toilet and a stainless steel sink.
The 41' version of the Cigarette center console can be pow-ered either by quad Mercury Racing 400R outboards or by twin Mercury Racing 520-hp stern drives. Regardless of the propul-sion, the helm comes with three Garmin touch screens, two 8212s and one 8215, digital shift and throttle controls and Cigarette's famous paint job.
The 39' GTS has the patented Clear View Hardtop that provides unobstructed view from the helm. The boat rides on a twin-step bot-tom and can be powered by up to four 350-hp outboards.
---
DEEP IMPACT BOATS

Deep Impact offers boats in 33', 36' and 39' long twin-stepped bottoms with Mercury outboard power. The 36' and 39' models are offered in Open, Cabin our Tournament versions while the 33-footer comes as a Tournament Edition only.
Open models feature built-in lined and insulated coolers and head compartments in the consoles with an electric toilet, sink and pull-up shower. Cabin versions come with accommodations in the bow that include a berth that converts to a dinette with an adjust-able table, an opening round deck hatch, a 32" flatscreen TV and a full galley with a refrigerator and a microwave. The 36' and 39' models even come with a 3.5kW Westerbeke gasoline generator.
For power, the base 399 and 360 come with triple 300-hp Mercury Verado outboards, while the 330 TE starts with twin 300-hp Verados. Standard equipment includes digital engine instrumentation, Latham Marine steering, Mercury Racing 280-S K-planes and stainless steel propellers.
---
MARINE TECHNOLOGY INC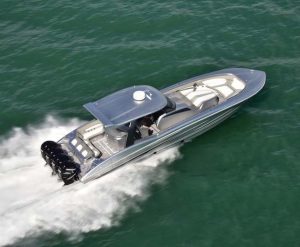 The MTI-V42 is the only V-bottom that the manufacturer builds. It rides on the manufacturer's patented twin-stepped Slot V design with two keels that improve tracking during any maneuvers and in a variety of water conditions.
Each V42 is custom built for the client and MTI offers a number of available options to meet the needs of an owner looking to cruise long distances or spend the night on board. The area above the central cabin has a comfortable forward lounge. The boat's hardtop is large enough to cover the console and second row of seats. The boat comes with two rows of three electric bolsters and a vari-ety of rear seating options.
Like the manufacturer's world-class catamarans, the MTI-V42 is built with vacuum-bagged epoxy resin, E-glass and Kevlar fabrics, foam coring and carbon fiber reinforcement and the boat is post-cured. The hull bottom is 2" thick and to support today's big outboards, the transom is 5" thick.
---
MYSTIC POWERBOATS

Mystic also offers one center-console model, the M4200, which is a twin-stepped design with a turned-down chine to help knock down spray on windy days. The deepest freeboard measurement is 38", which means families will feel secure on the boat even when the weather kicks up.
To keep as many passengers as possible protected from the wind, the center console is 60" wide and there are three individual bolster seats at the helm. The dash features twin Garmin touch screens flanking a Mercury Vessel View monitor, digital shift and throttle controls and controls for the standard bow thruster and windlass. Aft there is bench-style seating across the stern. Forward, a chaise-style lounge covers the top of the cabin and the bow has facing seating with armrests.
Belowdecks, the cabin pampers guests with a queen-sized berth, a refrigerator, a microwave oven and a private head with a shower.
---
NOR-TECH HI-PERFORMANCE POWERBOATS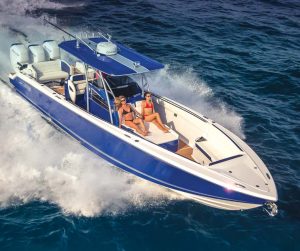 Nor-Tech was one of the first custom performance-boat builders to develop a center console and the company now offers a variety of models in 34' and 39' lengths. They all ride on a twin-stepped bottom designs, have deep freeboard in their cockpits and display the attention to details that the manufacturer is known for.
These boats can be powered by up to four big outboards and we know they're fast for the category. A Nor-Tech 390 Sport Open powered by four Mercury Racing Verado 400Rs took top honors in the center console class at the 2015 Lake of the Ozarks Shootout, running 93 mph.
Nor-Tech's 34' center console is available as the 340 Sport Open, which has the most available cockpit space, and as the 344GT, a model with four offshore-style bolsters behind the console. The 39' hull comes as a Sport Open, Sport Cabin or 392 Super Fish
---
PILINI MARINE TECHNOLOGIES
(www.pilinimarinetechnologies.com)

Pilini Marine Technologies builds its 35' long center console as an SS model that is more focused on cruising and dayboating while the CC version is more fishing oriented. The company also offers a single-engine 24' center console.
The non-stepped boat is available with up to triple outboards and should run well in a variety of inshore and offshore condi-tions.
At the helm, the side-by-side bolsters in the SS model offer standup or sit-down seating and the dash has space for a large chartplotter to port. Cockpit amenities include a wetbar with a sink and a stainless-steel refrigerator and the private head has another sink with a pull-up faucet and a toilet. The 35 CC has fishing features including a 50-gallon livewell and two 5'8" long insulated fish boxes.
---
SUNSATION POWERBOATS

Sunsation calls its 29', 32' and 34' center console models Sport Activity Boats and designs and equips them for versatility. They worked with famed performance-boat consultant Tres Martin on the boats' stepped bottom designs to make them work well in all conditions whether you want to fish, participate in a poker run or pull the kids on a tube.
The 32CCX and 34CCX both have twin-step bottom designs and can be powered by up to three 400-hp Mercury Verado supercharged four-stroke outboard motors. The 29CCX has a single-step bottom and comes standard with twin 150-hp four-stroke outboards.
Standard equipment on all CCX models includes twin bat-teries, pop-up cleats, trim tabs, a McLeod interior and a small cabin. Beneath the hardtops, the driver and a companion travel in comfortable bolster-style seats and there are spacious lounges throughout the boats that will accommodate crowd.
---
WELLCRAFT MARINE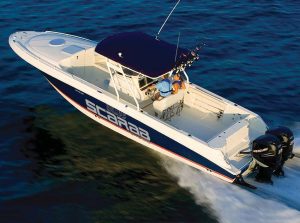 Legendary manufacturer Wellcraft makes a number of center-console models and still builds its Scarab Offshore series with 30' and 35' cen-ter-consoles available in Sport and Tournament models.
The non-stepped 30' V-bottom designs come with twin outboards from Evinrude, Yamaha or Mercury up to 600 hp total, while the 35' ver-sions can be had with a pair of outboards from the aforementioned manufacturers up to 700 hp total. Construction is free of wood with molded fiberglass stringers.
Both the Sport and Tournament models come with T-top, livewell and a cockpit entertainment center with a sink and stove, plus a cabin in the console that includes a pumpout head and a shower. At the helm, there's a leaning post, digi-tal instrumentation and a stainless steel steering wheel with a spinner knob.