Velocity Powerboats now offers sterndrive or outboard versions of its models.
By Gregg Mansfield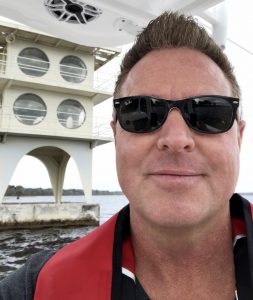 Scott McCormick grew up at the tail end of the hot rod generation with an appreciation for the loud rumble of a V-8 engine and drag racing at the local track. After buying Velocity Powerboats in 2018, McCormick knew he had to reposition the company for the changing marketplace.
That's why the company started offering inboard and outboard versions for its eight sport boats and expanded its fish boat series to five offerings.
"I think that the newer generation is more of a go green, clean type client, and they're not into all that noise," McCormick said. "They're more into the security factor, they like the warranty, they like the cleanliness of how everything looks, how it performs. There's no emissions, there's no smell. So, I just think that's just the way the whole world's going."
Since purchasing the company from founder Steve Stepp, McCormick has been investing heavily in new molds that enable Velocity to build either sterndrive or outboard versions of its models. Velocity buyers are all opting for outboard power, though McCormick is starting to see an uptick in inquiries for high-performance sterndrives.
"In their mind, people think outwards are slower and now that we've actually built them, the performance numbers are greater than what everybody anticipated," McCormick said. "Now, they feel comfortable that the boat hasn't lost any performance, it's actually gained. But most of all, now you're talking about a three- to eight-year warranty on a turnkey motor that you don't have to put oil in anymore. And that right there is a blessing."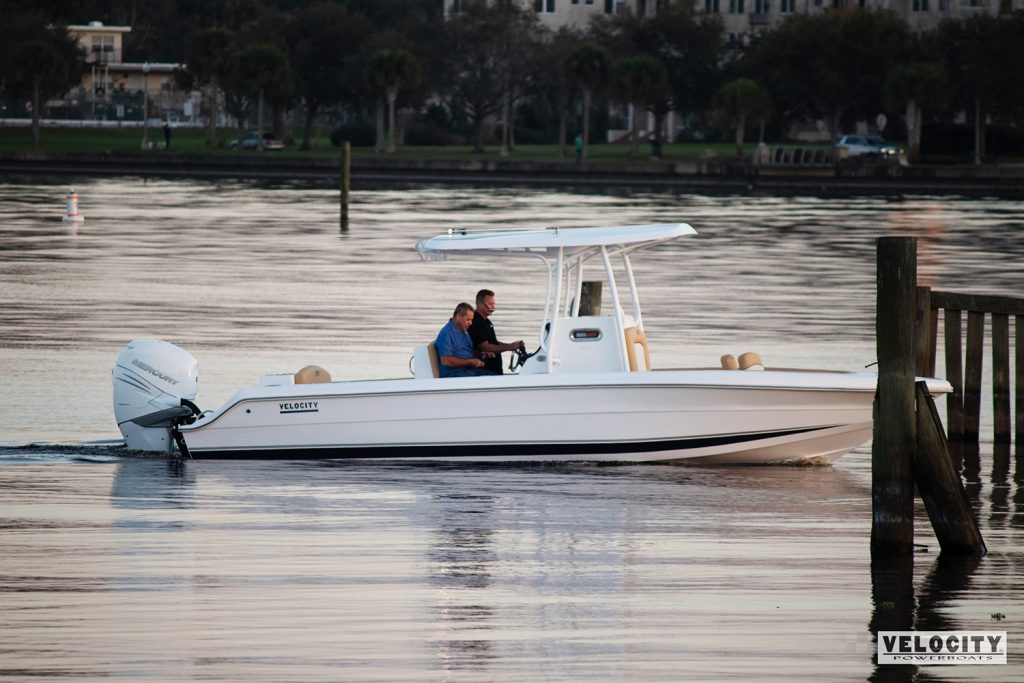 The first outboard model Velocity built was the 262 center console with a 400-hp outboard from Mercury Marine. Top speed was 67 mph first time in the water, McCormick said.
"I'm a performance guy, a world powerboat racer, so I'm looking for numbers, I'm looking for fun and excitement," he said, "and the numbers were there."
In reconfiguring the sport boats for outboard power, Velocity created a bigger cockpit by pushing the bulkhead because there was no sterndrive. The extra space can be used for coolers, fender locker or additional stowage, McCormick said.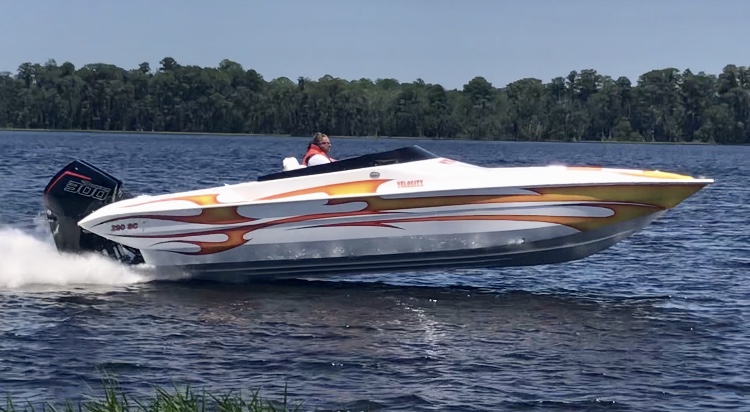 During construction, say of a 290 SC, Velocity inserts a jig to remove the center of swim platform and incorporating a swim ladder and wide swim steps on each side of the outboards. In addition, Velocity is using the mold updates to change the stringer and bulkheads, refine decks and a new lamination schedule.
"It's still cosmetically almost looks like the same boat, except you have a pair outboards hanging off the back," McCormick said. "We've taken that same concept and we moved it over into the fishing boats."
The Velocity sport boat lineup includes coming-in-2021 the 220 Punisher to join the 230 SC, 260 VR, VR1, 290 SC, 322 SC, 390VR and 410SC. On the fishboat side, Velocity has a 220 Bay Boat, 220CC, 260 Bay Boat, 262CC and 392CC. The company is working on deck tooling for a 40-foot center console with quad engines.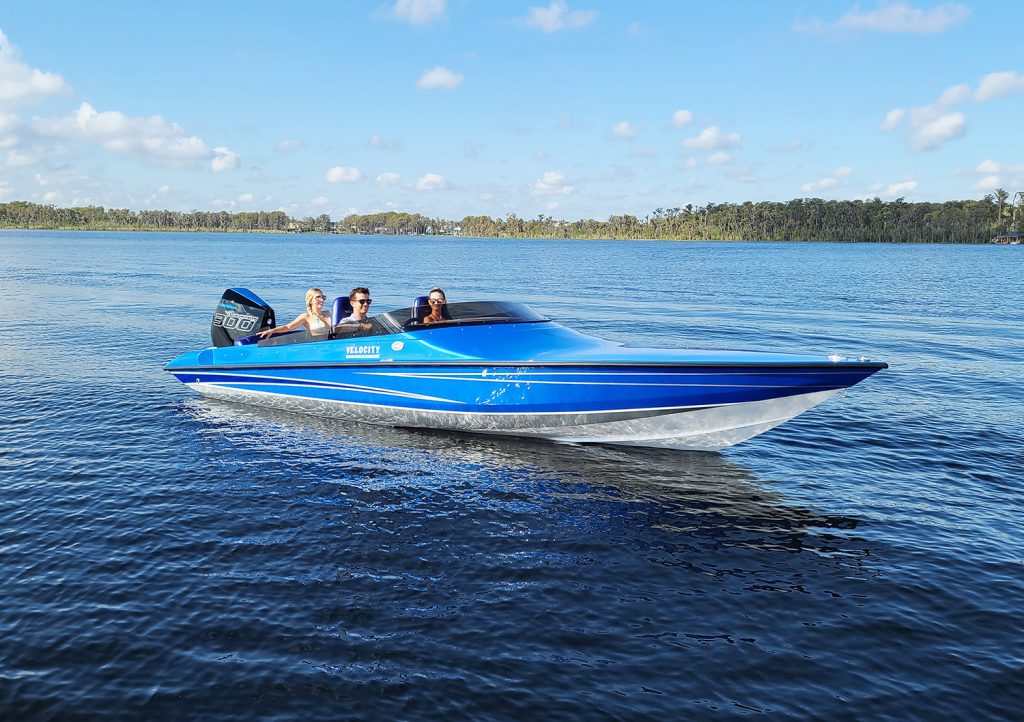 By offering boats from 22 to 41 feet, the Sanford, Florida, builder can appeal to a range of buyers from first-time powerboat owners to experienced performance boaters.
"It's very difficult for a consumer to go out and actually even buy a used boat that's under 30 foot on the performance side. When they see that we are building, and we have an offering of anything from 22 to 29," McCormick said. "We give them like four choices in that in that realm. It becomes something that's affordable, become something that's manageable, they can store it, they can tow it, they don't feel intimidated.
"I think that just by general market research, people are looking out there for something in that size range is hard to find anything. I think that's what is loading us up on the smaller boats."
Velocity is staying busy during the boating boom and keeping founder Steve Stepp's legacy going. McCormick used to ride his bike to the shop as a kid to wash boats and later worked for the company for 15 years.
"I am proud to keep this brand going for speed," McCormick said. "He was like a father to me when I when I worked for him and hung out with them. That's why I love the company as much as I did. We're like family."
Velocity Powerboats, 877-354-1159, www.velocitypowerboats.com