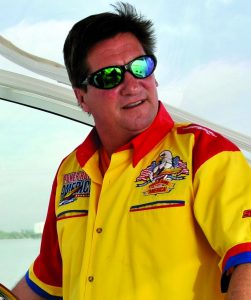 No stranger to the performance boating world, Chip Fendt is commonly seen at our poker run events and also occasionally lends his expertise for the pages of Poker Runs America, writing boat tests and insightful feature stories. A World and National Champion offshore racer with an extensive background in the go-fast industry, Fendt has worked in the sales and marketing capacities for many notable manufacturers such as Donzi Marine, Talon Custom Boats, Outerlimits Powerboats, Hustler Powerboats, Concept, and Statement Marine.
Whether he is at a poker run or working the Miami International Boat Show, Fendt is always on the move – quite literally. For instance, one of his most exciting assignments for PRA was running with Rick Merola and Gregg Rosen on the turbine-charged Aqua-Mania G3 Race Team at the 2012 Alexandria Bay Poker Run where he reported about his experience of hitting 208 mph!
"The way poker run events have evolved, they are a strong contributor in supporting the sport of performance boating and have opened up a whole new genre for a range of performance enthusiasts – not only the elite with the fastest hardware," says Fendt. "The camaraderie at a poker run is simply amazing and I never miss the opportunity to attend one.
With the performance season ramping up across the nation, don't be surprised to see Fendt walking the slips or onboard some of the latest eye-candy doing what he does best – enjoying the water and taking in the performance boating lifestyle.