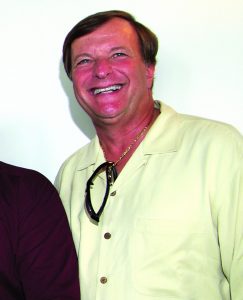 If you have ever been on a poker run, chances are very likely that you have seen or even met Bob Christie. Over the years, Christie has attended countless of poker runs and ranks the 1000 Islands Poker Run, NJPPC Atlantic City Poker Run, and the Tampa Bay Poker Run as he favorites.
"I like the destination aspects of poker runs," says the Princeton, New Jersey native. "The 1000 islands event is simply gorgeous with a great venue and a city that always has lots to do and see. I also enjoy the NJPPC's Atlantic City Poker Run as it's real destination and it's more than a one-day event. In addition, I enjoy the Tampa Bay runs as it's convenient considering I have a house in Cape Coral. The area and Florida in general is a great venue for boating with plenty to do and places to visit by boat."
Having owned some serious hardware – including 43 Nor-Tech catamaran, a 44' MTI, and even a Statement SUV center console with quad 300 hp Verados, the Poker Run Hall of Famer can now be seen running a 42X Cigarette powered by 1000 hp Mercury Racing engines with Number 6 drives.
"I have been into boating for a long time," says Christie. "As I have three kids and three grand children, my wife wanted more of a family boat. So, last year we purchased the Statement center console, which was a great way to enjoy time on the water. I think at one event we had something like ten or 12 people onboard. The center console was a great transition but my wife only wants one boat and while the Statement could run 80 mph easily, I wanted more speed."