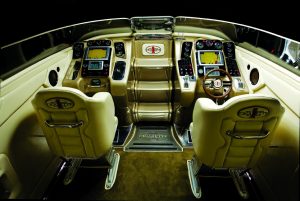 Cigarette Racing introduced its revolutionary 49 Grand Sport just two years ago at the Ft. Lauderdale Boat Show. Equipped with Mercury Racing 700 SCi engines and NXT1 drives, it was also available with 850 or 1075 SCi's and Dry Sump Six drives. With the twin 850 SCi's, it ran 84 mph. That's pretty impressive for an almost 17,000 lb. boat – almost 20,000 lb. when loaded!
This year I was invited by Cigarette Racing's Erika Braver to tour this new 49' Diesel powered high preformance crusier. Erika, explained that following an eighteen-month development project, Cigarette Racing Team, in collaboration with Mercury Racing and Cummins MerCruiser Diesel, introduced the next iteration of the 49 Grand Sport. It comes with a pair of 600 hp Cummins MerCruiser diesels with Dry Sump Six drives with Mercury's Enhanced Corrosion Protection (ECP) and 2-speed ZF transmissions. Erika said it tops out at 65 mph. Now that is really impressive!
Even more impressive is the sheer room aboard the 49, in the cockpit, in the cabin, and even in the engine room, plus the incredible attention to detail and the luxurious detailing and appointments. This boat is a class act from start to finish complete with all of the finishing touches that Cigarette is famous for.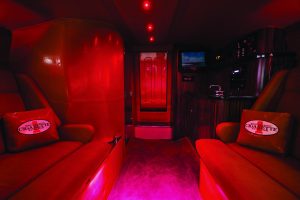 The boat's ten foot beam and over four feet of cockpit depth gives passengers a feeling of roominess and security when aboard and the abundance of amenities will certainly pamper them. Standard helm and cockpit equipment includes a tilt helm with a classy custom "Cigarette" wheel with a flattened bottom section to better clear the driver's knees. Instruments are Livorsi "Monster gauges" with choice of rim color. Controls are Latham trim-in-handle chromed. Mercury SmartCraft System View is standard, as is a Garmin 5212 color, touch screen GPS. Almost all of the instrumentation can be optionally added to the passenger helm and GPS speedo's can be ordered for the back of each front bolster.
The driver and passenger are further pampered with Cigarette's own supportive electric bolsters plus footrests. Both the cabin door and the engine hatch are powered and both can be remote control operated. The outside of the cabin entry door has molded steps for access to the foredeck. A Kenwood 400 stereo with remote control is standard but the optional Kenwood KT400 Billet Edition Stereo package provides virtually every feature and a total of ten speakers to satisfy the most discerning audiophile. Sirius satellite radio is available as are David Clark intercom / headsets. A slightly higher wraparound windscreen has been designed by the Cigarette team for this diesel version of the 49 to even further reduce the wind effects in the cockpit when underway. It comes complete with a center walk-thru.
Cabin
The cabin is simply sumptuous and roomy with its six feet of headroom, extra beam, and Cigarette's choice of fabrics and materials. Hella LED lighting with full mood lighting features provide the desired atmosphere. The facing side lounges are each six feet in length and were covered in the smoothest, buttery-soft UltraLeather upholstery on this show boat. The V-berth is absolutely a huge playroom in itself and appropriately finished with custom sheets, bed cover, and color-matched, embroidered pillows. The forward end of the V-berth is thoughtfully raised slightly higher than the foot of the berth. Two opening deck hatches supply natural light and ventilation.
The enclosed head has standup headroom, sink, vac-u-flush toilet, and a separate shower stall. Hot water here and at the galley is "instant-on." The cabinetry composing the galley unit is all custom and so rich looking in real zebra wood and ebony with a corian counter top with integrated sink and faucets. The drawer-type Isotherm refrigerator is stainless steel fronted. The cabin interior is so complete that only two options are available – a flat screen LCD television with DVD player and available surround sound, and 16,000 BTU air conditioning.
Hull & Engine Compartment
The Grand Sport's vacuum bagged and cored lay-up hull with its triple-step bottom was a design collaboration between Cigarette's in-house design team and Peter Hledin of Douglas Marine (Skater). The resulting lines are sexy, and European looking. The huge aft-deck section contains the mandatory "Cigarette"-emblazoned sundeck cushion plus a beautifully integrated swim platform with boarding ladder and fresh water transom shower.
It is here that a few well chosen options may make your experience with the Grand Sport even grander. Choose from a color-matched Sunbrella sun shade for those lazy afternoons at anchor in the hot sun, or a remote controlled anchor windlass mounted inside the forward locker to make your anchoring a breeze. LED underwater lights in a choice of three colors can only add to the desired mood of your choice once the sun goes down. Foredeck cushions with raised headrests can be natural daytime or nighttime mood enhancers. And to totally simplify docking and maneuvering, choose the tube type bow thruster you will wish you had.
Cigarette engine compartments are always classy, clean, and so professionally rigged. The Grand Sport is no exception and in this diesel version, has been expanded slightly to still allow ample access to the necessities. Of course the compartment is smooth-finished in Awl Grip with polished aluminum floor plate with emblazoned "Cigarette" logos. Again, LED mood-enhancing lighting strips in choice of color are available to augment the standard floodlighting. A novel and potentially very handy feature is the available infra-red engine compartment camera which interfaces with the GPS display. Add the Westerbeke diesel generator and you now have a go anywhere, stay anywhere, live-aboard luxurious home-away-from-home that's fast, economical, roomy, and oh so comfortable.