Mercedes-AMG and Cigarette Racing have introduced the Cigarette Racing 515 Project ONE at the Miami International Boat Show, celebrating 11 years of collaboration between the two companies.
The 515 Project ONE takes inspiration from the all new Mercedes-AMG Project ONE Supersports car.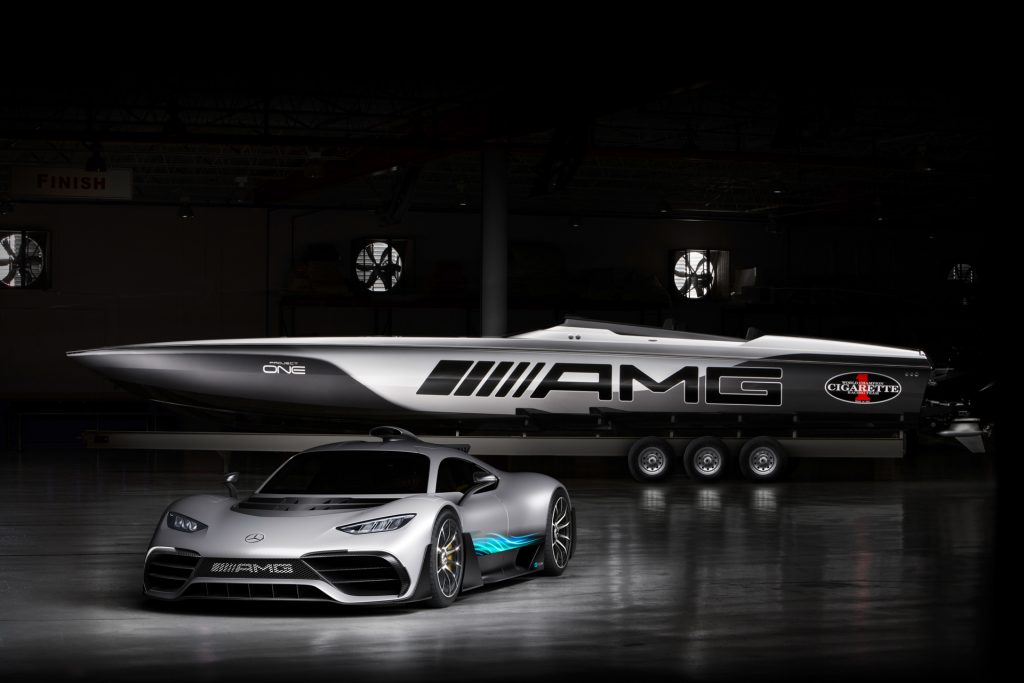 "By directly translating Formula 1 technology from the track to the street, the Mercedes-AMG Project ONE is our most ambitious and awe-inspiring vehicle yet. It is incredible to see our vision reimagined for the water in such an impressive and highly compelling form," Tobias Moers, Chairman of the Board of Management of Mercedes AMG GmbH in a release.
As its name would indicate, the 515 Project One is 51'5" in length with a stepped V-Hull.  It has seating for six and features a 9'6" beam. With a top speed of 140mph, it provides performance similar to the existing 50' Maraduer.  According to the release, This performance is made possible by an optimized composite structure consisting of carbon-fibre, Kevlar and E-Glass.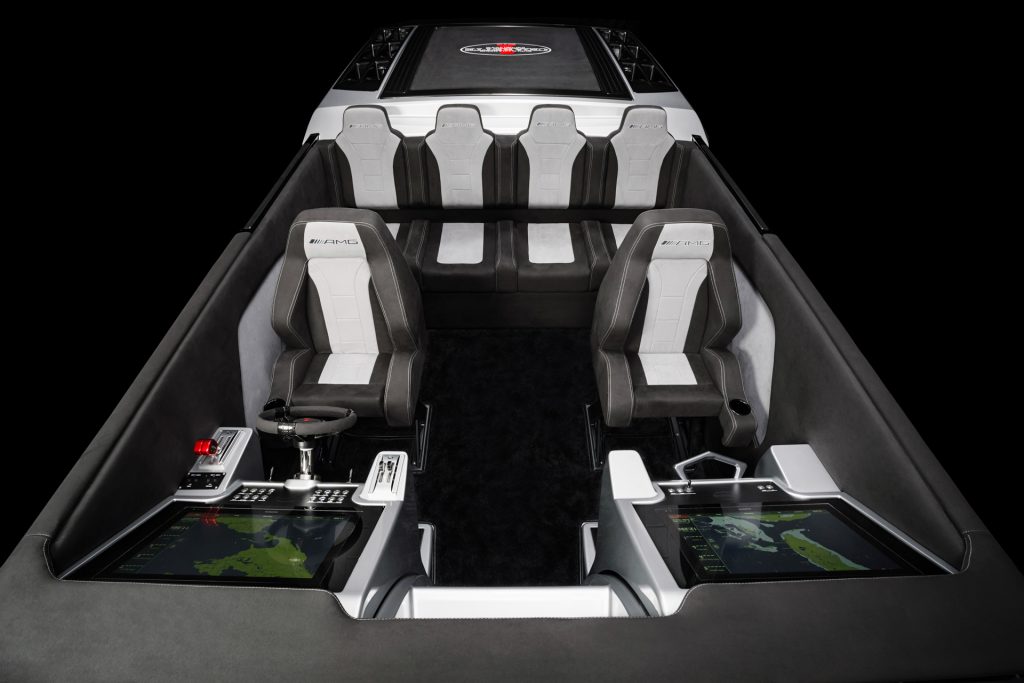 Cigarette's signature aggressive shoulders, which rise in the rear of the boat, also allow the integration of a large sun cushion on the flat exposed-weave carbon-fiber hatch—despite the tall engines beneath—for maximum comfort and versatility when stationary, according to the release.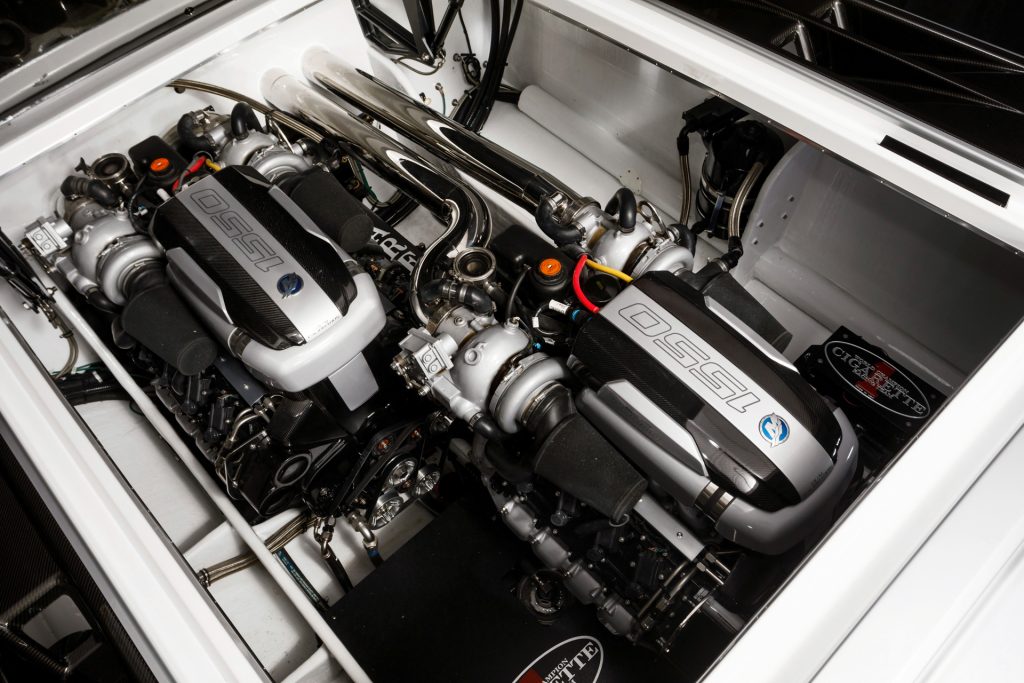 The 515 Project ONE is powered by staggered twin Mercury Racing 1,350 engines.  The engines are dual calibration engines, meaning the driver can switch the power output depending on which key they are using.  The pleasure key fob gives the driver 1,350 hp with 91 octane while the race key fob unlocks 1,550 hp and requires race fuel.
The deck of the boat is made entirely of carbon fiber, reducing the total weight and lowering the center of mass on the boat. Carbon fiber is all over the boat, from the inner laminate of the hull, to the engine and storage hatches.
All of this carbon fiber adds up to some serious weight saving.  The 515 Project One weighs 5,000 lbs less than the 41' Cigarette SD GT3, according to the release from Mercedes AMG.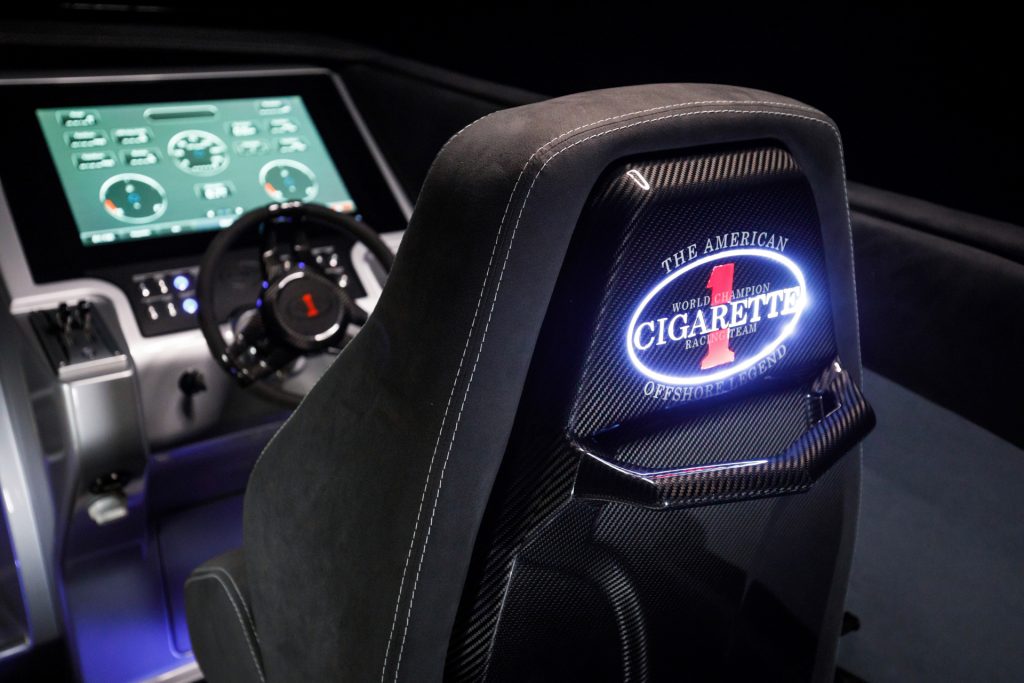 "Mercedes-AMG and Cigarette Racing both have racing as part of their DNA, which makes us natural partners to work together to continue to push the limits of design and high performance," said Skip Braver, CEO of Cigarette Racing, in a release.
"Whether on land or on water our discerning customers demand the absolute best, so we are extremely proud to unveil the Cigarette Racing Team 515 Project ONE. It is by far our most impressive high performance boat yet and represents a triumph of engineering that proudly reflects our unparalleled performance pedigree," said Braver.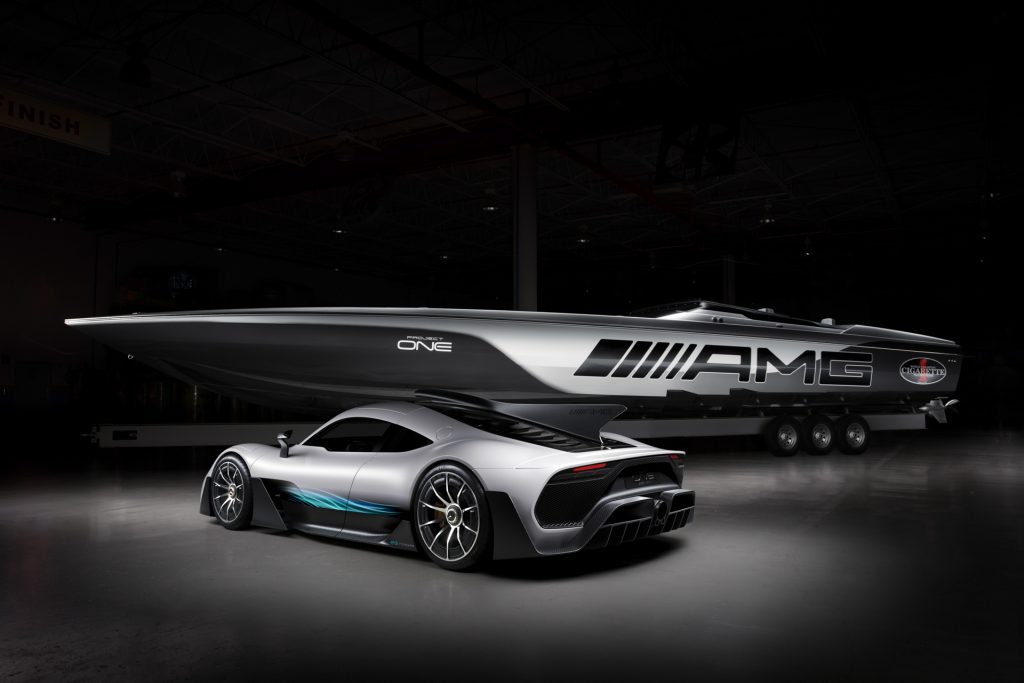 This is the ninth special edition boat that Mercedes-AMG and Cigarette racing have collaborated on.
For additional information on Cigarette Racing, please visit www.cigaretteracing.com