Whether he's building one of the sweetest poker run boats in the world, starting a new racing career or helping to launch a racing organization, Tom Abrams remains eternally optimistic.
Originally Appeared in Poker Runs America 7-5
By Eric Colby
There's one word you simply do not say to Tom Abrams – can't.  When he decided to go offshore racing, people told him you can't start in the sport's fastest class.  He did.  They told him you can't win in your first year: he did. Then they told him that after only one season of competing, he couldn't go out and help establish an entire new organization.  Well, he did that too.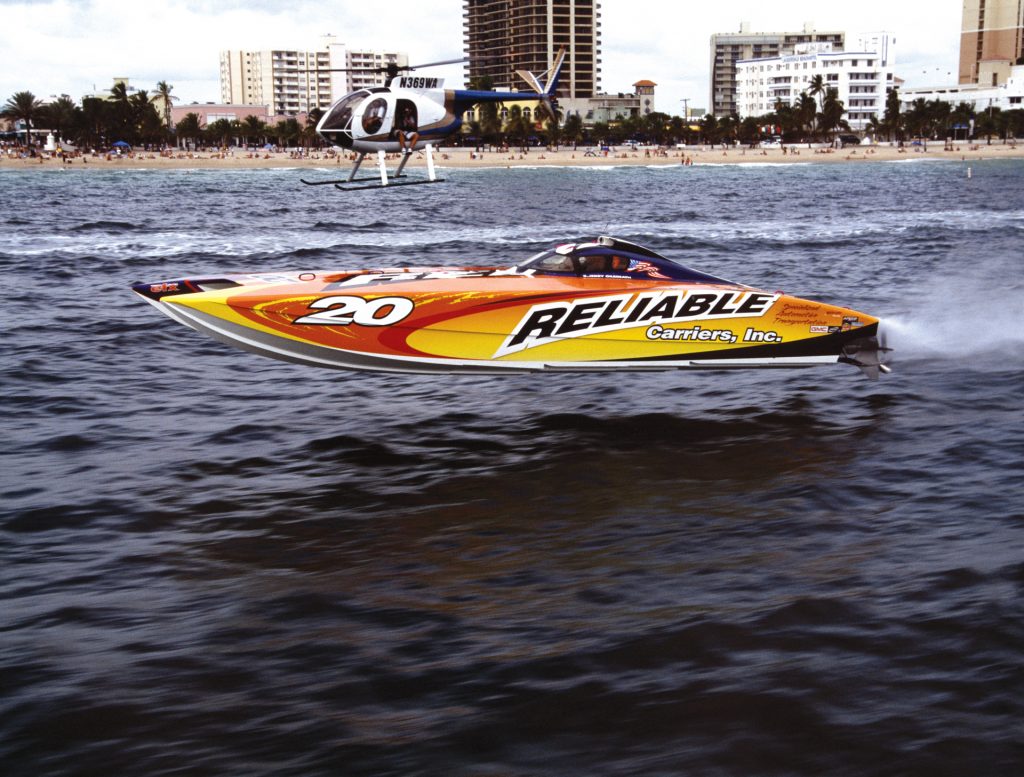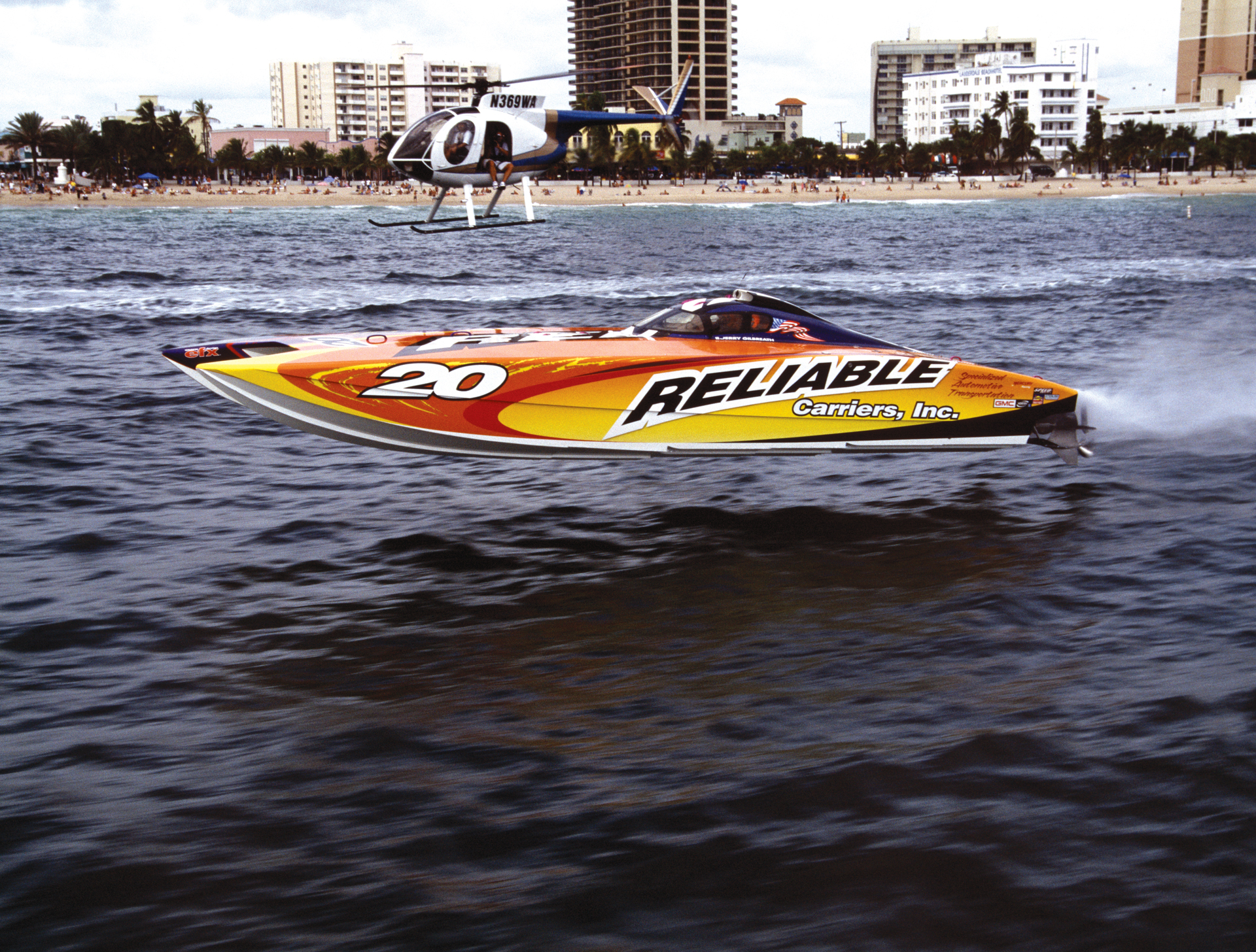 "The worst thing you can do is tell Tom Abrams he can't do something," said the 49-year old automobile carrier magnate.
You have to understand that, for Abrams, who hails from the Detroit area, racing and even running a business pale in comparison to raising a daughter who wasn't supposed to live to see her first birthday.  Katie Abrams is now 13.
"My little girl makes my world go round," Abrams said with emotion.  His daughter has a rare genetic imbalance known as Trisomy #9 which, when explained in simple terms, means that she was born with a third, or extra #9 chromosome.  Doctors told Abrams and his wife Kim not to expect Katie to live more than 60 days. Although she is the size of a typical five-or six-year old and needs hip surgery, Katie is a fighter.  She is believed to be the oldest living person in the world with her condition.  At whatever races she can attend, you'll see Katie in her chair, wearing her #20 (the boat was numbered for her birthday, December 20th) Reliable Carriers Racing Shirt alongside her sister, Lauren, 11, and little brother Brian, 8.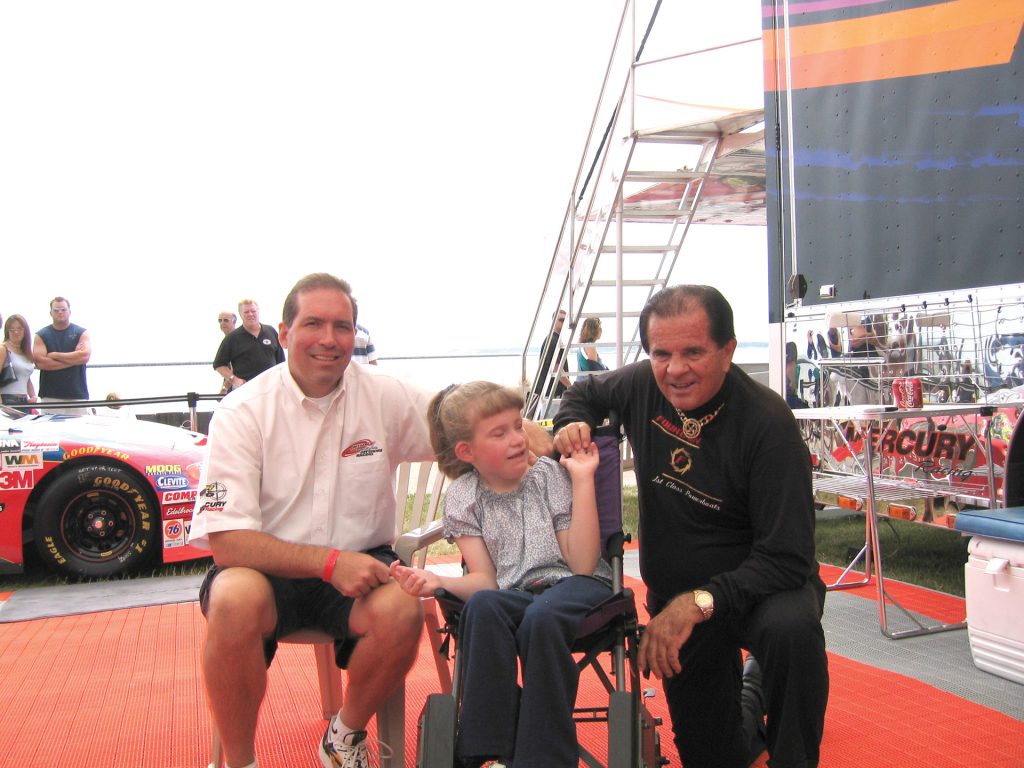 "It was our first child and in my mind, I didn't believe it at all was happening," said Abrams.  "I'd never been dealt that kind of blow.  My wife, god bless her, was the one who held the whole family together.  I could go to work, but she was dealing with it day in and day out and she did so much research."
While his daughter has always been a bit of an underdog, Abrams said that when he started offshore racing, he didn't plan to assume the same role.  He had every right to expect to do well.  He had a state-of-the-art Skater 40 Supercat with Mercury Racing power and a throttleman known for turning go-fast boat enthusiasts into champions, Jerry Gilbreath.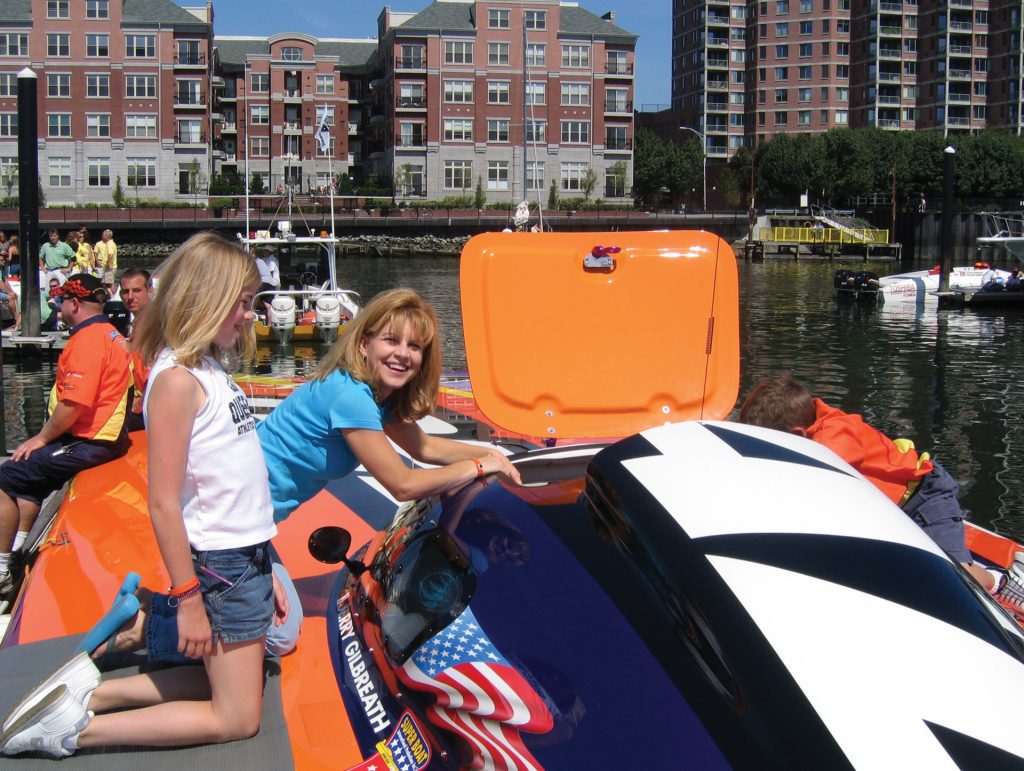 The two got their first in-boat experience at a divisional event – the annual kickoff to the offshore season in April 2003 in St. Cloud, Florida – running well.  Then came the national season opener against the best boats and teams the sport had to offer in Daytona Beach, Florida's rough ocean conditions.  "We got out there and these guys gave us a rude awakening," recalled Abrams. "I knew we had to do a lot more homework. I just have so much more respect for these guys."
Abrams explained that he takes the same approach to racing that he does with the business he co-owns with his brother, Alan – Reliable Carriers Inc.  The family corporation has four offices throughout the United States with more than 400 employees and 350 trucks.  It specializes in transporting high-end automobiles for all car manufacturers as well as high-end auctions, concept vehicles, test, engineering and prototype automobiles.  Reliable Carriers is also the exclusive distributor of the Dodge Viper, the Ford GT-40, Rolls Royce and Bentley, among others.  "We are the benchmark of specialized automotive transportation and we want to be the same thing in racing," said Abrams.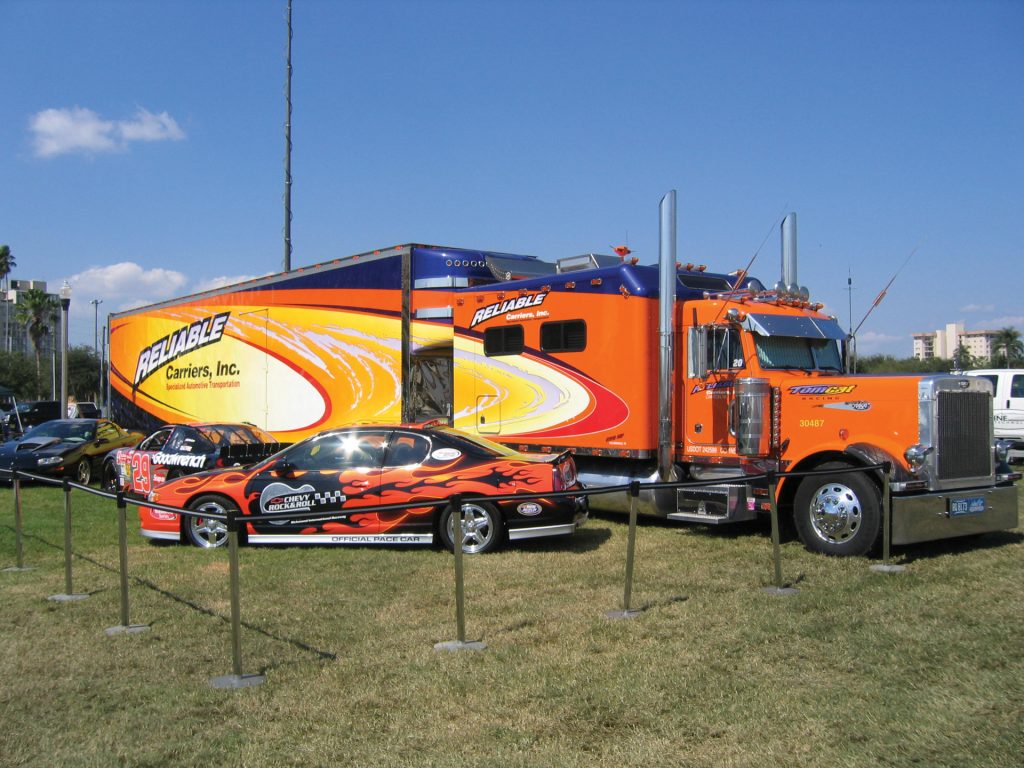 The team has certainly shown it has the ability to compete and it eventually won at the APBA'S Ggmc Pro Grade National Series event in Milwaukee last year. "It was a good race for us," said Abrams. "I knew where Hugh (fuller) and Johnny (Tomlinson) were at all times."
No sooner had the team shown it was a serious threat when its world got turned upside down at St. Petersburg, Florida.  Heading into the first turn, Abrams dove for the inside lane, but at the same time Fuller moved to the outside. The combination of the wakes that Reliable Carriers was crossing and the roostertail from Fuller and Tomlinson's boat blasting into the Skate's tunnel forced Abrams and Gilbreath into a barrel-roll.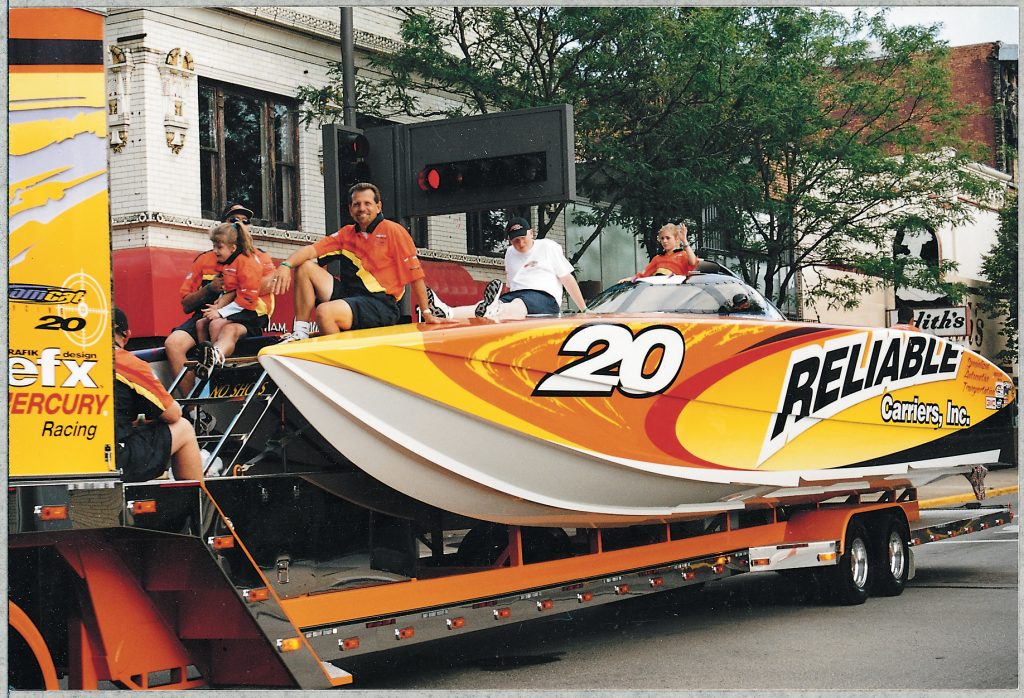 The incident happened quicker than a hiccup and the boat actually landed rightside up, making a complete 360.  "We still thought we were going to beat Johnny to the pin," said Abrams. "we had already been completely over before we realized we had been over."
Instead of beating anyone to the first turn, Reliable Carrier landed on the Brioschi boat piloted by Jay and Jason Mueller, damaging both hulls and taking them out of competition.
"St. Petersburg, we'll take that one as driver error," said Abrams. Within our organization we win as a team and we lose as a team."  He says that one because his wilder-than-normal rides, even for offshore racing, hadn't ended for 2003. At the world championships in Key West, the boat went upside down again, but this time it was a racing incident that happened when too many boats were trying to get through the same spot at the same time.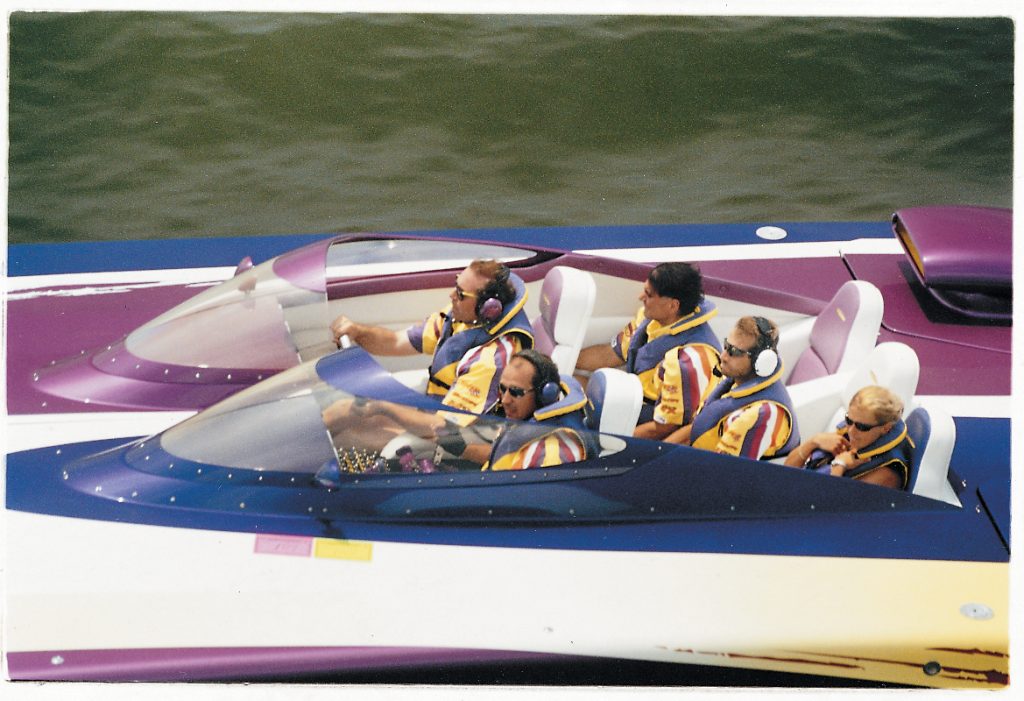 "I've always had a lot of respect for boating and been a safe boater, but I never realized how fast things can happen," Abrams admitted.
Growing up in Detroit, Abrams developed his respect for the water and for hard work.  His parents, Don and Doris, built a moving and storage business into a success before turning it over to the sons.  Alan and Tom eventually started moving cars for the Ford Motor Company and in 1999, closed down the household storage end of the business and decided to specialize in moving automobiles.
His father also put tom in his first boat, a 14' runabout with a 35 hp engine.  The younger Abrams was the typical gearhead growing up, playing with motorcycles and musclecars through his high school years.  Today, he still owns quite a collection of musclecars.  But it was the boats that became his release.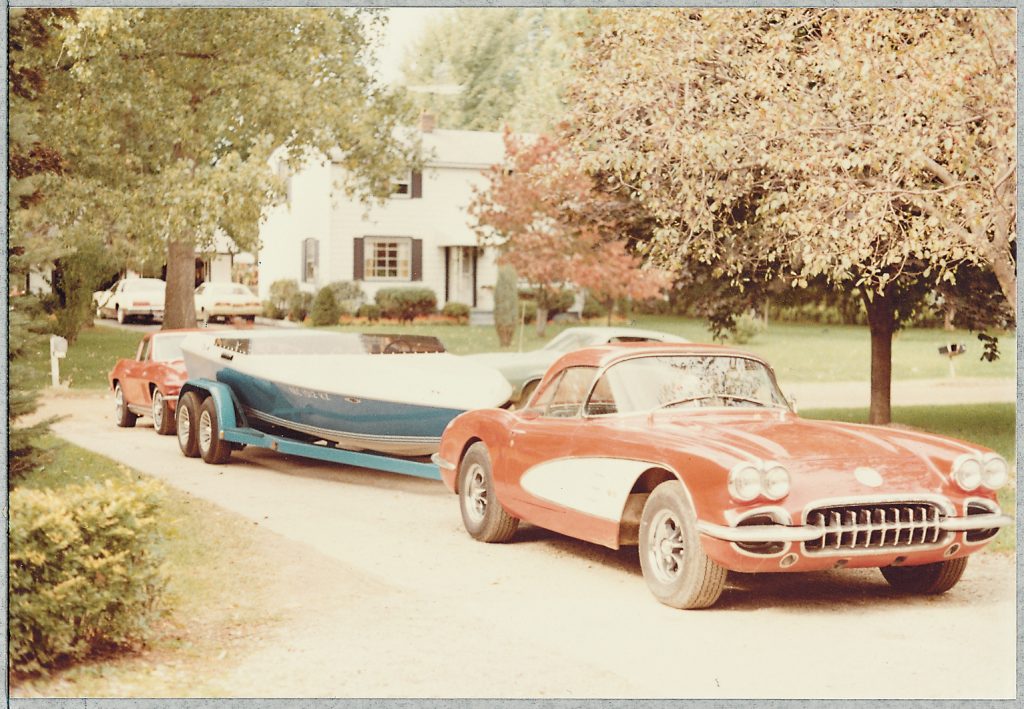 After taking some business and accounting courses at a local community college, Abrams dove into his work, putting in countless hours.  When he was about 20 years old, he bought his first boat, a 19' Python mini offshore style hull with a big block and a jet drive. "I realized it was too big for an inland lake and it was too small for the Great Lakes," he said. So, like any boating enthusiast, he stepped up.  The next year, he bought a 24' Python with a 330hp MerCruiser big block and TRS drive.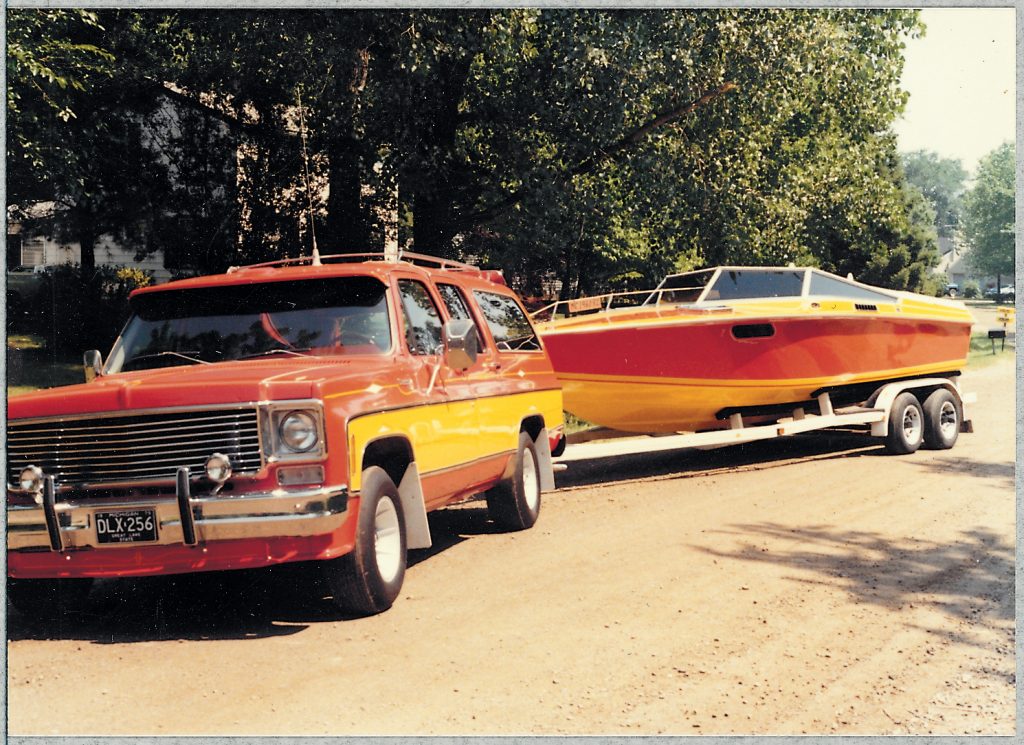 Abrams held on to that boat for a few years and in his mid-20s decided to get his first twin engine go-fast, a Formula 302, 1980.  It had twin 330s with TRS drives and the young man was making some pretty big payments on his new toy, but that didn't keep him from upgrading the engines.  "Before I ever took delivery, I took it all apart, put the big Gil Marine exhaust on it, changed the carburetion and heads.  People told me I was crazy cutting 4-inch holes in the transom of a new boat."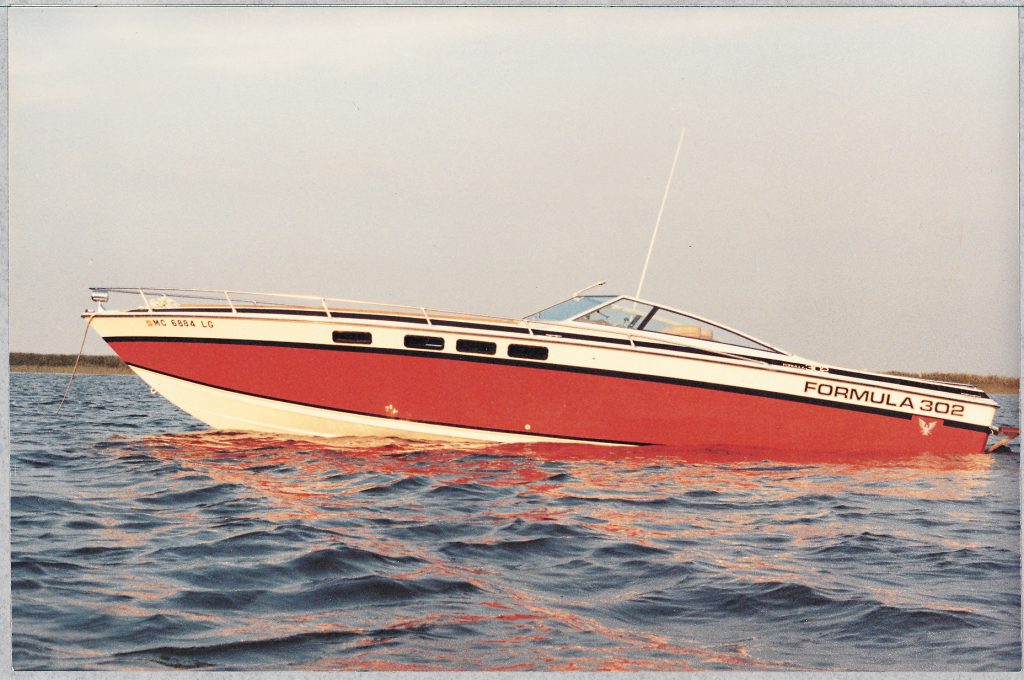 Abrams had years of good times in that formula, but decided it was time to move up yet again.  He bought a boat he had been dreaming of since he saw it in all the magazines, a 42' Excalibur. "It was the most disappointing boat I bought," he lamented. "One afternoon, I finally got it in the water and it just didn't do what I wanted it to do."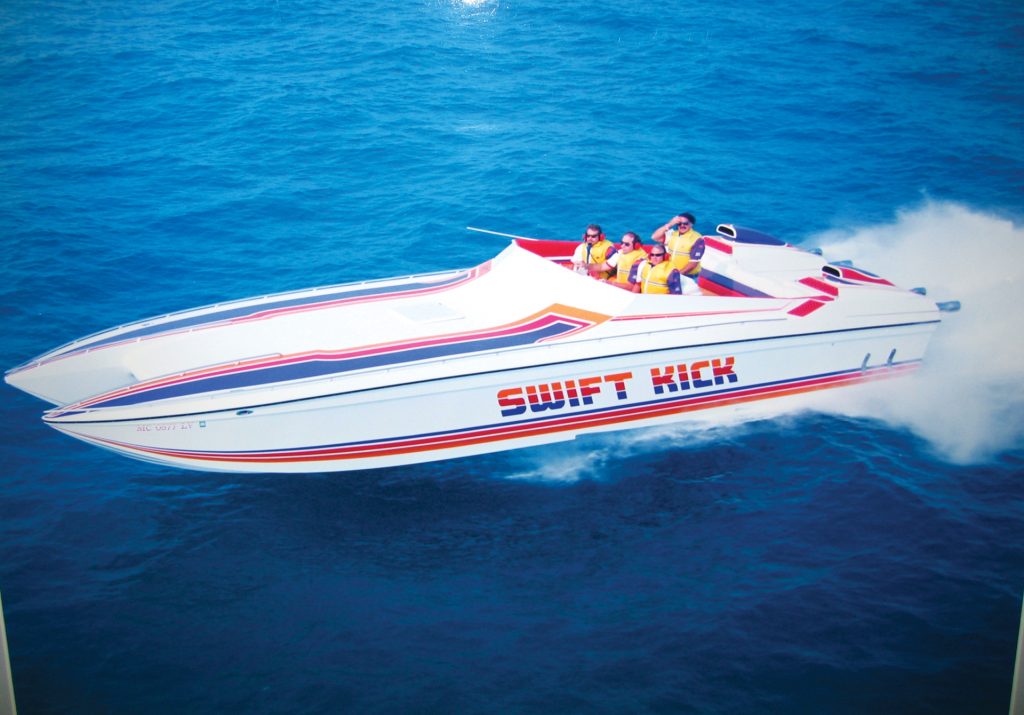 Realizing he could not reach the speeds he wanted to with conventional boats, Abrams bought his first multi-hull, a 39' Express Cat, in the mid-1990s.  He purchased it used did a lot of work on it and put a ton of money into it, including some big blower motors.  "I was just always chasing that thing.  It ran 90mph when I bought it and we got it up to 115," said Abrams. "We were popping motors and repairing the boat."
Abrams and his boat started to develop a reputation as a hard charger on the poker run circuit until he went to one of the big events. "We went to one poker run and two boats sent me packing," said Abrams. "It was the 37' Talon, Hot Knots and the Skater 40, Feeds the Need.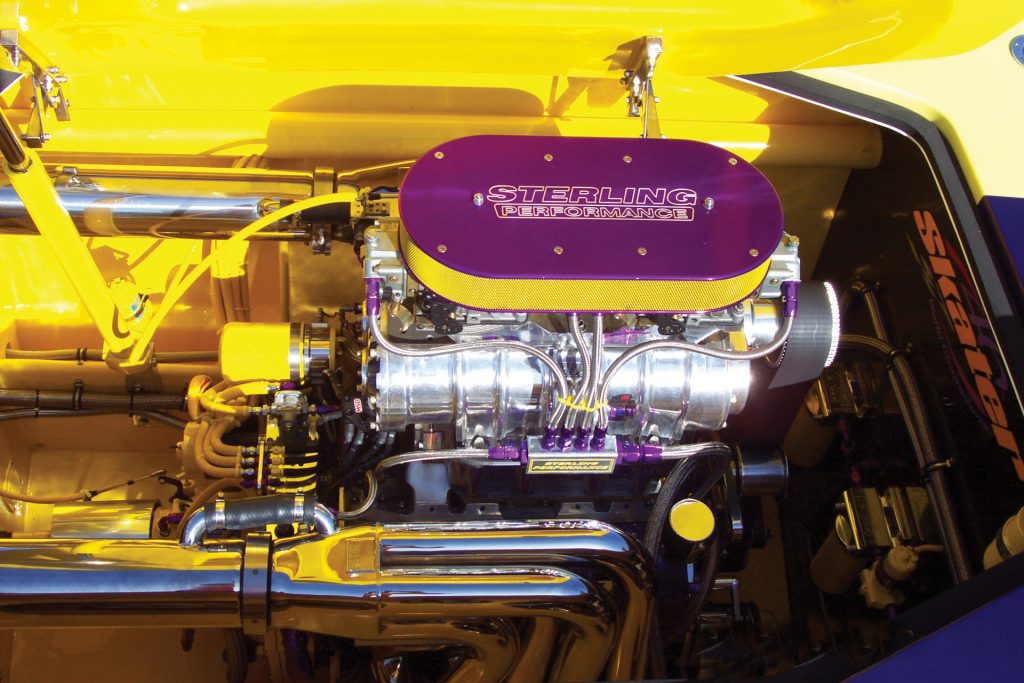 "I thought as hard as I work, I'm going to build a boat and I'm going to build the best boat, so we bought Tomcat and we were going to be build the nicest 46 Skater ever built"
Abrams, his current crew chief Eric Hurttgam and his two sons, Justin and Josh, put in countless hours on the boat, including 900 in the engine compartment alone, installing hidden hinges, smoothing the blocks, smoothing all the panels and using all carbon-fiber parts.  Power was provided by a pair of 1,300 hp Sterling Performance Blower Engines.
Finally, after two years, the boat made its first appearance in the Spring 2001 Poker Runs America event in North Carolina, but a transmission problem kept the big cat from showing its potential.
Then at Bill Frenz's New York poker run, all the big guns showed up, including Gary Montano's turbine powered boat, another turbine powered Skater 40, Jet Set, plus all the Outerlimits V-bottoms.  With Russ Houston of Team Planetman fame throttling, Abrams' boat, Tomcat earned King of the Hudson honors.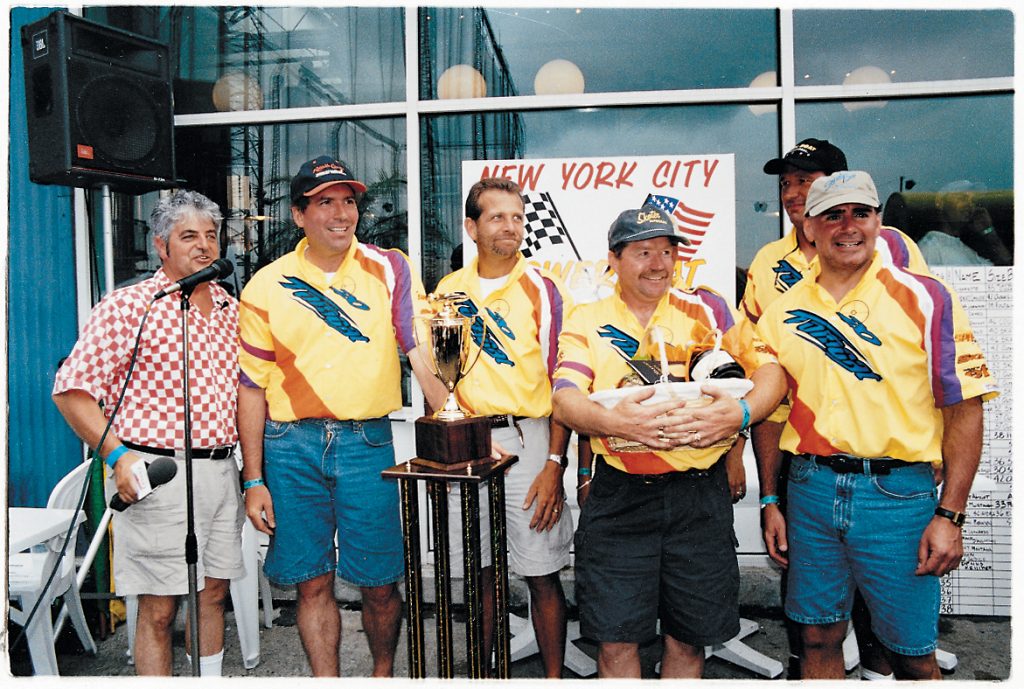 Abrams still has the poker run boat and he plans to attend some of the biggest charity-associated events this summer.  It's not as if he won't be busy enough because, on top of everything else, he's also one of the board members of the new Offshore Super Series, which split off from the APBA at the end of last season.  The group's intent is to keep racing simple and put control in the racers' hands.  There are only four classes, OSS Cat, OSS Cat Light, OSS Vee and OSS Vee Light.  At the first event, 33 boats, including eight Super Cats, competed. Seven events are planned for 2004, with a season finale joint world championships event with Super Boat International in Key West.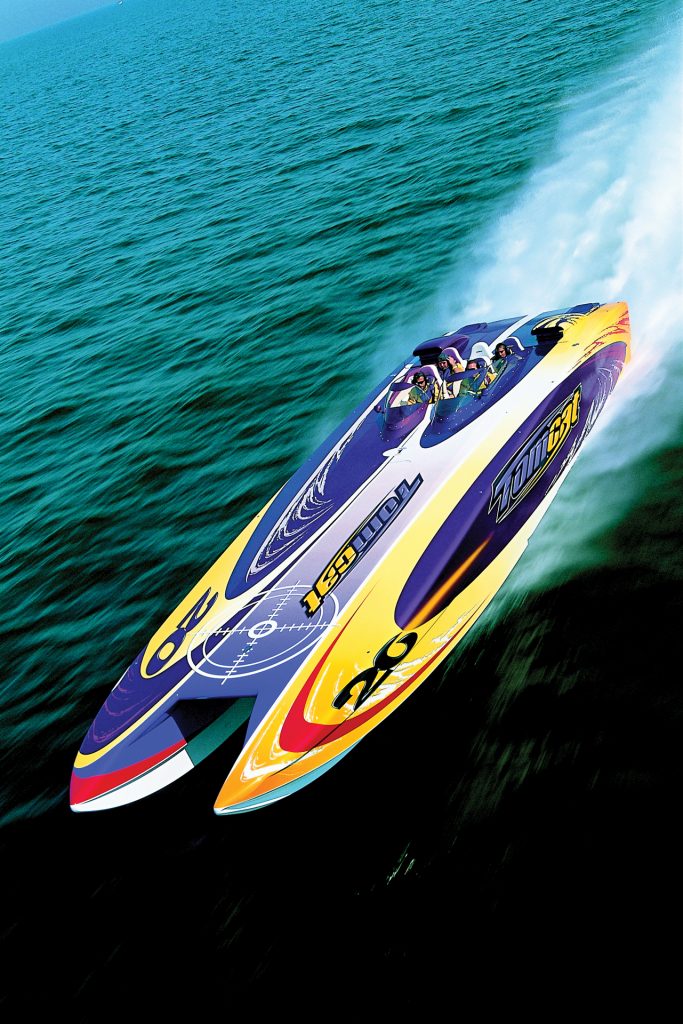 Abrams explained that OSS started because the racers wanted to have more say in the decisions that affected how the sport is governed.  "As a group, as we came out of St. Petersburg, there was a group of Super Cat and Super Cat Light owners who weren't happy within APBA and we had a list of things we weren't happy with," said Abrams.
Truth be told, the group first met at the same race Abrams won, the APBA event in Milwaukee.  He and Gary Montano were planning to each buy a set of $45,000 six blade Hering propellers and the other competitors in Super Cat came to them and said if you do this, you'll drive up the costs to the point where many of us won't be able to compete.
"I said, 'I'll cancel my order if Gary does' and he cancelled his order," said Abrams.  "That kept everybody in the ballgame. It was the first time we united as a group and as a class it was the most important thing we did."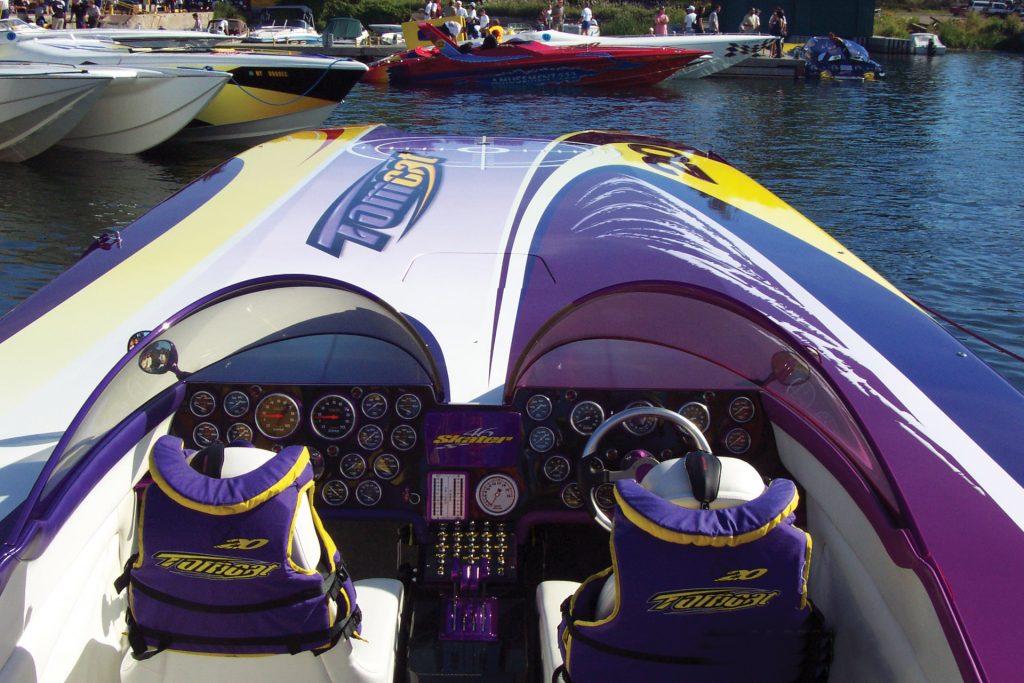 At the group's first event this year in Biloxi, Miss., Abrams said he was most impressed with all the OSS members' willingness to help make the vent pleasant to be at.  Simple things like making sure there are donuts and juice and coffee at the driver's meetings suddenly become a big deal when you're not used to seeing them.
The democratic approach is a big part of the foundation of OSS. For example, each class basically makes its own technical rules.  Initially shaft-driven, or surface driven boats were outlawed, but Gary Nichols, who owns a shaft-drive MTI cat, wanted to race with OSS.  The OSS Cat competitors sat down and agreed to let the boat race with a 750-pound weight penalty.  At Biloxi, Nichols went out to practice but couldn't do better than 115 mph.  the OSS Cat owners got together again and cut the penalty in half.  The result? The boat was competitive and will be at the next event.
Unfortunately, Biloxi also tested the mettle of the board and OSS CEO Elaine Motl when Randy Linebach, an OSS Cat driver, was killed when his boat barrel-rolled during testing.  Abrams was friends with Linebach and struggled to even for himself to get back in to his boat.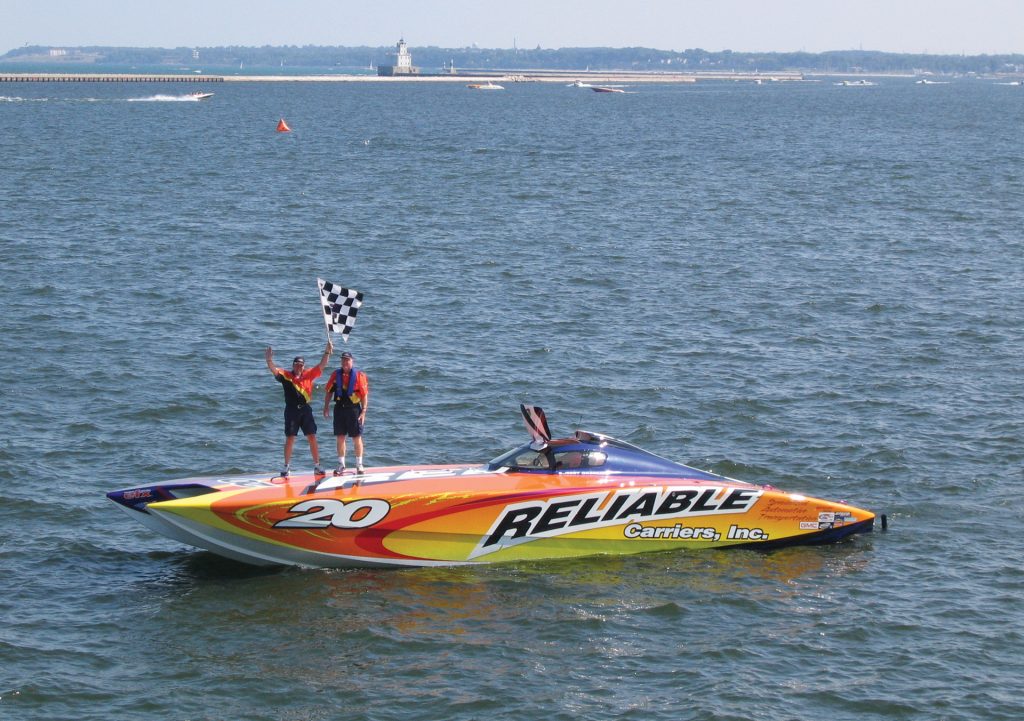 "I had a hard time with my wife and my kids," said Abrams.  "I knew if I didn't get back in the boat on Saturday, I probably wouldn't."  Reliable carriers finished third on Sunday, behind race winners Jim Dyke and Dominic Visconsi in Popeye and runners-up Tomlinson and Todd Werner in Flowmaster.
Always keeping his eye on the big picture, Abrams says that OSS needs to renew offshore racing's connection to charities.  When he wins, the financial rewards go to either the local beneficiary or the OldVillage School in Michigan where Katie Abrams is a student.
"it enhances the way the other kids get helped," said Abrams. "It's important in these towns we go to that we work with charities."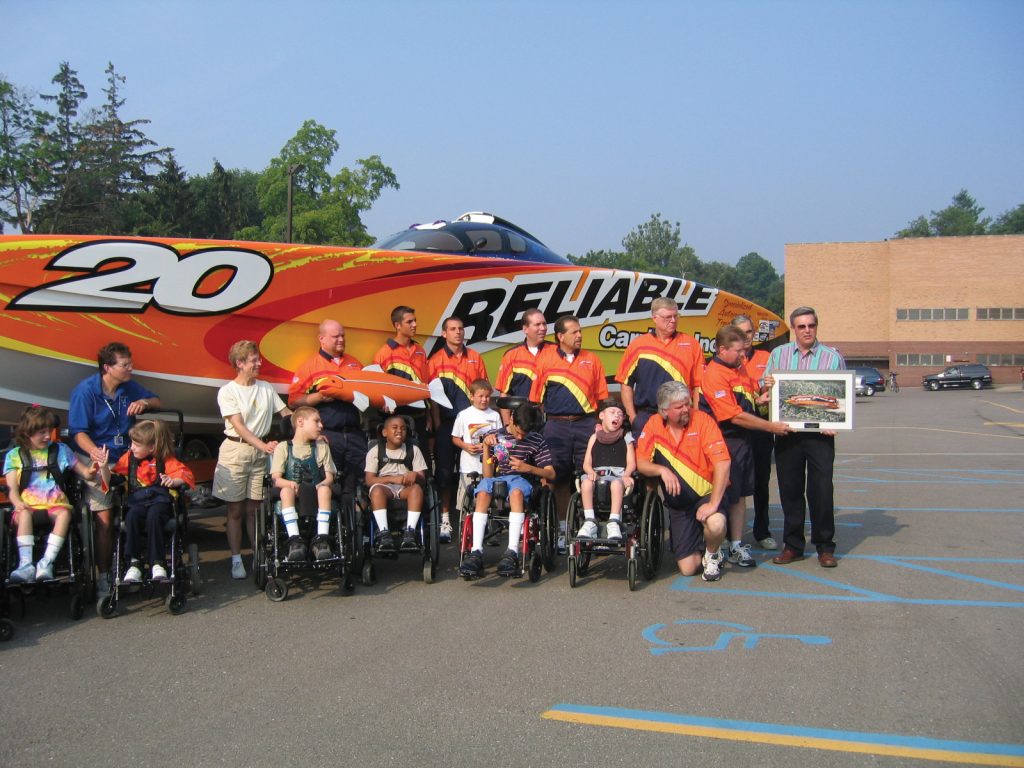 When the Reliable Carriers team went to visit the kids at the Old Village School, the driver of Katie's bus said she recognized the boat and was obviously excited.  That's big news.  You see, she's supposedly not able to associate the boat with her dad.
Guess you shouldn't try to tell Katie there are things she can't do either.