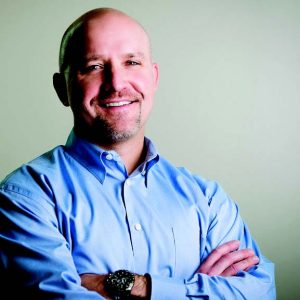 "The G2 has all the TRADITIONAL VALUES and benefits of two-stroke engines and the rich heritage behind both the BRP and Evinrude brands. At the same time, it moves towards the future in multiple ways: the LOOK, the EMISSIONS, the FUEL EFFICIENCY, the RELIABILITY and customer maintenance schedule…"
Christopher Berg, Global Director, Evinrude Marketing & Strategic Planning
It was June 2014, when BRP took the shroud off of a secret project that was five years in the making.  At a combined media event and dealer meeting, company executives and project managers revealed "…the outboard of the future, that didn't look anything like an outboard, something that could be recognized from 200 yards away at dusk."
Our test team was there, and Captain Chris Kourtakis was at first skeptical. After 20 years in the industry and hundreds of product unveilings he wrote: 'what could they possibly show me that I have not already seen?'
His answer, in a nutshell, was 'lots!'  Chris wrote, in his notebook, "As the presentation started, I could tell this was NOT going to be your ordinary product review.  There was something different about the presentations and then there it was – the Evinrude E-Tec G2 series.  I had officially been 'wowed'.  Before me stood a two-stroke engine, that really didn't look like an outboard at all, and had been designed and built from start to finish by BRP."
THE CLAIMS
BRP claimed that their new G2 out-board would deliver a 15% fuel economy improvement by being more efficient in changing fuel into energy.  At W.O.T., the 300HP V6 74° E-TEC direct injection G2 outboard will burn 21 gallons per hour, with 2-3 times less emissions than their competitors, and produce the lowest level of carbon monoxide (CO) of any outboard currently on the market.  Despite being a two-stroke outboard, the G2's are 100% emission complaint globally and can be run ok on lakes that only allow Evinrude motors.  Their R.A.V.E technology provides horsepower on the top without losing it on the bottom.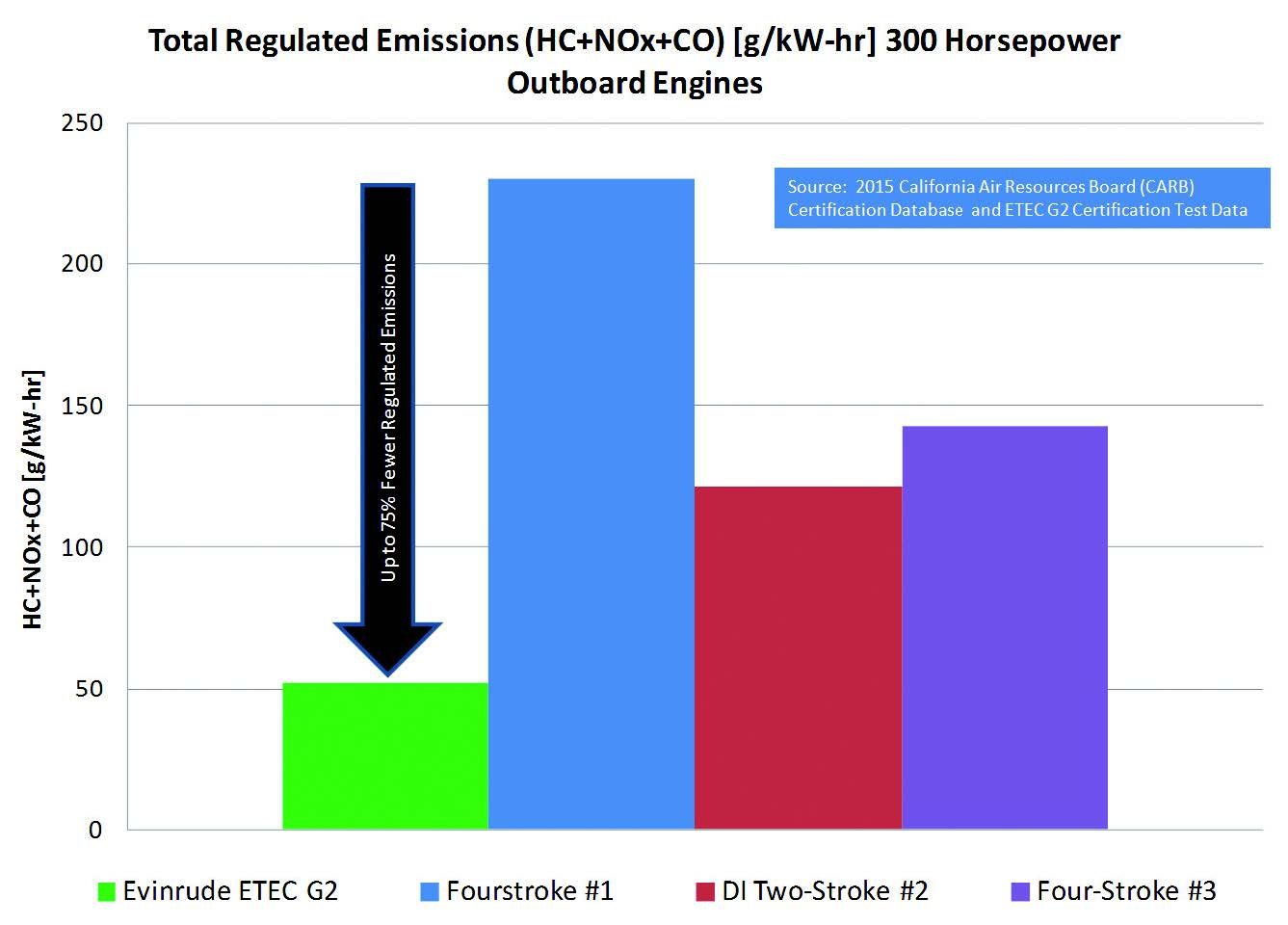 BRP states that the new G2 outboard features a distinctive piston thrust away from the hot exhaust port, which leads to increased durability and  produces 20% more torque (over 600 foot pounds at 5,000-6,000 rpms).  Other features of the G2 include a titanium oxide coating on all aluminum parts, a lightning-fast microprocessor with failsafe protection mode, an auto break-in period, and an auto-storage function that helps extend your season and reduce visits to your dealer for seasonal winterization.
OUR TESTERS' REACTION
Here's Chris' test notes from his on-water test opportunity:  "As I left the dock I overcompensated for the power steering.  Talk about easy to drive.  As soon as I had the chance, I pushed down the throttle and discovered first hand that indeed the BRP designers had certainly improved the torque on these new engines.  The 210 cubic inch, 74 degree V6 E-TEC direct injection outboard jumped the 2,718 pound Hurricane 2690 deckboat out of the water and onto plane in under 6 seconds!  We quickly reached the top end speed of 41.2 mph at 5,900 rpms cutting through the choppy water like a hot carving knife thru butter.  The auto trim feature on the new 558lb G2 is sleek and spot on.  The auto trim raised the motor to the exact position where the boat would reach optimal performance.  For first time boat owners, this is a great feature to have, as you will never have to play with the trim button again.  The lake had a chop with frosted white tips on it that day, the twenty-six foot Hurricane performed better than expected (cornering sharply like a smaller runabout), and my expectations were pretty high knowing that the SunDeck was the largest boat Hurricane ever produced with an outboard motor.  The G2's power steering per-formed flawlessly even in the heaviest winds and water.  And this new engine runs on standard 87 octane gasoline."
REFLECTING BACK
I had the chance to catch up with Christopher Berg, Global Director, Evinrude Marketing & Strategic Planning, at the 2016 International Boat Show this past January.  My intent was two-fold.  First, to see what the public and dealer reaction was to this "transformer-looking outboard", and second, to ask an obvious question about what the future might hold both in the short and long terms.  Chris was gracious in sharing what he could – and smiled from ear-to-ear when he couldn't.
"The story with the G2 today is the same as it was when we introduced it," Chris said.  "The idea was to bring to market an entirely new outboard, built entirely by BRP. The G2 has all the traditional values and benefits of two-stroke engines and the rich heritage behind both the BRP and Evinrude brands.  At the same time, it moves towards the future in multiple ways: the look, the emis-sions, the fuel efficiency, the reliability and customer maintenance schedule (or lack of required maintenance I mean)."
"The initial reaction of dealers – as well as media like yourselves – at the unveiling event was overwhelmingly positive! The dealer orders we received were above our expectations."  Chris told me that some dealers ordered on sight, others ordered after they had a chance to take a test drive, just like our test team member did.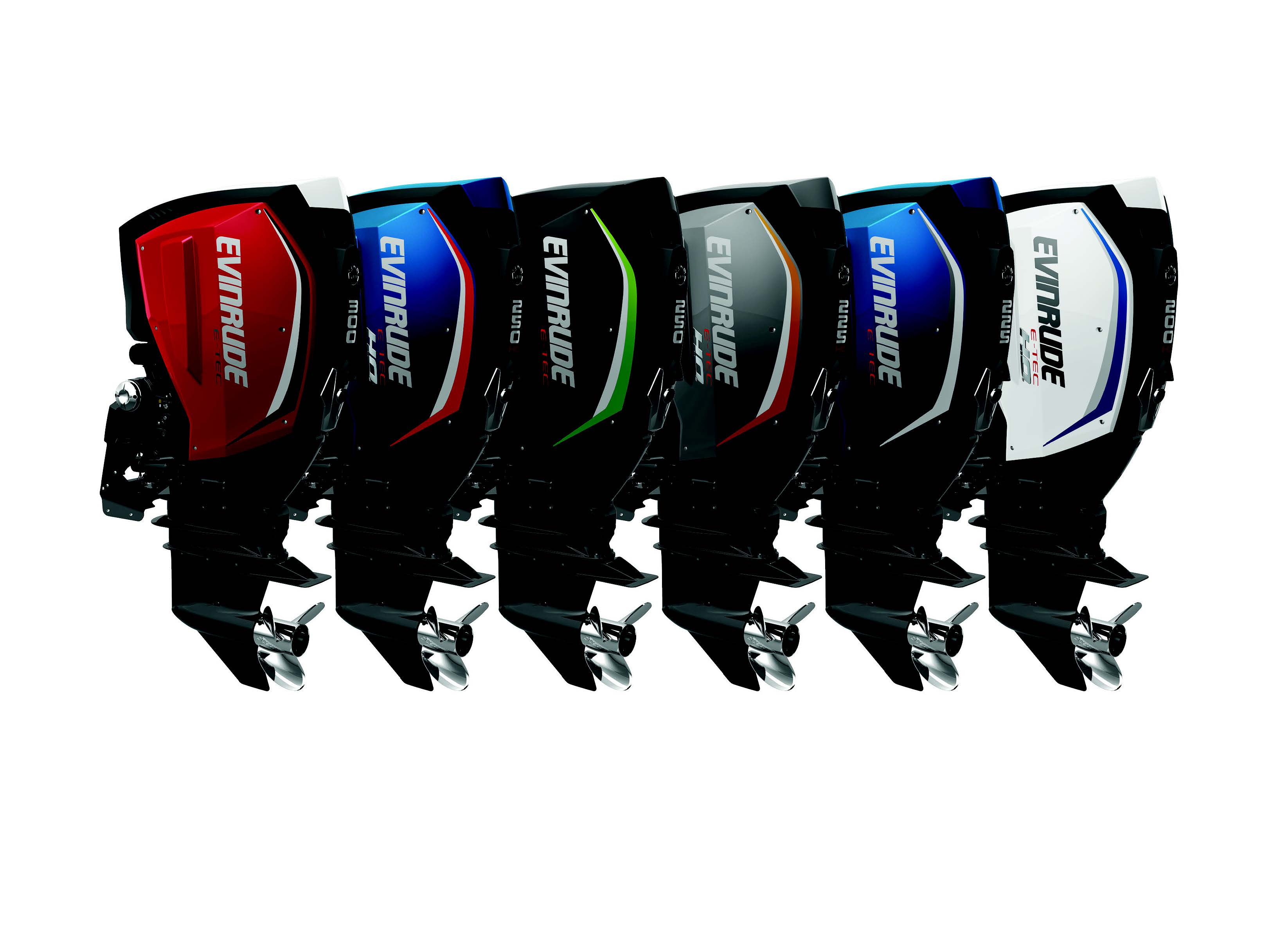 "The dealers and the customers are ecstatic with the changes"

Bill Taylor, Publisher PRA
"It's really just now the end of our first season with this new outboard in the market.  So it's still new. We are excited about the feed-back we are getting from dealers – all positive.  Very few questions or concerns from customers."
"Over the past year we have expanded our dealer network because new marinas and dealers are signing on with us to carry the brand – and specifically the G2 engine.  We've also made significant inroads with boat manufacturers who've added the G2 as both stan-dard and customer-choice optional equipment on boats as they leave the plant," Chris said.  No doubt that a customizable color choice has a lot to do with that.  The G2 is available with 14 different swoosh colors for the accent, matched with two standard colors (black or white) and the three optional colors of red, silver or blue, producing over 400 customizable color combinations in all.  Now your outboard can look custom matched to your boats graphics.
"So the reaction we've had from consumers and dealers alike over this past year has been as enthusiastic and positive as it was at the unveiling.  We are really looking forward to this coming season – the second full season where you'll see a lot more G2 outboards on the water," Chris concluded.
LOOKING FORWARD
I prodded about what the future might hold.  Chris said that BRP is as committed to this engine platform for the long haul as they are to the original E-TEC platform.  "We've put our money where our mouth is by offering one of the industry's best warranties, a 5 year (North America 3 year of BRP limited warranty, plus 2 year of BRP extended service terms "B.E.S.T"), plus 5 year non-declining corrosion coverage, and no dealer-scheduled maintenance is required for 5 years or 500 hours of operation."
It was clear to me that I was going to have to ask Chris about the future more directly. My final question before our time together ended was "Will we see the G2 line expanded to include lower horse-power ranges anytime in the near future?" I asked.  Chris smiled. We'll have to wait and see I guess. If and when it happens, you'll read it here in PRA first.  Stay tuned!