TAKING IT TO 217MPH AND STILL MORE TO GO…
Not surprisingly, the 2016 Lake of the Ozarks Shootout brought out a range of emotions from its vast number of competitors. More than 90 boats entered in 70 classes, making more than 200 runs and with the exception of one mishap, the weekend went off incident free.
The 52' Mystic catamaran, American Ethanol, ran 217 mph to claim Top Gun honors at the 2016 shootout. Boat owner Don Onken was pleased to take the title for the second year in a row, but knows there's more speed in the boat. "We just didn't get everything done that we wanted to and had to run the old motors at the shootout," he explained. Looking forward to 2017, he said he has upgraded his boat's unique motors, which are basically four V-8s linked in pairs to create V-16s, and will have six new ones ready to run. "We have the potential to run 230 mph," he said.

Newcomers to the Lake of the Ozarks, Kevin and Kristy Kaczan ran their popular canopied Cigarette 36' Gladiator, Unleashed, for the first time and set a new record of 111 mph in the NV4M2R class. "It didn't seem like it would be a challenge to us," said Kevin Kaczan. "It's calm water, a closed course and we're used to running in rough water on the Great Lakes. We ended up enjoying it a lot more than we thought we would."
Kristy Kaczan drives while her husband throttles. She's a seasoned driver and was surprised at how amped up she got while they were waiting to make their run. "When we were in the staging area, I was getting really nervous," she said.
After their successful pass, the Kaczans instantly starting getting texts and messages on social media from friends around the country who had watched them. "We had a bunch of people watching us," said Kristy. "That was so cool."
Kristy Kaczan wasn't the only woman who caused a buzz at the 2016 Shootout. Summer Richardson of California, who has driven boats at the shootout in the past with a throttleman ran the 38' Skater, Dial 911, solo this year. She didn't hit the speeds she wanted, but still made a respectable pass of 153 mph before retiring for the weekend with undisclosed issues.
The first all-female team to run at the shootout was Tristan Garvin and Yvonne Aleman. Garvin participated in last year's event in her husband's Skater V-bottom. This year she throttled and Aleman drove Devin Wozencraft's 30' Skater, which was powered by twin Mercury Racing outboards. On Saturday, the best looking in-cockpit team of the weekend ran 99 mph. They vowed to top the century mark on Sunday but could not coax the speed out of the boat.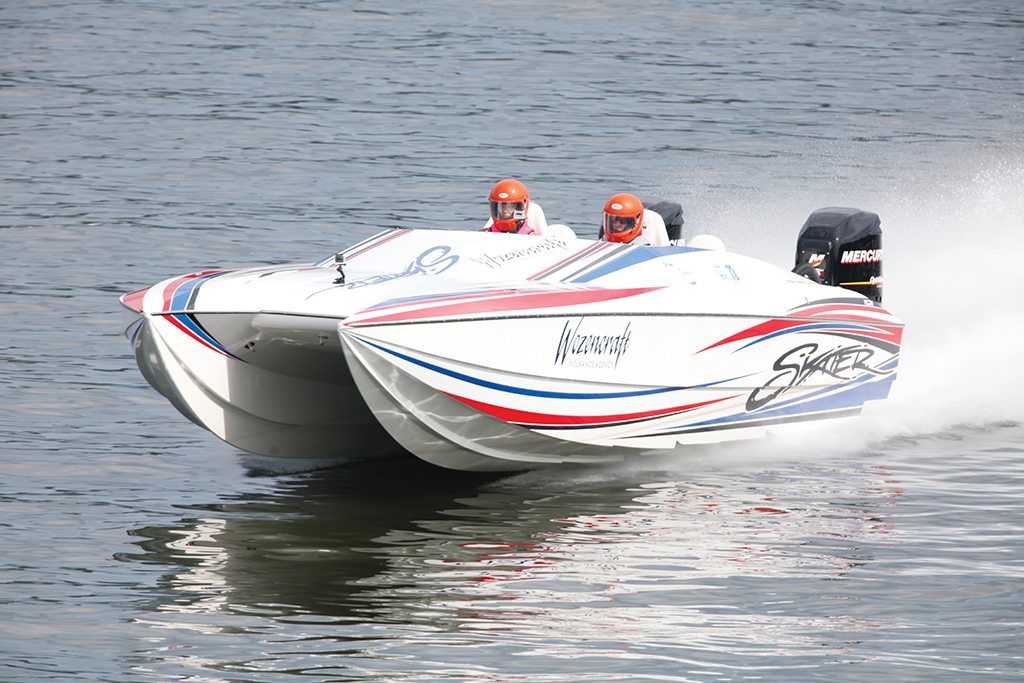 "We were only three mph away from the boat's fastest top speed and one mph away from winning in our class," said Garvin who is one of the most positive, enthusiastic people in the performance boating world. "It was also amazing that 10 women ran, many of whom have never raced in a shootout before. That right there is why I love what I do. I encourage other women to step out of their comfort zones to try something new."

When it came to posting some big numbers, Garth Tagge and Jim Melley ran 194 mph in their 2002 open-cockpit 36' Skater powered by 1,500-hp Smith Power engines. It was the second fastest run of the weekend. Unfortunately, the duo would die in a crash this fall during another speed run on the Potomac River.
One of the most popular boats of the weekend was Ron Szolak's 368 Skater, Flight Club, which was powered by Sterling Performance engines. With throttleman Chip Miller, Szolack drove the boat to 184 mph to win the PC4P2R class.
Staying in his comfort zone Brad Rowland ran 114 mph in his triple-outboard powered South Bay pontoon, Tooned In, early in the day on Saturday. The father-son team of Dennis and Jason Parvey and their amazing 2000 43' Black Thunder, which is powered by engines that Dennis built, ran 165 mph, setting the fastest V-bottom mark of the weekend. From Saturday to Sunday, they made a 15-mph jump in speed.
Two manufacturers made impressive showings. First Dave's Custom Boats (DCB Racing) company pilot Tony Chiaramonte ran 173 mph in a DCB M35 Widebody that had twin Mercury Racing 1550/1350s under its hatches. Brad Kloepfer had his own M35, Lickety Split Racing, that ran 162 mph and Shawn Moe ran a blistering 150 mph in his F-29. Mark Schouten hit 149 mph in his DCB M41 and yet another M35 Widebody with owner Carlton Bass at the wheel clocked 145 mph.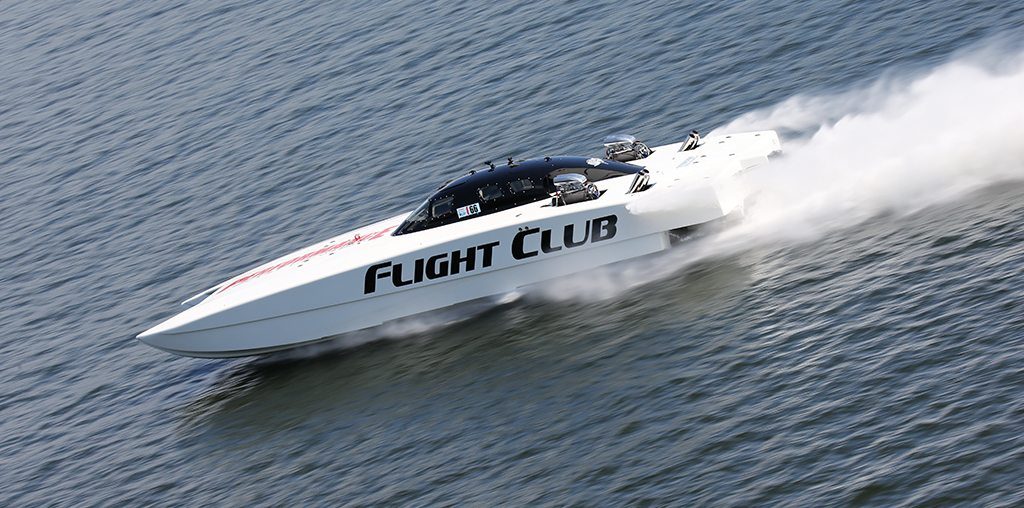 On the V-bottom side, Outerlimits Offshore Powerboats traveled from Rhode Island to Missouri and hired gun Brian Forehand ran Dave Scotto's 50 Outerlimits powered by twin Mercury Racing 1350/1550s with M8 drives to 150 mph. Outerlimits General Manager Dan Kleitz teamed up with Wisconsin's Vinnie Diorio in Diorio's SV43 that was powered by Mercury Racing 1350s. They ran 149 mph. Then Kleitz ran his father's SV40 Outerlimits, which has twin Ilmor Marine 725s, to 116 mph.
In the lone crash of the weekend Jeff McCann couldn't pull his Donzi V-bottom out of a chine-walk and rolled. The good news is he survived the wreck with minor injuries. Kudos to the safety team for responding to him so quickly. A fatal crash involving an MTI powerboat the day before the shootout resulted in the MTI factory, which calls Lake of the Ozarks its home waters, to choose not to run in the shootout.
In addition to the Kaczans, another first time participant who came out with an award was Steve Cleinmark of St. Charles, Ill., who ran his Cougar 22 MTR powered by twin Mercury Racing 2.5-liter outboards. He ran 116 mph on the one-mile course.
After the fatal crash involving Tagge and Melly, LOTO Shootout officials have already decided to shorten the course for 2017 to three-quarters of a mile. That hasn't dampened Onken's enthusiasm. He said that American Ethanol will still run "pretty good." He hopes that there will be an added focus on safety and that more enclosed boats will run. "I hope the entries are up on the canopied, safer boats," he said. Improving safety is something everyone can agree on.