Image of Carrie Sixkiller at the Lake of the Ozarks Shootout (above) courtesy of  George Denny.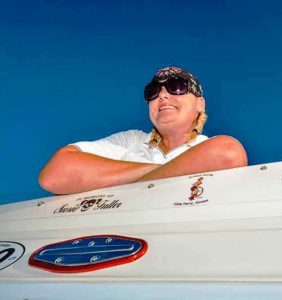 Veteran Lake of the Ozarks Shootout participant Carrie Sixkiller was with friends at the popular Missouri performance-boating hotspot on Memorial Day weekend when she met up with her friend Ron Duggan. He's the owner of Captain Ron's restaurant, which is the headquarters for the annual speed runs, and the president of the shootout board.
He told her he had a message for her, but what he told her made Sixkiller go speechless, which is no easy task.
"He said, 'I just wanted to let you know that you've been voted into the Shootout Hall of Fame,'" Sixkiller recalled. "I was just shocked. And then the waterworks turned on."
Sixkiller, 43, has been running in the annual speed trials for 10 years in her 1993 Baja 24' Outlaw, B-Nauti. The boat is powered by a Mercury Racing HP525SC with a Bravo One drive and she and her husband Ron Jones (no not the famous hydroplane designer) tow the boat to the shootout from their home in Topeka, Kan. The thought of being nominated for the Shootout Hall of Fame had never entered her mind. "That wasn't even a goal," she said.
When she asked Duggan why she was even considered, he explained that was exactly why she was selected. When Sixkiller's name was mentioned, the shootout board immediately approved her.
"She epitomizes what the shootout is all about," said Duggan. "She doesn't run 200 mph. She runs a stock boat and stock engine. She comes every single year and run her 65 mph and brings all her friends with her to hang out."
Like many participants, Sixkiller started at the shootout as a participant. She and her husband watched the event before buying their Baja. Then Sixkiller's friend Mike "Gordo" Gordon went with her to buy the Baja. "I knew how to drive a runabout and so did Ron, but it was Mike who taught me how to run a boat with a shift and throttle," said Sixkiller. "It was a lot of yelling, but he was patient with me."
In her first year participating in the shootout, Sixkiller was on her cell phone with Gordon while she was in the staging area. She kept the call connected, dropped it down her shirt and made her pass. When she crossed the finish she admits she was in tears. "It was pretty emotional," she said. "He's the one who taught me how to run the boat the way it should be run."
Her first year was also her fastest. She was clocked at 79 mph. The following year she made a 62-mph pass and won her class. In all the years that Sixkiller has competed in the event she has been victorious eight times.
For 2017, B-Nauti is getting spruced up with some new bilge paint. The engine is at Tyler Crockett's shop, Crockett Marine Engines in Ruby, Mich., getting rebuilt and the drive is getting rebuilt at Lake Shores Marina in Lake of the Ozarks. Both shops have their orders to keep the drivetrain stock. "I'm comfortable with stock," said Sixkiller. "I want turn-key. This is my every weekend lake boat, too."
As long as the engine and drive are back in time and the boat is running consistently, Sixkiller will return to run at this year's Shootout. She said the shortening of the course to three-quarters of a mile won't affect her speed, but even after a decade on the course, she's taking nothing for granted.
"Of course I'm nervous. Of course, I'm scared," she said. "You have to go out there with the mindset that anything can happen." Spoken like a true veteran.
Read our feature from 2016's Lake of the Ozarks Shootout here!