Formula Boats understands performance. Historically, the company has built some of the best performance boats in the business. Engines from Mercury Racing are an integral part of their offshore performance boat line. When Mercury Racing recently announced a new 520 hp engine, designed to economically deliver 520 horsepower in a reliable package, the temptation to try this in a luxury cruising performance boat was just too tempting to resist. Here is my take on the Formula 400 FX, details on the new Mercury Racing 520 and what happens when you combine the two.
For more than 50 years, the Porter family has shaped Formula/Thunderbird Products into what is recognized as some of the finest boats in the world. When they identified a new feature that could improve their boats, they would add it. When they found a new way to build their boats stronger, they did that too. The popular Formula Super Sport line offers several models, from the 29-foot 290 SS, to the 41-foot 400 SS. A few years ago the company introduced the FX line of Super Sports, which steps up the features to make an already-impressive line even better. Jump aboard any Formula FX and you will immediately be impressed with the thought, effort and quality that you can see and feel.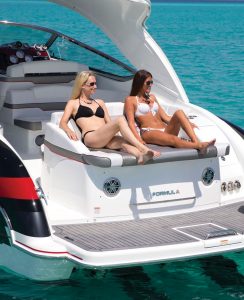 During our Formula 400 FX test, I quickly spotted items such as premium Livorsi gauges, Axius Joystick control, Kohler 7K generator, hot and cold transom shower, a Krups coffee maker, a cedar locker and a six foot, two-inch, fully-equipped galley. It gets even better. For instance, there's a concealed windlass with 150 feet of chain with a length counter and stainless anchor; five heavy-duty marine batteries, with an 80-amp charger, (that's one battery for each engine, one for the generator, and two for the house); cool blue LED lighting in cockpit and cabin; blue LED underwater lights; solid cherry or ash tables (with dedicated storage places for the tables, filler cushions, lines and fenders); a remote controlled halogen searchlight; 12 polished stainless steel drink holders; rubberized laminate in the engine compartment; telephone hook ups; and vinyl decking on the swim platform. To prove my point, how many medium-sized cruisers do you know that include such features?
Then there is the famous Formula hull. It features a structural grid-matrix comprised of a unitized fiberglass grid bonded to the hull with Plexus adhesive. With such hull strength, Formula is able to provide a 10-year structural warranty as well as five-year limited protection on components and power.
As you would imagine, Formula is continually on the hunt for quality engines that have the potential to deliver the strength and performance expected of their boats. The new Mercury Racing 520 hp engines with Brave Three drives and the company's Digital Throttle and Shift (DTS) would seem to be the ideal power system for the 400 FX.
Mercury Racing is by far the largest manufacturer of offshore racing engines. Performance has always been their primary objective and over the years we have seen significant increases in horsepower and reliability. When speed is paramount, gas mileage is the last thing on your mind but for non-race applications, rising fuel prices have created a growing demand for an economical V8 with bundles of torque and power. To meet this demand, Mercury Racing, with its expertise and experience, developed the new 520. This naturally-aspirated engine provides recreational boaters a cost effective power option in both value and performance.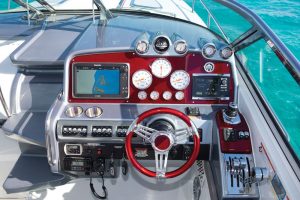 The 520 features DTS and is backed by an unprecedented two-year limited factory warranty. Mercury Racing enhanced the 520's power and torque by increasing cylinder bore size for an additional 21 cubic inches of displacement to 8.6 liters. The larger displacement, combined with Mercury Racing cylinder heads, multiport fuel injection and an electronic throttle body, results in nearly 100 additional horsepower over the 430 hp MAG HO. Even better news is the fact that all of this power comes using 87 posted octane gasoline.
The CNC-machined cylinder block includes many Mercury Racing designed components, including a balanced crankshaft, forged I-beam and shot-peened connecting rods plus forged aluminum pistons. Mercury Racing aluminum cylinder heads utilize optimum valve angles for improved air flow and the greater displacement, combined with enhanced airflow, results in unprecedented mid-range punch and consistent pull, throughout the engine rpm operating range.
The new 520 is closed-cooled for more uniform temperature distribution, optimal running quality and salt water applications. It comes equipped with a 65-amp charging system, providing an ample supply of power for an array of marine electronics. It also features the same Propulsion Control Module (PCM 09) microprocessor as found on the 565 and QC4v family. In addition to the DTS controls, the PCM optimizes fuel and spark timing independently for each cylinder.
Ergonomic, high-style 'Zero Effort' digital controls provide precise handling over each DTS-equipped 520 engine. Robust valve train components are what enable the 520 to deliver the reliability necessary for a two-year limited factory warranty – unprecedented for performance engines.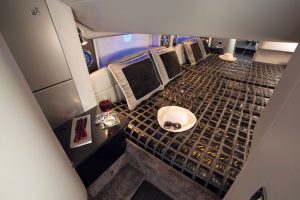 This new power plant also gives recreational boaters a low-cost option to gain access to Mercury Racing's group of high-performance sterndrive propulsion systems, making it a game changer for a variety of recreational boating segments. It's available with a buyer's choice of Bravo One XR, Bravo One XR Sport Master (standard and short) and Bravo Three XR drive options, along with the Mercury Racing Integrated Transom System (ITS). For buyers who want their engine to match their boat, the 520 comes in a choice of eleven different colors.
Departing a congested marina in a boat with an Axius Joystick installed is not only easy – it's just plain fun. Simply move the single joystick control unit in the direction you want to travel and away you go – even sideways. Twisting the joystick adds power.
One caution – once you try the Axius Joystick system, you will want one.
As you throttle up to come onto plane, there is no mistaking the added low and mid-range torque of the 520 engines. Its throaty rumble and rapid acceleration is a solid reminder of the added horsepower you have at the throttle. At just 3500 RPM, we were cruising comfortably at 35 mph. While I noticed a slight hull shake running over large wakes, I trimmed the 400 FX slightly up, reducing the effect of the larger wakes. Handling is superb. For the fun of it, we stopped in the open water to perform a few low speed spins and turns.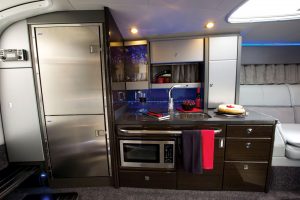 Getting serious, I pressed the throttles and the 400 FX moved easily and comfortably to a full speed of a little more than 60 mph at 5,100 RPM.
When we examined Mercury Performance's claims of economical cruising, we were not disappointed. True to predictions, we recorded excellent fuel economy, running between 36 and 38 gallons per hour at wide open throttles. Anything less than 40 gallons per hour per engine, at speed in a boat this size, is excellent and about 20 percent better than what Formula shows for miles per gallon in the 525 EFI engines.
The 400 FX is a true performance boat, yet comes with the ultimate in passenger luxury. Of course you could also say the 400 FX is a luxury cruiser that comes with exceptional top end performance. Either way, you would be right. PRA