After cross winds on the course kept the team from being able to reach speeds it wanted to establish a record, the Fountain Powerboats team has decided to postpone its attempt at establishing an offshore V-bottom world speed mark until the weather cooperates.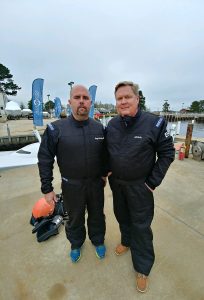 Driver Reggie Fountain III and throttleman Jeff Harris headed out onto the waters of the Pamlico River at about 7:30 a.m. this morning hoping to run speeds faster than those posted by Brian Forehand and the late Joe Sgro in the 43' Outerlimits, Marker 17 Marine, in 2014 on the same body of water. The Outerlimits ran 180.47 mph.
Powered by twin Sterling Performance engines tuned to produce 1,900 hp each with Mercury Racing M6 drives, the 40' Fountain hit speeds of about 150 mph this morning. The boat had run speeds exceeding 170 mph in testing, according to Poker Runs America publisher Bill Taylor, who is on site at the Fountain Powerboats Factory for the record attempt. Veteran throttleman Billy Moore ran the boat with Fountain III during testing.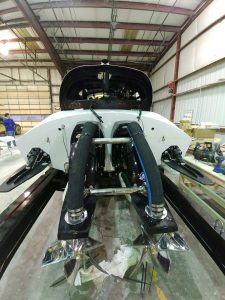 The Weather channel shows temperatures at about 64 degrees Fahrenheit at the time of the attempt with SW winds at 7 mph and 98 percent humidity. Those wind speeds don't sound like much but when you're trying to run speeds exceeding 150 mph and the winds are blowing across the bow of the boat, it doesn't take much to cause problems. Taylor said the team didn't feel it was safe to try to run the speeds the team hopes to hit.
The event is sanctioned by the Union Internationale Motonautique and the American Power Boat Association and officials from the Offshore Powerboat Association are presiding over the attempt.