Vector Offshore Racing has announced that luxury automobile manufacturer Jaguar is the exclusive title sponsor and automotive partner of the performance-boat company.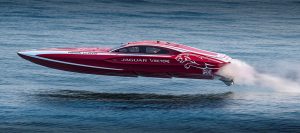 Jaguar Vector Racing will enter a number of endurance races in 2018 including the British Powerboat Championships in the Marathon A Class. Additionally, the team is looking at a number of endurance records in 2018.
"The Vector team is very proud to be aligning with a great British brand like Jaguar and to be joining such a technically pioneering partnership that will push the boundaries of performance and technical excellence," said Mal Crease, Vector CEO.
"Jaguar is a performance brand and Vector are the epitome of power and performance on the water. We have some very exciting plans for Jaguar Racing" added Mark Cameron, Director of Experimental Marketing for Jaguar Land Rover.