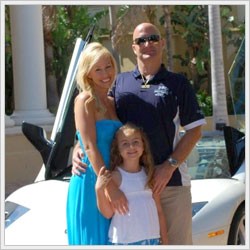 Nine year-old Joe Spina was fishing with his dad off Cape May, N.J., when something that looked like a blur blew by. "I can still remember the first time I saw a performance boat," the 42-year-old recently recalled. "A 38' Cigarette Flat Deck went by at 70 mph and it sounded and looked like the coolest thing I had ever seen," he added. "I said, 'Whatever I do in life, I have to have one of those.'"
Thirty-three years later, Spina has had a few of those and his current boat, a Nor-Tech 3600 Super Cat powered by a pair of 1,600-hp fire-breathing monsters is the envy of every nine-, 19- or 90-year-old who sees it. While some poker runners tire of the redundancy of the routine of hauling their boats to yet another site to run alongside the same people and boats, it's that chance to check out all the other boats and participants that excites Spina and his wife Daria to the point that they want to be at every poker run they can.
He and Daria have been married for just about 10 years and this season was the first time they missed the spring Poker Runs America season opener. In mid-March, Joe hurt his back in a car accident. He was driving his Lamborghini Murcielago LP 640 Roadster when he was hit in the back by a guy driving a pickup truck. Spina's car was forced into a spin at 40 mph. The bottom of the car hit the concrete base of a large utility pole and Joe took the brunt of the impact in his lower back and spine. He's on the mend and champing at the bit to get back in his boat.
To order a back issue call (800) 461-9128