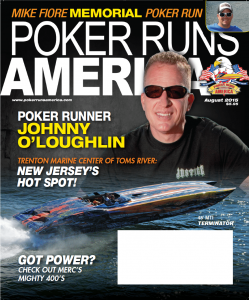 There are some guy's who buy a 150 mph boat, run it to top speed once or twice and then spend most of their time cruising around at 80 or 100 mph. John O'Loughlin, a member of the Poker Runs America and National Power Boat Association Halls of Fame, is not one of those guys. If his boat can run 160 mph, he's going to run it at that speed.
"It's such an incredible feeling," says O'Loughlin, 51, of Center Moriches, NY, on Long Island where he owns and operates a successful propane gas delivery and service company with his father and business partner, Jack. The company, Bay Gas Service, is based in Shirley, N.Y. and services homes and businesses from Nassau county to the east end of Long Island.
No stranger to boats and the marine environment, O'Loughlin and his siblings grew up boating with their father who began enjoying the pastime of family boating and became a shark fisherman, and eventually a performance boat enthusiast.
Jack first owned a 30' Vetner, followed by a 32' Luhrs, a 25' Bertram, a 31' Bertram, a 41' Hatteras, and a 46' Ocean. At one point, Jack owned a Scarab that ran 58 mph.
"My sisters and I had a lot fun on that boat," explained O'Loughlin. "The most common words that we used – while trying to wipe the smile from our faces – was 'faster, faster.' It was a feeling I never forgot. I also became very interested in wooden boats when I was younger and learned how to steam stringers, strip and cork, sand and varnish. Everything I learned about boating up to that point was from my father."
In his younger years, O'Loughlin explained that he was also passionate about music. At 10, he picked up a pair of drum sticks and became an ardent student of the instrument.
"I studied and learned from anyone I could," said O'Loughlin. "My band mates and I were playing clubs well before we made it out of high school, playing heavy metal cover songs and using our original material when ever we could. Writing turned into recording and we began searching for a record deal from various labels that were interested."
After "pounding the pavement" in New York City for a number of years, it was when he was 26 when the rock n' roll lifestyle eventually took it's toll and he switched his passion to boating and purchased a 25' Checkmate Convincor, powered by a 454 engine.
After the Checkmate, O'Loughlin then purchased a 10 meter Fountain, followed by a Hustler 388 Slingshot two years later, which is when he met Paul Fiore.
"That is when my horizons in boating expanded and my operating skills improved," said O'Loughlin.  "It also allowed me to meet many people in the performance boating world. I then met Jim McIntyre, a well-known throttle man and rigger and the owner of Falcon High Performance Marine from Hampton Bays."
More great relationships developed. He soon met Peter Mazzo who – at the time – owned a 37' Outerlimits and both he and O'Loughlin would eventually have a great time running side by side at poker run events. O'Loughlin explained Mazzo introduced him to the New Jersey Performance Powerboat Club and became a welcomed member. "That was just an incredible experience," said O'Loughlin.
After meeting Billy Frenz of the National Powerboat Association and Chris Cestaro of Ocean Performance – who were becoming more and more prominent in the performance boating industry (and who O'Loughlin greatly respects) – poker runs were becoming increasingly popular and he wanted in.
It was in 1997 when O'Loughlin met Mike Fiore at the Miami International Boat Show. As Mazzo was a former Hustler customer, he knew the Fiore family well. After a few visits to the Outerlimits' facility (which at the time recently moved from Long Island to Rhode Island) he and Mike became instant friends.
"We had quite a bit in common, especially when we discussed the dynamics and challenges of a family business," said O'Loughlin. "It was obvious to me – and in my opinion – Mike was building the best V-bottom in the industry."
It wasn't long after when O'Loughlin sold his Hustler Sling Shot and was introduced to Bob Russell, who owned of a 37' Outerlimits, Let's Rock. It was powered by twin Mercury Racing 900 hp motors with Number Six drives – the most ferocious power plant available at the time.
"I was just blown away. It was the most amazing machine I had ever stepped into in my life. Let's Rock was on my have-to-have list. I quickly became at one with the boat and was a very proud owner."
After purchasing Let's Rock, his father decided he wanted a go-fast boat and purchased a Outerlimits' 42' Legacy named What A Gas (Fiore's latest creation and a collaboration with his father Paul) based on the arrangement that O'Loughlin would buy the boat from his father when he wanted to sell (knowing full well that performance boats can be difficult to re-sell). At the same time, O'Loughlin and his friends found themselves traveling throughout the U.S. to participate at various runs.
When his father told O'Loughlin that he wanted to sell his 42' Legacy, O'Loughlin kept his word, sold Let's Rock and bought What A Gas. After selling What a Gas O'Loughlin's next offshore project with Fiore was a Outerlimits 42' GTX, named All Fired Up, which was a sit down model built for performance with a small cockpit and no cabin. It was during the creation of the 42' GTX when O'Loughlin began collaborating with Jim McIntyre.
"Mike and I wanted to build the best poker run machine as possible and I believe we nailed it," said O'Loughlin "It was just an incredible machine that was able to take on the roughest and toughest conditions. The boat was equipped with a dual helm set up, and Jimmy and I eventually built our own power plant. We really worked on our cohesiveness in the cockpit and spent many hours and twice as many poker runs working on it. At one point we made 12 poker runs in one season. Jimmy always called the boat 'a real winner'."
O'Loughlin eventually sold All Fired Up and decided to take a short hiatus from performance boating. However, he and Jimmy were often talking catamarans. With the passion for boating still strong, O'Loughlin met MTI owner, Randy Scism, and after more than a few test rides, he purchased Bob Bull's CMS 42' MTI canopied race boat.
"Jimmy and I considered racing, but felt we could do a lot more boating if we just stuck to poker runs. So, we did just that and built a pair of 1100 hp motors off the 750 super cat foundations in collaboration with Long Island go fast guru Richie Zul. The 42' MTI was appropriately named Justice Is Coming.
Wanting to collaborate and work with Fiore again, an opportunity arose to follow up Justice is Coming with Justice!, a 48' Outerlimits catamaran powered by a set of Mercury Racing 1075 hp motors.
"It was a fantastic riding cat in rough conditions (which is always fun) but I thought it was a bit underpowered. I would have loved to have had the chance to run Justice with Mercury Racing's 1350s."
Becoming increasingly interested in catamarans, O'Loughlin made the switch back to MTI and purchased a 40' catamaran from Scism with twin 1075 motors, named Red Eye Express. Not long after, David Woods at Pier 57 was selling a 48 MTI with Mercury Racing 1350 engines called Terminator, complete with a really strong paint scheme.
"That's when I made the move from Red Eye Express to Terminator," explained O'Loughlin. "In my opinion, bigger is better and I couldn't pass on the latest technology from Mercury Racing. It was a very fast cat."
O'Loughlin feels blessed and extremely fortunate to have found a strong interest as well as a solid relationship with Scism and MTI. In fact, just this past year,
O'Loughlin sold Terminator and a new MTI is on the horizon and is currently in the graphics stage. O'Loughlin is hoping for delivery date of late-August.
"The Core Four will be ready and waiting," says O'Loughlin, who refers his quartet of friends as Greg Katz (Krazy Katz) Tom Freund (G-Man), Jim McIntyre (Mad Mac) and John O'Loughlin (Johnny-O).
Today, O'Loughlin is married to his wife Jennifer and the couple is raising her son Jakub, 16, Johnny's daughter Karlie,11, and their three-year old daughter, Averi. With all the kids activities and his business, O'Loughlin admits that performance boating has taken a little bit of a back seat.
"It's not really the center of my universe anymore," said O'Loughlin. "I love talking boats, however, my life is so filled with my kids and my business demands are so great right now that I do very little boating. I will be happy if I make three or four events this year. It's nothing like years ago but when we go, we go big."
O'Loughlin also explained he is celebrating 25 years of sobriety this year and continues to stay involved in a 12-step recovery program, hoping and ready to have the chance to help someone else whenever the opportunity arises.
"Sobriety is a wonderful gift that you can only keep by giving it away," explained O'Loughlin. "You get what you give in this life and it's up to us to make the most of every chance and opportunity given. I feel very blessed."
These days, O'Loughlin's Friday afternoon happy hour now consists of meeting Jimmy and the boys at the Jamesport, N.Y. ramp and make the 20-minute ride to Montauk for dinner, meeting fellow poker runner and friend Tom Abraham for a bunch of fun and laughs before racing the sunset back home before dark.
"That's a slice of heaven for me. What a gift."