When your boat is dialed in to run at its peak, and you're bent on wringing out that extra pinch of performance, you will likely see its highest number on a cold, crisp sunny day. According to motor-heads, the cold part is necessary to boost engine performance. Cold air is denser than hot air, which means a greater mass of it gets into the cylinders. And Voila! Big air equates to greater speeds.
Most performance guys know this, but because I'm more capable behind the wheel than I am spinning wrenches, I'll leave the science and mechanical theories alone. What I do know is that the sunny day part is important too – especially when testing a 90-plus mph offshore boat in late fall when the temperature reads 36 degrees F.
By chance, our test of Hustler's new 388 Reloaded took place on the first really cold day of November, at a time when most engines have been winterized and the boats are put to bed. To boot, winds were high and the water was rough – not big swells, but a two- to three-foot chop. Fortunately, I'm one of those people who actually enjoy northern winters, fast snowmobiles and speed regardless of temperature – just like Joe LoGiudice, President of Hustler Powerboats. Here's a tip for southern-based folk: wear layers of technical fabric, and lots of them.
Following a one-hour facility tour and review of the 388's construction, we headed down the road to Long Island's Peconic Bay. Soon we were launched, floating loose and gathering data to write our report. I mention this because LoGiudice is a no-nonsense kind of guy. He gets straight to the point, says only what's necessary and focuses on the subject at hand. Confident with what the company builds, he lets his boats do the talking.
Before the Hustler 388 was Reloaded (so to speak) it was known as the 388 Slingshot, a tried and proven multi-stepped hull that delivered all-around top-notch performance. To make a better mousetrap isn't easy – in fact it can be quite risky. Alternatively, if you sit back and wait for competition to pass you by, they will.
Hustler was not about to let this happen. LoGiudice loves this business and while realistic about market conditions, his goal was to build a better boat in the size range his customers want – and 38 to 39 feet happens to be right-sized for many who enjoy poker runs and all-around performance boating.
First and foremost, the hull is built tough, constructed like a raceboat. Hustler runs a well-organized operation, whereby everything has its place. Walking though the lamination department and the carpentry shop, I saw several boats being assembled, including some with one-piece tubs, integrated air ducting systems and more. Numbered templates for each of its 16 models are readily available, and each is labeled to tell you what material is to be used, whether it's for foam, balsa, etc.
In process was a 388 Reloaded, open to view the hull's five-piece stinger system. For added strength, stringers actually run ¾-inch through notches cut into the bottom of the boat's transom – an extra step that may be difficult to understand unless you see it. This effectively eliminates any possibility of them shifting or breaking away from the bottom.
Value is in the details, as witnessed upon close inspection of the boat's engine compartment. Here I saw drain/weep holes that had tubes glassed in to prevent water from getting into the main structure. In places where bolts can otherwise compress the material, such as seat bases and where cleats are fastened, Hustler uses high-strength composites instead of wood. The wiring system is immaculate, precisely labeled and routed for ease of troubleshooting.
In total, five modifications were made that effectively allows the 388 to handle well given an ever-expanding choice of increasing horsepower options. Since the 388 was a gem to begin with, the last thing Hustler wants to do is compromise that. They also gave it a more comfortable cabin and cockpit interior, and made it easier to walk down the sun pad to access the swim platform. As Paul LoGiudice, Joe's nephew and technology-versed VP, Sales/Marketing says, "Few alterations were needed to make the Slingshot a better boat."
They were successful.
With LoGiudice standing in the immaculately upholstered bolster beside me, I familiarized myself with the Reloaded's wrap-around dash, complete with easy to read, white background colored instruments. Featuring DTS throttles/shifters (Digital Electronic Throttle and Shift) and Livorsi's optimized trim/tab indicator, which I much prefer over a digital screen system, we also liked where Hustler located the accessory switches – on a separate tier above the gauges.
Having witnessed a 388 being built, I felt confident heading out for a run. LoGiudice advised me to set the tabs at neutral and let 'er rip. Mercury's multiport fuel injected twin 565's came to life instantly as the throttles went down – and a brisk 2.53 seconds later the multi-stepped, variable deadrise deep-V hull was up on plane running absolutely flat at a mere 21 mph and 2500 rpm. That has to be good news for those who get frustrated while navigating lengthy no-wake areas.
Incrementally bumping up our speed, we found the Reloaded tracked perfectly at 52 mph at 3500 rpm, 73 mph at 4500 rpm and ultimately at 92 mph, while tapping the limiters at 5350 rpm. Making multiple passes in the choppy salt-water conditions, the hull scrubbed off very little speed – maybe one or two mph running upwind.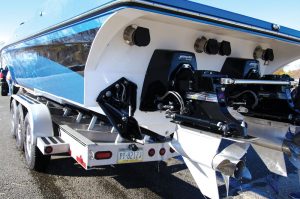 At first, I figured the boat could use some tab now and then, but LoGiudice convinced me that the hull worked superbly with the tabs completely up, regardless of wind direction. He was right.
Spinning a set of 30-inch Bravo four-bladed props, Mercury's 565s provided loads of punch. Shooting from 30 mph to 60 mph in just 7.2 seconds, we recorded a slight increase in time between 40 mph and 70 mph, with a 9.6 second response. As anticipated, the increments in time were steady, with the 388 speeding from 50 mph to 80 mph in 11.5 seconds.
Scallop season was upon us in the region, so fishermen's nets had been dropped everywhere. The Bay reminded me of a minefield with tiny Styrofoam balls marking the locations. While we welcomed the sun for its warmth, it truly hindered visibility, reflecting off the white-capped waves and making those markers tough to see.
Turning that into a positive, we now had a perfect opportunity to test of the 388's maneuverability. The patented bottom is designed with six steps in total, four of which are very shallow, shingle steps contained within the surface of the two primary steps. Regardless of the number, they are obviously placed in the right location and didn't interfere with how well the boat turns.
Having tested Hustlers before, including the Slingshot when it was first launched, I've been most impressed by their agility and light-to-the-touch feel at speed. Similarly, the 388 Reloaded responds instantly to steering commands, is solid like a raceboat and slices through big, bad waves without beating up its occupants.
Good on Hustler for adding new value to what has historically been a winner. Damn the torpedoes – or in our case, scallop net buoys – full speed ahead. Hustler's Reloaded is ready for anything… anytime, hot or cold.