The SBI Key West World Championship is just around the corner and anticipation is at an all-time high to see who will reign supreme for 2015.
Following the highly competitive Clearwater Super Boat National Championship in September, which was full of victories and defeat, performance fans will be on the edge of their seats from the first race day November 11 to the final race day November 15.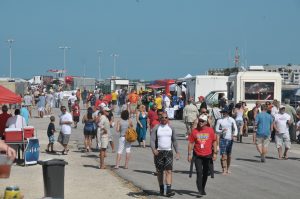 "We had a really strong national championship in Clearwater so I think everyone is going to be pretty excited for the Key West worlds," said Rodrick Cox of the Cox Group, a public relations representative for SBI. "I think every class is going to be very competitive. But everybody is getting honed in and ready to race."
Considered one of the top offshore boating events in the world, the SBI Key West World Championships brings the who's who of performance together for eight action-packed days in the heart of Key West, Florida. While the week will also be full of festivities on land, Cox explained that on the water, a few new boats may be returning including Australia's Team Maritimo as well as Team Broadco, after rebounding from their devastating roll-over earlier this year during the races in Cocoa Beach.
Photo above: Crowds along the Truman Waterfront bewteen races.
"Every one really tries to get their game right in Key West," said Cox. "I think another exciting aspect of the races is that it brings a whole bunch of different water conditions and from that standpoint, we should have another exciting world championship," said Cox.
Of a special note, SBI will be showcasing three hours of programming on NBC Sports (produced by JM Associates and presented by STIHL Inc.) in early 2016 based around this year's World Championships.
"We were pretty successful this past February when we ran the one-hour NBC Sports programming on the 2014 Key West races," said Cox. "So, we will continue with that for this year and there will be a big production team down there to film the whole week."
The 35th Super Boat International Key West World Championship will take place November 8 to November 15. For all the details and current standings click here.