After first seeing his boat at the Los Angeles Boat Show last February, Mike Livorsi of Livorsi Marine took his first ride in his new 26' RPM catamaran, Gauge This, at the Desert Storm Poker Run last weekend. He didn't actually participate in the poker run, but did take a few test rides and gave interested potential RPM customers rides on Lake Havasu in Arizona.
"It was so rough out there in all the slop. It went right through it," a happy Livorsi said. "I wanted a mid-sized cat that runs 70 or 80 mph on top of the waves. It came out perfect." Livorsi also said the boat handled predictably without leaning to the outside. "It turns on a dime at 70 mph," he added.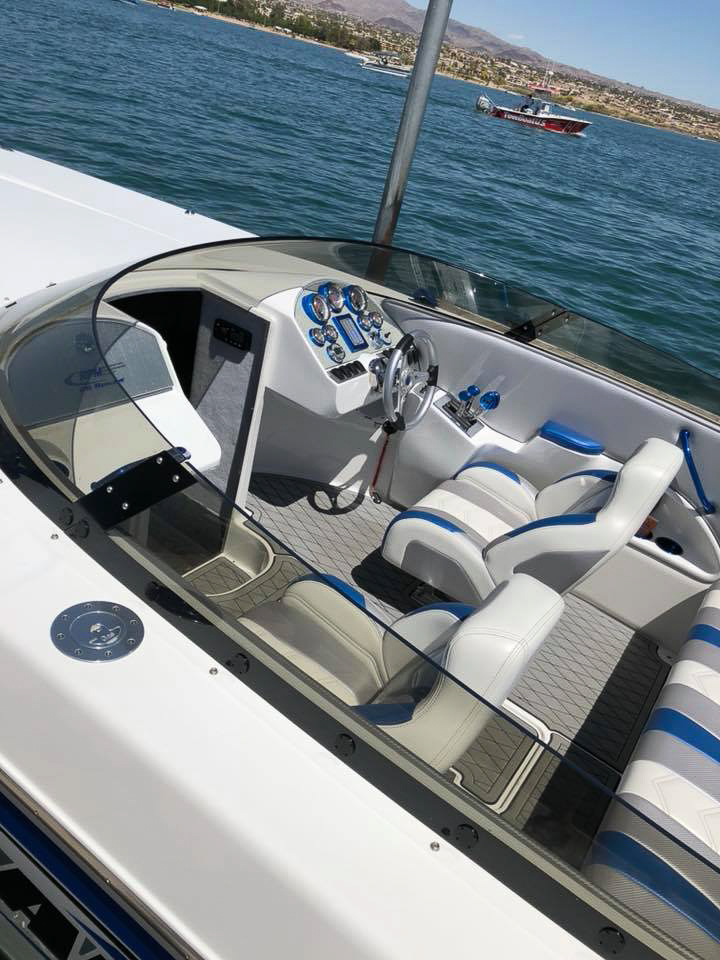 Livorsi opted for a pair of Mercury Racing 300XS two-stroke outboards for the boat. While most people would have assumed that he would have gone with bigger Verado 400Rs, he was concerned about the added weight and how it would affect the boat's center of gravity. He also said he wasn't looking for a 26'-long catamaran that runs 120 mph. He'll be dialing in the boat with Mercury Racing's Mike Griffin once Livorsi gets it back to Illinois and is expecting it to run in the 100-mph range.
"I'm on the Chain of Lakes (in Illinois)," said Livorsi. "Top end is not my priority." He wanted the boat to cruise comfortably at the aforementioned 70 to 80 mph speeds and have the throttle response to get out of a potentially tricky situation if he needs to.

Most people who hear the RPM name would expect a single sterndrive catamaran with big power. Joe Malich who owns Boat Shop Northwest in Gig Harbor, Wash., bought the molds for the 26' cat with an 8'6" beam. He worked with Livorsi to build the first RPM 26 with twin outboards. Dan MacNamara at Team Archer Marine in Costa Mesa, Calif., rigged Gauge This and some of the custom upgrades include 12" jack plates for the motors and a tunnel tab so Livorsi can lower it and ride on top of chop at 30 to 40 mph. "I can run it with two people or six and it rides the same," said Livorsi. In addition to the tunnel tab that he put on the boat, Livorsi put one of his trim tab lighting systems on it, so it lights up the boat's roostertail at night.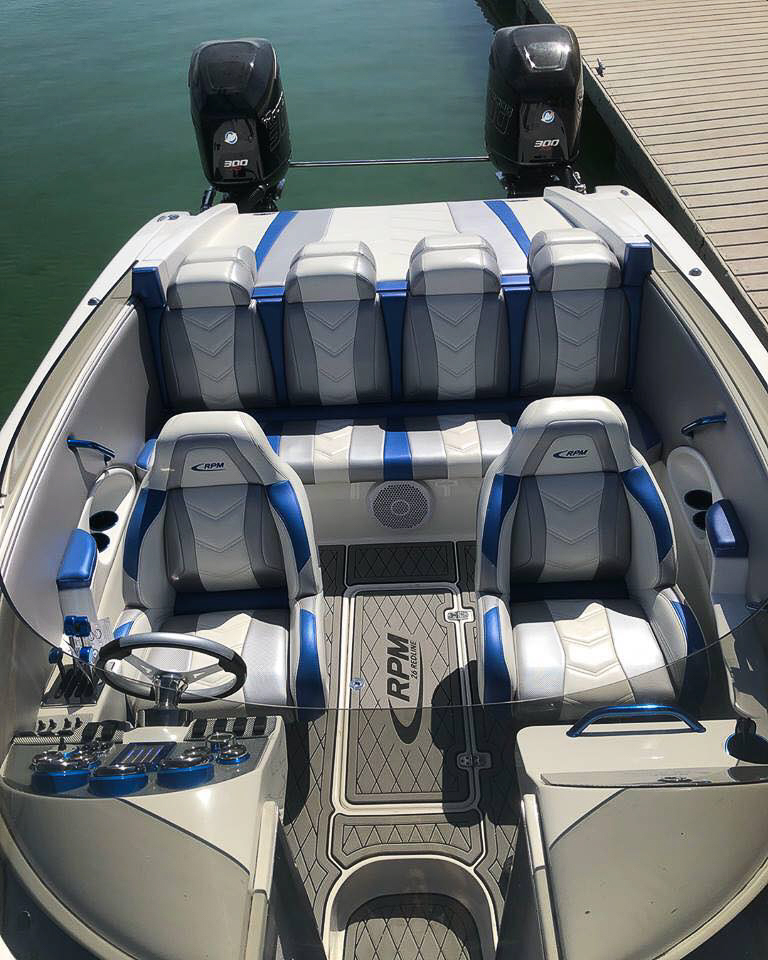 The 26' catamaran's cockpit has two bucket seats up front and seating for four across the stern. There's a large storage area where the boat's engine would have been in a stern-drive application and forward in the bow, there's enough space for two adults to lay down in the cabin.
For future RPM boats, Malich is going to have Chris Camire and his crew at Lavey Craft Motorsports in southern California do the lamination and rig them.