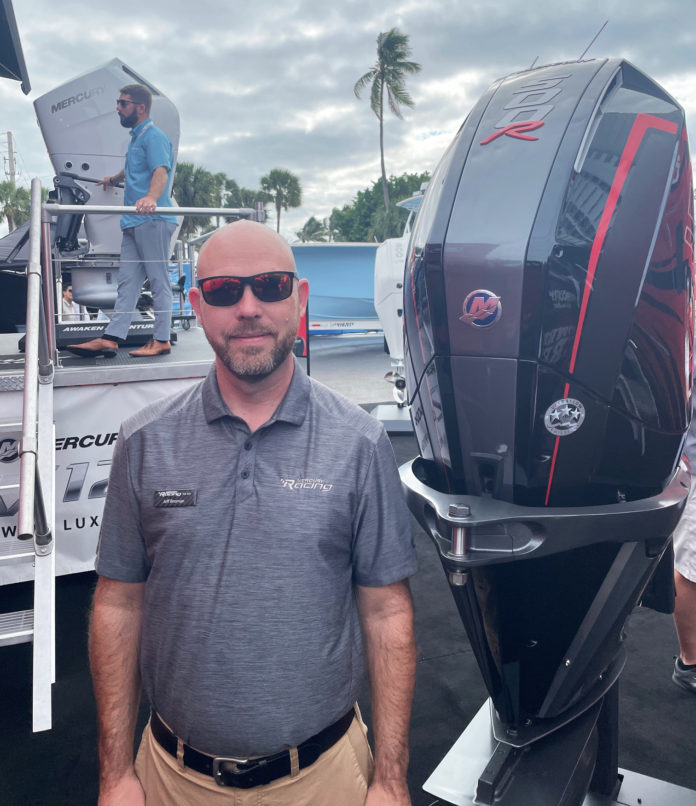 It has been a whirlwind month for Jeff Broman since taking over as the director of Mercury Racing.
Broman moved into the job after a surprise shakeup at the Fond du Lac, Wis., company in late September that saw the departure of two top executives. Broman served as Mercury Racing's director of engineering for the past five years after spending 18 years at Mercury Marine.
"I know the parts of the business that I'm now responsible for, I just need to learn them in more detail," said Broman during an extended interview at the 2023 Fort Lauderdale International Boat Show. "Everybody has been really helpful in extending their help to me. It's been a lot to learn but the stress level is pretty low."
The 45-year-old was almost destined to work for Mercury Racing. Growing up in Fond du Lac, both of Broman's parents worked for Mercury Marine. While attending the University of Wisconsin to earn his mechanical engineering degree, Broman interned at Mercury Marine and was hired full time after graduating.
"When I got the opportunity to work at Mercury that's where I wanted to be," Broman said. "That was the goal."
After joining Mercury Marine, Broman started working on two-stroke V6 outboards, moving onto the OptiMax and the Verado L6 platform. "Pretty much all of the four-stroke outboards that we've done in the last 20 years I've worked on," he said.
Broman's hands are also on Mercury Racing's 450R and 500R outboards that were introduced in 2023 as part of the company's 50th anniversary celebration.
Now as the director of Mercury Racing, Broman will chart a new course for the high-performance engine builder that will look similar to the past few years. That involves introducing new and innovative products, which will likely mean more outboards.
Broman said while Mercury Racing will always offer high-horsepower sterndrives, the go-fast market has fully embraced outboards for over a decade.
"The outboards have so many customer-facing advantages," he said. "There will always be a place for the performance sterndrives. There will be boats that just don't make any sense without outboards, and they'll stay sterndrive. At least for right now, I don't see (sterndrives) ever getting back to the way it was 10 or 15 years ago."
Mercury Racing will likely update select existing sterndrives such as the QC4 introduced a decade ago, rather than designing a new model from scratch. "It is going to stay a core part of our lineup for many years to come," Broman said.
After a busy 2023 filled with the 450R and 500R outboards, Broman said Mercury Racing won't slow down in 2024. While Broman remains tightlipped on what's coming, he believes consumers will be impressed.
"Next year won't be that level of magnitude," he said. "We'll have some smaller projects that will fit in there."
While the departure of general manager Stuart Halley and director of customer experience Steve Miller came as a surprise to the company's 100 employees, Broman said it has since been business as usual for Mercury Racing.
Broman said the company is working to integrate more people into sales and service to deliver a better customer experience.
"Everybody who you were interfacing with a month ago, you're still interfacing with today as a customer, so that's really no change," Broman said. "We're trying to get a deeper bench so that we can do more strategic stuff, we can grow the business, we can do things that in the past we didn't have capacity for. So that's really the mindset around some of the organizational changes."
Broman, who is married with three children, is just the fourth leader to run Mercury Racing since it was acquired by Mercury Marine in 1990. The Wisconsin native is excited to put his mark on the organization.
"I'm super excited for the opportunity," Broman said. "There's no slowing down next year. It won't be the 50th anniversary anymore, but we're keeping up the product development. We'll keep launching new products, keep working with our customers. I'm looking forward to it."
Look for the complete interview in the next issue of Poker Runs America.