MYCO Trailers is ready to celebrate 50 years of building marine trailers.

 
by Gregg Mansfield
As MYCO Trailers celebrates its 50th anniversary in 2024, the trailer manufacturer shows no signs of slowing down.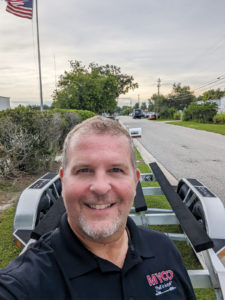 Whether it's building tilt trailers for the recreational market or trailers for military special forces, the Bradenton, Fla., company continues to be the leader when it comes to hauling million-dollar boats down the road.
Denis McComb was hired as MYCO Trailers' vice president of sales and marketing to lead MYCO through its next half century. He joins a group of marine industry veterans and a senior management team with more than 125 years of industry experience with companies such as Sea Ray, Malibu and Garmin.
"I think the build quality is one of the things that attracted the military special forces to us," McComb said.
Racing History
When MYCO started building trailers in 1974, the company got involved with offshore racing and pro fishing. In hindsight, it was one of the best moves former company founder Tim Moran could make. As the sports grew, so did MYCO Trailers.
While MYCO is still building trailers for today's top offshore teams, back in the day they had some of the biggest stars pulling the company's trailers. MYCO built for Alcone Motorsports, Don Q; Special Edition, Popeyes, Jesse James, Gentry Eagle; Little Caesars Pizza; and actor Don Johnson's Team USA.
MYCO was the first to introduce tilt trailers when the CUV and Tencara catamarans started offshore racing in the 1990s. As offshore racing ebbed and poker runs started booming, MYCO started building trailers for poker run boats that were getting bigger and faster.
The trailers were also getting more complicated as poker run boat owners were demanding more bling and custom colors.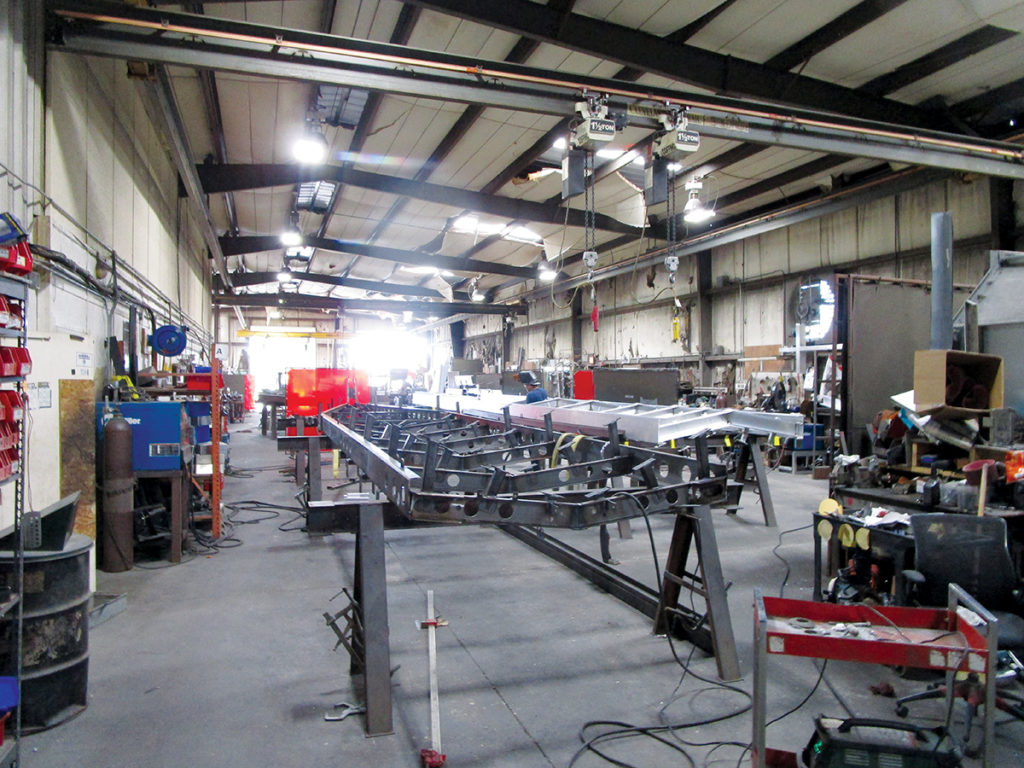 Engineered to Stand Up
McComb believes what separates MYCO Trailers from its competitors is the engineering department, and the willingness to take on difficult projects. He points to a trailer MYCO is building for the National Aquarium in Washington, D.C., for an aluminum catamaran that was a one-off build.
"They reached out to us because of our military experience and our background, and we are working with them on designing a new trailer designed specifically for them," he said.
The company has thousands of hull designs in its database. If they haven't built a trailer for the model, MYCO has relationships with the boatbuilders to get the CAD drawings or the company can do three-dimensional scans using a laser scanner computer system to develop 3D CAD unique to the hull.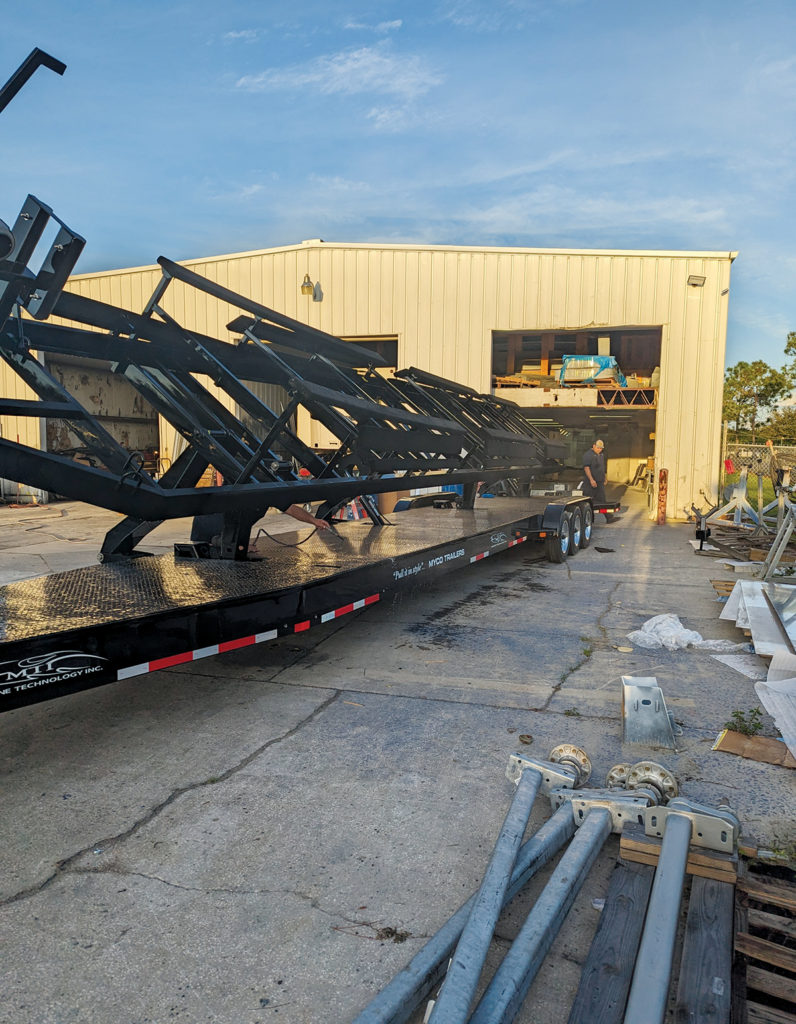 The primary goal is to balance the weight on the trailer. Replacing the engines or adding a Seakeeper, though unlikely, can throw off the delicate balance. MYCO wants the trailer's tongue weight to match the gross vehicle weight rating.
"Any extra weight added to a boat reflects in the trailer handling, and MYCO takes this into consideration with every design to ensure the best possible ride," McComb said.
Special Forces Projects
Some of what MYCO engineers learned in their military work, they apply to the recreational market. McComb said the team developed a better understanding of weight management, especially for trailers carrying over 30,000 pounds.
"It's a completely different world and how it goes down the road you've got to worry about size, weight, tongue weight, and a lot of variables go into the design of the trailer when you're hauling that kind of weight," McComb said. "The military business allowed us to better understand what that looks like and better understand how to transport such a heavy piece."
While the company primarily uses torsion axles for its trailers, MYCO learned how to incorporate non-torsion axles with leaf springs for higher weights.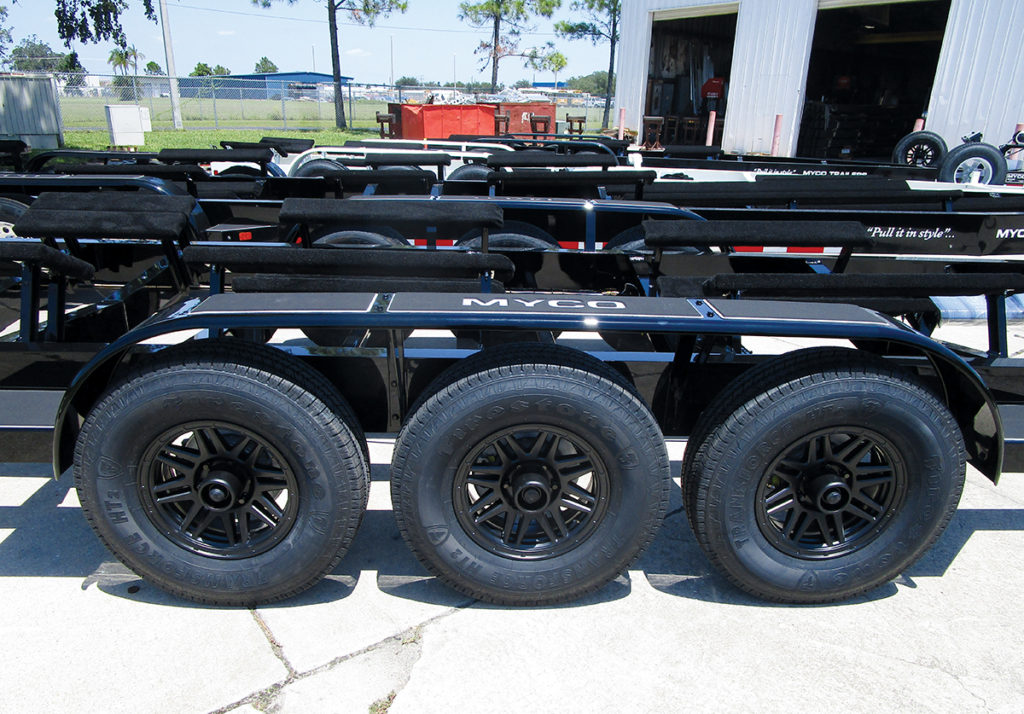 "It gives us the opportunity now for our steel customers or our aluminum customers to build a much larger trailer without having to change what our dynamic was," McComb said, later adding, "we were able to understand through our military designs, how I can take C-channel and running out to a 50-foot trailer and still support the weight with a three-axle trailer rather than having to go with four or five (axles) like others."
During the pandemic, MYCO was bottled up with special forces projects and built fewer recreational trailers than they had planned. MYCO's 38 employees were busy building trailers designed for submarines and boats, including some that could transport payloads of up to 80,000 pounds or airdropped from airplanes.
"One of the contracts was very large, and what I mean by large, is the product was physically large, so it took up almost 70 percent of our entire assembly," McComb said. "That's what caused the delay in our production. The physical product is so big that we didn't have the space to mandate other jobs around that one."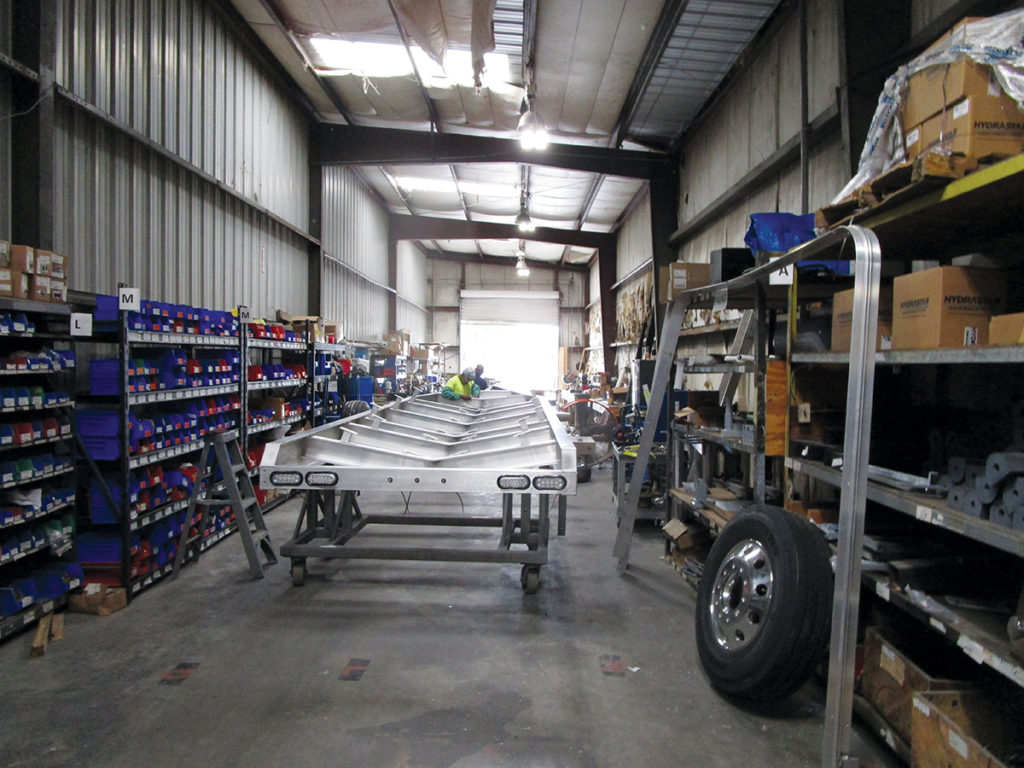 Moving Forward
MYCO trailers plans to build 250 to 300 recreational trailers in 2024, increasing its production now that some of the large Special Forces projects are behind the company. 
McComb said about 70 percent of the trailers MYCO builds are aluminum, while the remaining trailers are steel, which includes tilt trailers. 
Consumers will be paying less for a new trailer and MYCO upped the standard features on its base trailer. All trailers will now have electric over hydraulic brakes and come with a spare tire and a spare hub. The base trailer will come with an LED lighting kit that includes LED turn signals and LED reverse lights.
When it comes to building its trailers, MYCO uses only top-shelf products. For paint, MYCO uses PPG Delfleet One coatings, which is used by the major fleet companies, and name brand tires such as Firestone, Goodyear and Continental. MYCO is one of the few manufacturers who use a groundless DC wiring system. McComb said that helps prevent shortages and eliminates corrosion issues.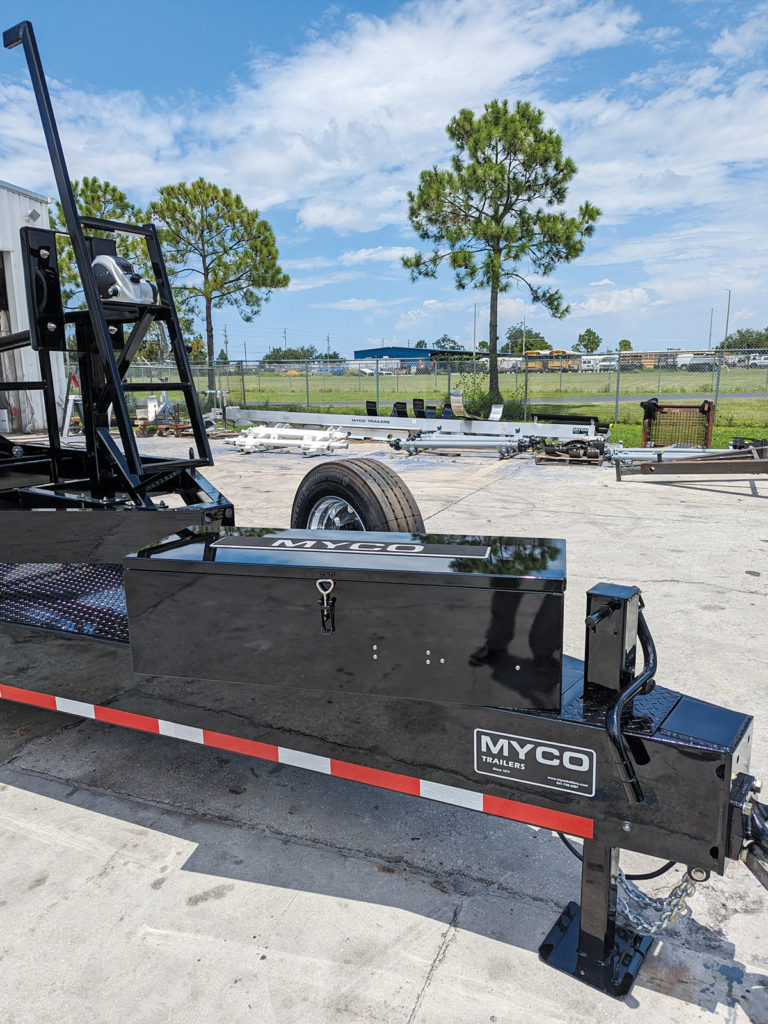 McComb said they aren't sacrificing the quality of the product, rather the changes reflect consumer expectations.
"I wanted to give our customers at the base level a very good product and by adding some of the key features that used to be on our options list are now in the price of our everyday trailer, at a more aggressive price point. It's a win-win for everyone," McComb said. "What it does is it sets a level of expectation for the customer that they can buy a base model and feel very safe on the road towing their boat."
MYCO plans to establish a service center and dealer network for its trailers in the U.S. The company plans to start off in key boating destinations and slowly expand it.  
Staying Power
McComb has been busy since becoming the vice president of sales and marketing in July, attending the Lake of the Ozarks Shootout and has been a regular at high-performance boating events on Arizona's Lake Havasu.
McComb is not just learning the players in the high-performance business, he's reminding them about MYCO's long history in the marine industry.
"MYCO is about integrity and excellence," McComb said. "That's not going to change."