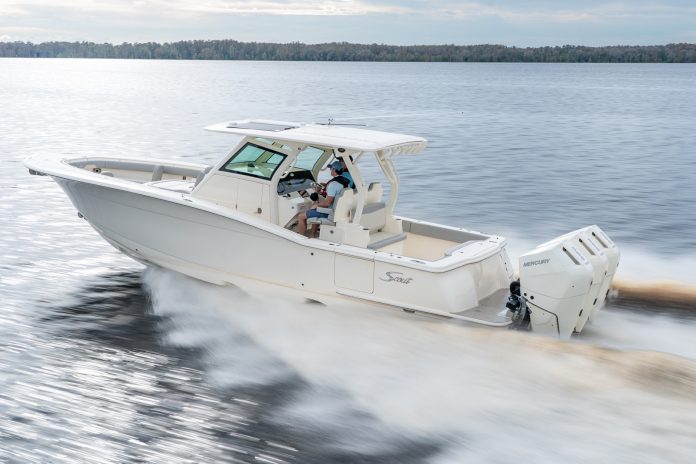 The first outboards released are 350- and 400-hp models.
By Gregg Mansfield
Mercury Marine executives have long taken pride in being able to keep a secret.
When the company announced a new Mercury Verado V10 outboard platform during a media presentation at Disney World in Orlando, Fla., in November, it caught us by surprise who were expecting either an electric outboard or an outboard to top 600 horsepower.
What we got was even cooler as Mercury Marine launched 350- and 400-horsepower outboards with a V10 platform. The new outboards, which will replace the Mercury Marine's existing L6 Verado 350 and 400 hp models, fills a gap between the company's V8 and V12 outboard offerings.
Mercury says the new V10 engines are the quietest and smoothest in their class, running 45 percent quieter than a leading competitor at cruise.
"We filled the gap the consumer was looking for—high displacement, naturally aspirated," said Chris Drees, president of Mercury Marine. "The 350, 400 horsepower node is a critical node in the marine segment."
The new V10 outboards, which had been in development for more than three years, offers a mix of updated and new technology. Among the features are a larger gearcase, larger propellers, an upgraded alternator and extended service intervals.
Thanks to higher efficiency and reduced weight, Mercury Marine said the new outboards can run on center consoles to high-performance boats.
The platform's all-new hydrodynamic gearcase is engineered to improve performance and durability across multiple applications while also maximizing fuel efficiency.

Clean Sheet Design
Tim Reid, Mercury's vice president of product development and engineering, said designers started with a clean sheet but took what they've learned from the V8 and V12 platforms they've developed.
"If we brought the concept of the V12s down it would have been significantly heavier and would have had some content that some customers didn't want and weren't willing to pay for," Reid said after the media dinner. "We're really watching that to make sure we've delivered to them the right content that meets their needs."
Weighing 695 pounds and with the same 26-inch mount spacing as the V8 outboards, the V10 engines maximize compatibility with current boat designs.
The new platform features the outboard industry's first V10 naturally aspirated powerhead. It uses a 5.7L displacement and a performance-inspired quad-cam design to propel boats. A c150-amp alternator charges onboard batteries and intelligently supports the boat's electrical system.
The platform's all-new hydrodynamic gearcase is engineered to improve performance and durability across multiple applications while also maximizing fuel efficiency.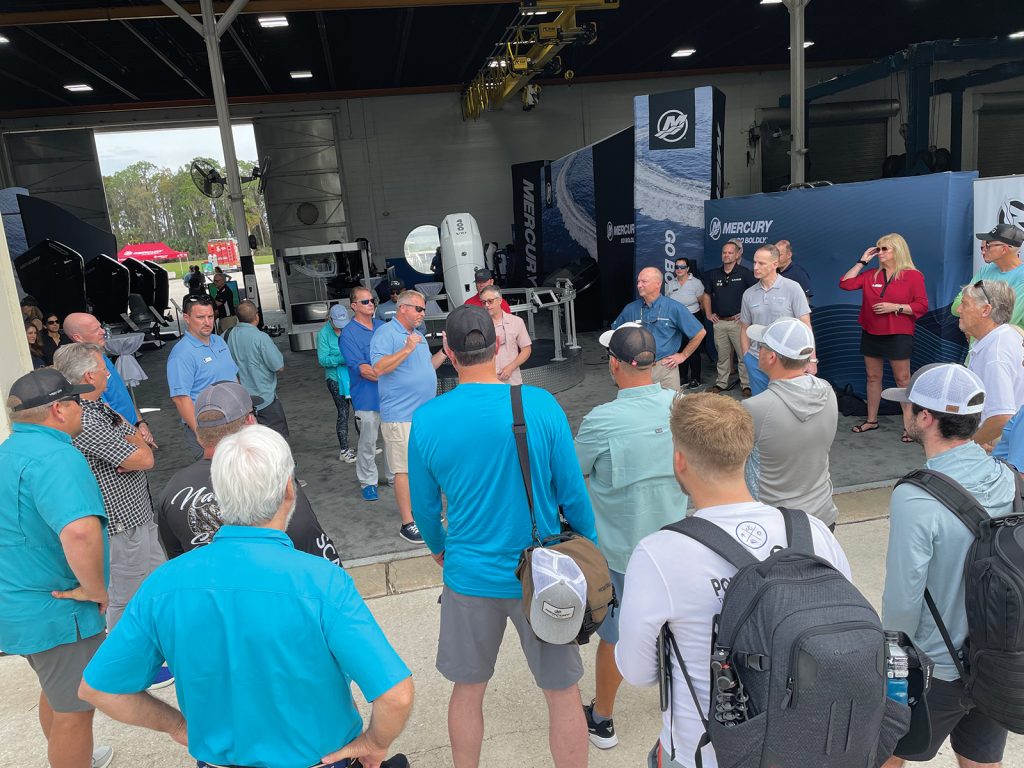 Real-World Testing
Mercury Marine let marine journalists test out the new V10 outboards during a day at the company's legendary testing facility Lake X in Osceola County, Fla.
Several of the boats had the new outboards including a 41' Intrepid and a Scout 355. The V10 outboards idling at the dock were as quiet or quieter than their V8 and V12 Verado siblings and had minimal vibration.
Taking the Scout 355 LXF out on Lake X, the center console with the triple 350-hp outboards got up on plane quickly and delivered strong midrange acceleration. Sitting near the transom, it was impossible to hear the outboards over the wind and water noise.
The power was consistent, and the outboards responded precisely to input from the throttle. Putting the Scout 355 LXF through as series of S-turns on Lake X, the hull felt connected and a good match for the 1,050 horsepower. The hull can accommodate up to 1,200 horsepower.
Ditch the Generator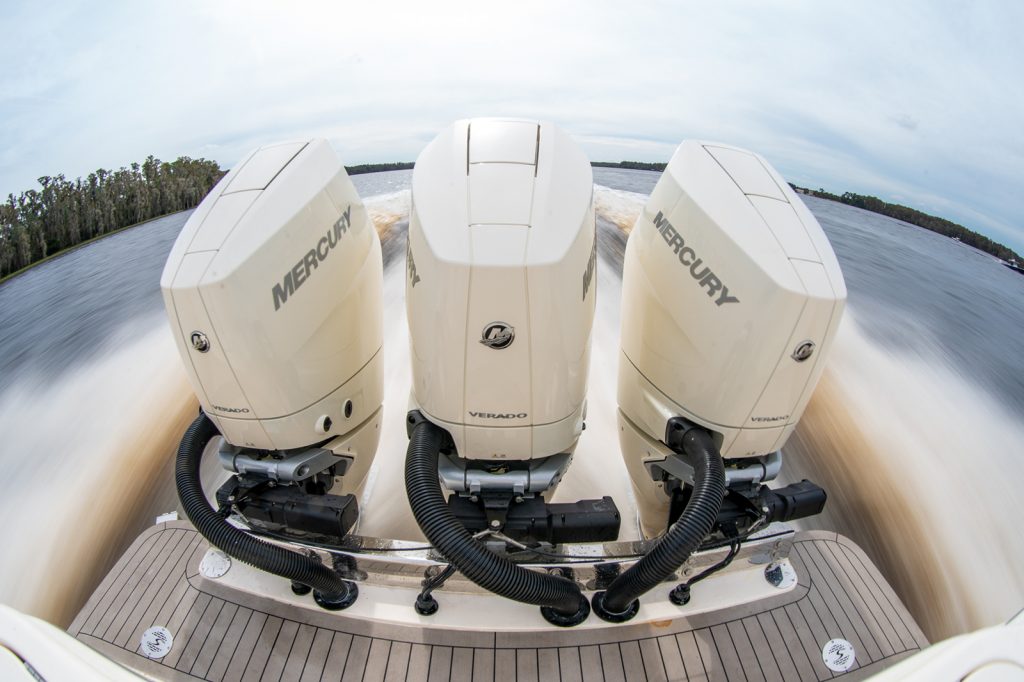 One of the coolest features offered as an option will be dual-mode 48V/12V alternator to seamlessly pair with Navico Group's Fathom e-power system. The integrated lithium-ion auxiliary power management system should allow boaters to eliminate an onboard generator system.
Think of the system like a hybrid car with the outboards automatically starting up to recharge the lithium-ion batteries when needed. The system eliminates a generator and potentially an extra fuel tank for diesel.
David Newcomb, director of OEM North America sales for Navico, said the system can put four times the amount of energy back into the lithium-ion batteries.
"The lithium-ion system was remarkable because you get the same amount of power for up to 70 percent less weight," Newcomb said. "We have systems 12-, 24-, 26- and 40-volt and now we have the ability to stack these systems up and do the whole boat, replacing high-output generators with lithium-ion batteries."
Newcomb said e-power system is ideal for recreational boats such as center consoles and even tow boats. Yachts, which have a higher power demand, would maintain a traditional diesel generator.
"The boats of 10 years ago for AC power demand are completely different than they are today," Newcomb said. "More air conditioners, more refrigeration systems, tuna tubes, more everything for AC power system. All that stacks up to more power demand on the modern boat."

New Gearcase, Propeller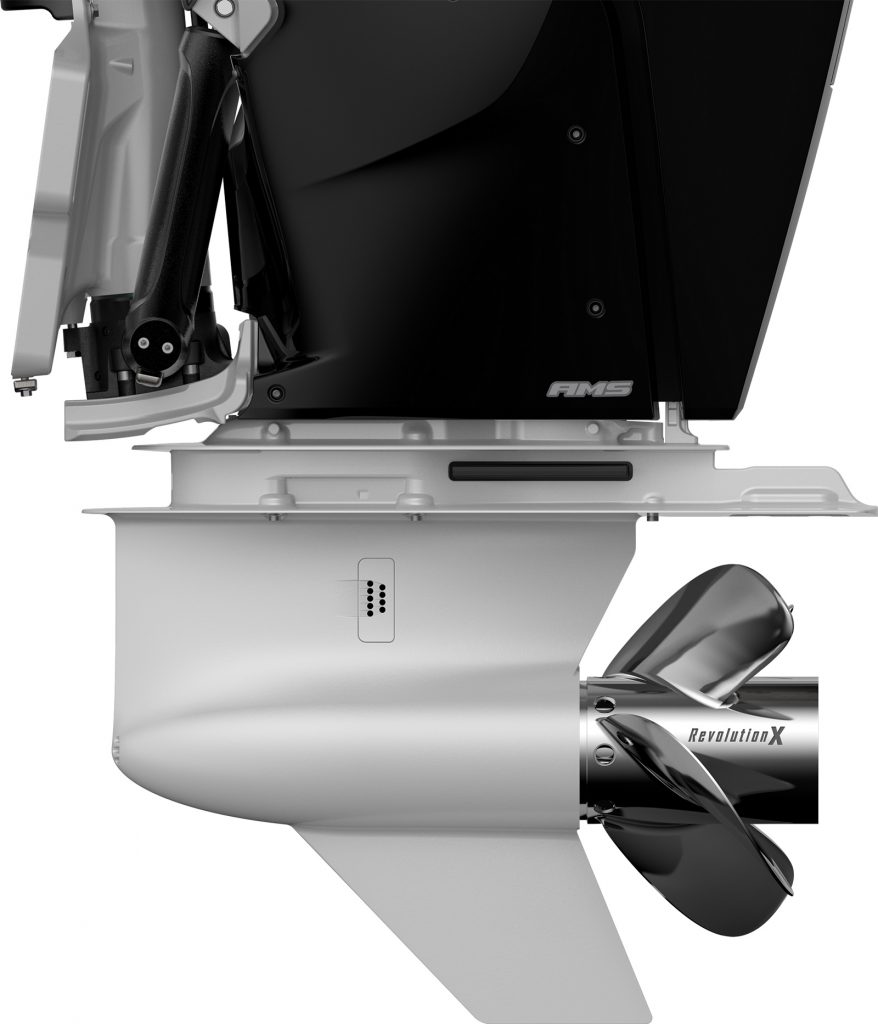 The all-new Revolution X propeller was designed to match the V10 Verado. Larger diameter and wider blades combined with the deep ratio of the new gearcase provide handling and high efficiency from low speed all the way to wide-open throttle.
Calibrated to deliver full performance on 87-octane fuel, the outboards also feature efficiency-enhancing technologies, a closed-loop fuel system and Advanced Range Optimization (ARO).
Adaptive Speed Control maintains engine rpm despite changes in load or conditions, making climbing large swells easier and cruising at low speeds smoother. Transient Spark Technology electronically adjusts spark timing to optimize low-end power.
The V10 Verado engines will also be compatible with a new Mercury electric steering system for multi-outboard vessels slated to start shipping in February 2023. The new system will offer enhanced steering responsiveness, dramatically simplified rigging and a more than 50 percent reduction in energy consumption.

Replacement Theory
With the launch of the new V10 platform, Reid said Mercury will be retiring its 350- and 400-hp L6 outboards.
"The supercharged product has been out there a number of years at 350 and 400 (horsepower) and it's a great product in that range, but it's getting a little long in the tooth," Reid said. "By all of the learnings between the V8 and the V12, we knew we could make a much more marketable product."
Brunswick CEO David M. Foulkes said the V10 platform fills out the product line for Mercury Marine and continues the company's push to remain the leader in the marine industry.
"We really like this larger displacement, naturally aspirated format. It gives you tremendous torque, a lot of rpm and a lot of flexibility but it's still a pretty simple engine where you want it to be simple," Foulkes said. "You take a V8, maybe you need to boost it now makes it more expensive and more complicated. You take a V12, it's heavy for the V10 segment. So we look at all those alternatives but in the end we felt that the V10 was just right in terms of weight, compactness, cost and simplicity."