At the 35th annual Superboat International offshore racing world championships last November, Mercury Racing (www.mercuryracing.com) introduced its new ROS competition outboard. The engine will make its debut in the XCAT World Series in Dubai on outboard-powered catamarans. It will replace existing two-stroke 2.5-liter engines that the teams have been using.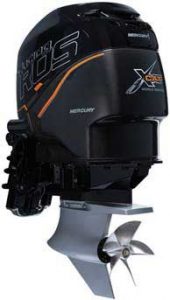 The ROS is based on the Mercury Racing Verado 400R that was introduced in 2015 (see more about that motor on page 37). The ROS features the same supercharged four-stroke powerhead as the Verado 400R, but with a new 10" racing midsection that features Mercury Racing's provide heavy duty swivel clamp bracket assembly. A Sport Master gearcase puts the power to the water and the performance engine and propeller manufacturer has developed a new line of CNC five- and six-blade cleaver props specifically for the ROS.
The clean emissions that come with a four-stroke make the engine compliant with United Arab Emirates exhaust emissions rules and the ROS will be homologated into the Union Internationale Motonautique technical specifications for XCAT. The 2016 season will be a transitional one for teams in the class and all boats will be required to run the motors in 2017.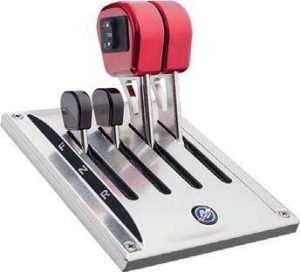 The shorter midsection and the clamp bracket assembly bring overall mounting height to 15", which matches the current 2.5-liter configurations. The low center of gravity combined with solid upper and lower engine mounts are critical to handle the loads generated by racing speeds and water conditions.
For smoother shifting and throttling and cleaner fly-by-wire rigging, the ROS uses Mercury's Digital Throttle & Shift (DTS). It replaces traditional shift and throttle cables with digital precision that reduces wear and tear of conventional shifting and makes throttling more precise. Zero Effort Digital controls have integrated trim buttons in the throttle handle and feature one-touch starting and automatic synchronization.