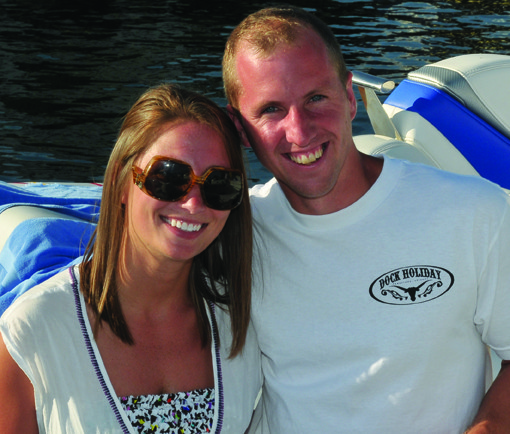 Poker run team Mike Lasell and girlfriend Katie Bryerton are just two people in their group of eight friends that enjoy poker running throughout central New York state.
"There is a large group of us that run the poker runs together throughout the summer, including Holy Cow owner, Kelly O'Hara," and 32' Skater owner, Rodney Murtaugh", says Lasell. "There are always six or eight of us and it's a lot of fun."
In fact, Lasell and Bryerton can often be seen at a series of association events as well as our PRA runs throughout the summer, cruising in his 36' Baja Outlaw named "Fast Money." This 36' Baja is the former model of long-time and veteran poker runner Dock Holiday, so it comes as no surprise it came ready to run with a set of 540 hp Precision Marine engines (that runs 600 php and achieve top speeds of approximately 80 mph).
"I have owned several Bajas' in the past and this is my fourth one and second 36.' says Lasell. "I really like Bajas. They have a lot of amenities and a ton of space for gear and passengers."
The Sandy Creek, NY-resident recently attended our 2012 Alexandria Bay Hall of Fame Poker Run in June and ranks the run as one of his favorites.
"What I like about the A-Bay run is the scenery and the docking facilities. Everything we need is right there and conveniently located. It's definitely a fun town. The camaraderie, the venue and how the event is organized are great. It definitely makes for an exciting run and ranks right up there with the Key West to Miami Run with  the FPC. We also enjoy the 1000 Islands run. You can't beat the scenery."
Aside from spending weekends on the water with his boating cohorts, Lasell works as a civil engineer in Syracuse, NY, at O'Brien & Gere Engineers and also keeps busy with his own engineering firm, MBL Engineering based in Sandy Creek.