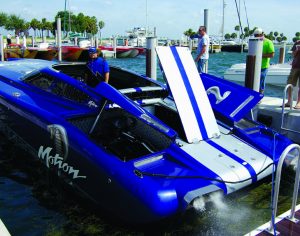 During a Poker Runs America event that encountered heavy seas, the majority of starters decided to turn back, even before the lunch stop. The new GT430 Motion Cat was one of the few entries that handled the tough water without difficulty. Not only did its deep tunnel take the ride in stride, but also its full wrap windscreen provides many of the same protection benefits as a canopy boat while retaining the advantages of an open boat. Passengers are protected from wind and spray by 360 degrees of tough, distortion free Plexiglas. The sloping back end blends smoothly into functional engine air scoops that help give the boat a stunningly beautiful profile. The net result is a catamaran with the look of a fastback automobile.
The inference to Cobra automobiles can be seen with the two silver longitudinal stripes on the blue deck. There is also a pair of GT style air scoops and oversized, stainless steel, racing gas cap. If you happen to miss these clues, you won't miss the large Cobra decal on the deck.
To accomplish this design combination of good looks and maximum strength, Motion Marine owner, Manny Roman, has drawn on his many years of offshore racing experience. Racing is a common denominator for almost all highly successful boat manufacturers. To ensure optimum strength, all Motion Powerboats are hand laid with quality bi-axial and tri-axial fiberglass. The Vinyl ester resin is 80% epoxy based, making the boat stronger, more flexible and with greater resistance to blistering than other resins. The GT430 hull is a sandwich core, employing Al-600, balsa core and then further reinforced with Kevlar laminate. Bulkheads and longitudinal stringers are built using a combination of laminated Airlite and Aircell, for an exceptional strength to weight ratio. The transom is constructed of glass-encapsulated layers of marine grade plywood. All this translates to a performance pleasure boat that will "take a licking and keep on ticking".
To order a back issue call (800) 461-9128 or sign in to read entire article
It's no wonder that Motion Powerboats have recorded numerous National and World Championship titles. But strength alone will not produce a winner. Every Motion design has gone through the tedious task of establishing optimum hull balance, for a variety of water conditions. Before delivery, the company conducts extensive post-production testing to ensure that every detail is in order. Their reputation for excellence comes from attention to detail that experienced buyers can appreciate. As Manny says, "Let the ride decide".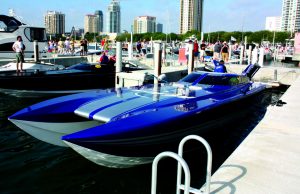 The GT430 helm is expansive. A control tunnel with Latham custom throttles separates two custom buckets and steering can be managed from either seat with a switch of the wheel. The panel is an effective combination of electronics by SmartCraft and Garmin along with performance gauges by Livorsi. The passengers in the three rear buckets have plenty of room to stand and hold onto a hooped grab rail that is built into the front seats. We found several other welcome touches. Two air scoops on the foredeck feed a powerful blast of cooler air into the cockpit. Drop in carpets sit on rubberized flooring. The stereo system includes an impressive fifteen speakers and in the event you leave the music on for too long, there is an emergency jumper cable plug in, to ensure you can depart as planned. A fold down step system simplifies cockpit boarding, then folds away when ready to run.
With a cockpit like this, you'll be quite happy to do all your dockside entertaining topside. But the GT430 goes the extra distance and builds a functional cabin into the large area below the foredeck. On both sides of the helm, there are three steps that lead to cabin doors. Both you and your passengers will appreciate having this cabin space and head, almost as much as the top end performance of this Motion Cat. And when it comes to performance, this cat can scat. On our open water tests we topped 141mph and cruised for long periods at a comfortable 65 mph.
It is important to note that Motion Marine does not mass-produce boats. Every one of their boats is a little different because each is built to individual customer preferences. For example, the cockpit seats are molded to match the buyer's physique. In order for such a custom approach to work, Motion has chosen to sell its boats 'factory direct'.
The GT430 is a new breed of performance cat. A slick performer with a host of creature comforts and offered at good value for your performance dollar.