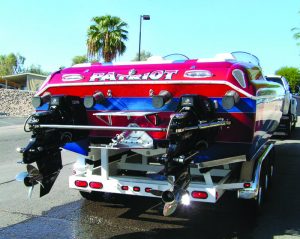 Just over three decades ago, Eliminator boats unveiled a 19-foot modified tunnel-vee model. Designed to serve the increasingly popular high-performance jet boat market, it didn't take long for this newcomer to kick off what would turn out to be a legacy in performance boating. The 19' Daytona was the first unblown gas jet to officially clock over 100 mph at quarter mile drags.
Since then, Eliminator Boats has developed a strong reputation for building high quality, lightning-fast performance boats. Adept in producing both semi-custom Deep-Vee and Cat hulls, there is no such thing as carbon copy at Eliminator. In house factory technicians can make slight modifications to each model to suit the need of each individual owner utilizing the latest design and construction technologies. And there are certainly enough models to choose from. The company now boasts a full line up of 10 Daytona Cat models ranging in size from 19 to 36 feet, and 11 Eagle deep-vee models from 21 to 38 feet. There is even a unique 27' Fun Deck model for those who want to party with a crowd.
When it comes to construction of the hull, Eliminator's fiberglass experts meticulously hand-laminate every hull, and only high-quality resin and materials are used to produce the hull and deck. A high standard of quality control is maintained because everything, including interior work, is done in house. The end product is nothing short of an outstanding piece of craftsmanship.
On a recent trip to Lake Havasu, Arizona, I met up with Cal Austin and his lovely wife Phyllis, who recently acquired a Daytona 30 with ICC (Integrated Cockpit Canopies). When I asked Cal why he chose Eliminator, he said, "This is my third one and I feel they're put together really well". He went on to comment that he felt it was a "solid boat" and he certainnly had no reservation taking the grandchildren out for the occasional run.
 For graphics, our test boat featured a patriotic looking red, white and blue color scheme with star shaped accents (Cal & Phyllis appropriately named their Eliminator "Patriot"). For an added touch, a glitter effect was added. The cockpit is set up for six, with two padded bucket seats forward and a four-person bench aft. Ample storage for your gear can be found under the aft bench seat as well as in small pockets on either side of the cockpit. A large locker in the cockpit sole is a great place to store larger items such as fenders and safety gear. Another nice touch is the standard 40 oz snap in carpet.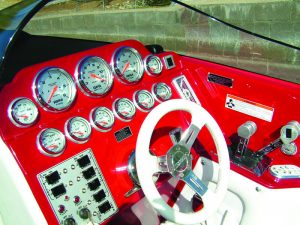 Since the Daytona 30 is a driver's boat and rigged for single person operation, the engine controls are mounted in an easy-to-reach position to starboard. Here you'll also find the stereo controls and engine hour meters. The dash features a bank of Pro Comp Marine gauges with chrome bezel accents, with the two large primary gauges for RPM and a large centrally mounted analogue GPS mounted on the upper tier of the dash. Ignition switches and a series of rocker switches for the 12V systems are mounted to the left of the IMCO steering wheel. To the right, you'll find rocker switches for the drives, along with a switch for the single tunnel tab that our test boat was rigged with. Also mounted here is the Bluewater Marine mechanical drive and tab indicators.
Up on the foredeck, our test boat sported a unique feature. A removable hatch reveals an open bow seating area, which quickly increases you passenger capacity. For added safety, there is direct access from the seating area to the cabin below, thus eliminating the need to climb up and over the foredeck to get to this area.
Despite this open bow configuration, there is still enough room under the foredeck for a pair of bench seats for those who want to take shelter from the elements. There is also plenty of extra room to store larger items such as duffel bags and coolers. On the starboard bulkhead, a large hatch provides easy access to the back of the helm should maintenance be required to the mechanical or electrical systems.
The 30 Daytona is available in single or twin I/O configuration, or multiple outboards. No matter what setup you desire, Eliminator always recommends Mercury power. Cal heeded their advice and opted for two MerCruiser 496 HO's. They were rigged to a pair of Bravo 1 drives (1:36 – 1 reduction) spinning 30" props, with IMCO Stern Advantage stand-off boxes sandwiched in-between. For a bit of added punch, a set of CMI headers were also added. According to Cal, these headers will add another 50 to 75 hp to the 496's, which are rated at 425 hp at max rpm.
With half a tank of fuel, and a total of four of us on board, we set out on to Lake Havasu for a few speed runs. Some cats have the tendency to ventilate and/or have significant bow rise when going on to plane, however with full tab applied, this effect was negligible and we were on plane in a respectable 6.2 seconds. After trimming the tab up, and the drives out slightly, we cruised along effortlessly at 49.1 mph @ 3000 rpm. Progressing through a series of turns, the hull tracked remarkably well, and the boat felt completely in control at a full range of speeds. Mid range acceleration was solid and at wide-open throttle, we topped out at 85.8 mph @ 4800 rpm. Cal pointed out that on other occasions, with slightly different conditions, he was able to surpass the 88 mph mark.
If you're looking for a quality built hull, to which you can add your own personal touches, be sure to check out the Eliminator 30. Match it up with a power plant that suits your needs, and you'll have yourself a sharp looking package that offers exhilarating performance!