Poker Runs America kept this classified. For months leading up to the closing of the Miami International Boat Show, we maintained an eagle-like eye on some of the most impressive launches from mid-2013 to early 2014.
The more we observed models from center console manufacturers at such events as The 2014 Miami International Boat Show, The SBI Key West World Championships, the Fort Lauderdale Boat Show, and the series of poker runs, the more difficult the choice became, considering the latest developments and competition from Nor-Tech, Cigarette, Yellow Fin, Deep Impact, Jupiter, Midnight Express, to name a few. In the end, however, it was a unanimous vote among our editorial team that the MTI-V 42 Center Console was to be named Most Innovative Boat of the Year and for good reason.
Our long list of criteria for this honor included creative styling, tooling, use of materials, and power and performance, being the most important. In all categories, the MTI-V 42 earned straight A's across the board. What we also encountered is no matter where the 42 was present it garnered plenty of activity among serious buyers – an impressive fact considering the MTI-V 42 has an above-average price tag, reaching high into the six-digit figures.
My entire life has revolved around the boating industry. The Miami International Boat Show has been an annual event for me since my preteens. Not only does salt run through my veins, but so does the addiction to performance boating. If you are reading this, you probably have the addiction as well.
The economy has rebounded to a degree where people who can comfortably afford top speed and comfort are doing just that. What is different, however, is that customers have been introduced to a new, innovative type of boating with the popular SUV center console design. While center consoles typically signify blue water fishing to consumers, performance boat manufacturers have provided new meanings for passenger capacity, comfort, functionality, safety, while still delivering power and performance.
A CLOSE LOOK AT DESIGN AND INNOVATION
For 2014, walking the MTI exhibit in the Miami Beach Convention Center, the company was pushing all the stops to showcase its latest efforts for the year. After all, MTI is known throughout the world as one of the most premiere custom builder of performance boats.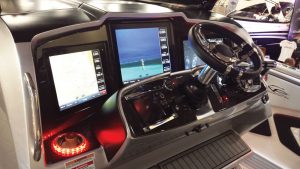 I was immediately drawn to the new MTI-V 42 Center Console. It had sex appeal with a racy twist. As soon as I walked up to the viewing platform, the custom painted quad Mercury 300 Verados captured my attention. I was then greeted by Tim Gallagher, Sales and Marketing Manager for MTI. Larry Goldman of Xtreme Marine, one of the major MTI dealers who consistently sells numerous MTI models throughout the year, was surrounded by boating enthusiasts inquiring about the magnificent MTI-V 42.
The layout of the 42 was friendly and inviting with the sassy attitude of all of its models. Walking on board, the flooring felt comfortable, unlike traditional simulated teak or colored flooring. Gallagher pointed out MTI incorporated a new type of decking (that's commonly used in the ski boat industry) due to its durability, UV-resistance, and the fact it doesn't retain heat. In fact, each individual CNC-routed floor panel is serial numbered if they have to be replaced.
A trained eye will be quick to notice superior quality in every respect. I asked Tim Gallagher and, owner Randy Scism, who conceived this design and he replied, "The entire staff – from myself to the guys on the shop floor. It was also a culmination of listening to our clients' needs and wishes."
Upon inspection, I noted there is a place for everything needed to travel the islands or enjoy a poker run – with one or ten of your friends or family members. There is a place not only for your sandals when you board the boat, but space in the gunnel to store bumpers and dock lines, and even trash lockers that hinge out below the double stitched thick coaming pads. Drink, holders, grab handles, seating, lighting – it's all where it is supposed to be when needed, and in abundance.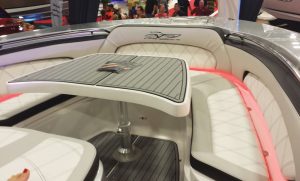 One thing that MTI stands true to is they do not order parts from a catalogue and create a boat from a box of parts. They custom fabricate each item in house. The company's approach in selecting components is not focused on price but, around features, reliability and functionality. For instance, I pointed out to PRA Publisher, Bill Taylor, a simple, retractable armrest on the forward console lounge and how stout it was as I tried to gently bend or break it.
"Our approach in selecting components for our boats is not focused on price, but on function," said Gallagher. "Look at our bow thruster and anchor systems. We went with a jet-style bow thruster system. Rather than a 10-inch hole running through the bow with a blade and motor that sounds like a blender, we went with a jet that has 2.5" nozzles on each side of the bow for less drag and less weight. It's fed by an intake pump in the center of the boat. It may cost twice what the traditional bow thrusters do, but the benefits of the jet system outweigh the cost."
Gallagher also explained that MTI utilizes a unique anchor design with a bow plate assembly, designed and created in-house. According to Gallagher, this allows the anchor to sit very close to the bow of the boat, which looks nice, does not shake and rattle, and is easy to use.
Let me walk you through this layout. From the bow, I perched myself around the back of a U-shape lounge with an inlaid decking surface and an ultra-rigid table. Ergonomics made it cozy and relaxing. Looking bow to stern in front of the console, the forward facing lounges looked as if it was designed by a craftsman of coziness. Flip-up-and-down armrests and drink holders made me close my eyes and imagine the tranquility of the turquoise waters of the Bahamas.
Walking back towards the rear console, I noted a huge door in the console that provides easy access to the cabin and opens with ease thanks to custom-designed hinges. The cabin has space – lots of it – to house a concealed toilet, vanity sink, mirror and plush lounge. I noted a strap on the backrest and after unsnapping it – presto – it folded down exposing a full queen-size bed. Two people could sleep in here comfortably unlike traditional V-bottom sport boats,where you have to sleep with your partner's head so close you resemble Siamese twins.
The optional A/C, LED TV, refrigerator, and generator will make over night trips a pleasure. Behind the perfectly laid-out console is six electric fold down stand up bolster-style seats with perfectly-positioned foot rests, grab handles and drink holders. Behind the aft seating is an enormous insulated cooler and just forward of the transom and the side of the door is an L-shape lounge with backrests and storage underneath. I counted seating for 16 souls above deck.
TECHNICAL CONSTRUCTION AND PERFORMANCE
Overhead, the hard top is laminated in vacuum-bagged carbon fiber with a sandwiched aluminum inner structure. This unique hard top is large enough to not only cover those at the console, but for those riding in the second row of seats.
The MTI-V 42 is not built like other manufacturer's center console. For instance, the model is epoxy, foam-cored, and post cured, all built with true vacuum bagging processes. Very few other builders actually vacuum bag their entire laminate. Foam core is incorporated with a two-inch core in bottom, and one-inch in the hull sides. Most companies only vacuum bag their core to the outer laminate. MTI vacuum bags the entire laminate and foam core to achieve the proper resin-to-glass ratio, which provides strength and weight control. Epoxy is not easy to work with as it takes more time to cure and costs more than GP or Vinylester Resins – innovative to say the least.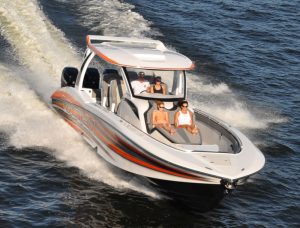 One of the key aspects that make this the most "Innovative Boat of the Year" is the ride. MTI nailed it. During the sea trials, I was on board with Greg McCauley, a long-time MTI customer. He has owned and driven every MTI model built to this day. Taking the 42 out of Miami's Sea Isle Marina and Yachting Center, the 42 was powered by quad Mercury 300 Mercury Verados with nine people aboard, 450 gallons of fuel with a total test weight of 20,000 pounds. McCauley laid the throttles down and with insignificant bow rise, the boat planed in its own length and running almost 60-plus mph in seconds. McCauley then throttled the boat in a predicted right hand turn at wide-open throttle without lifting. The 42 carved the turn and I felt the benefit MTI's patented "Slot V" bottom design work. We then came off plane, cruised under the Causeway Bridge, then at a moment's notice, we were back up blazing.
In front of Miami Marina, with McCauley at the helm, he snapped a hard turn again at wide-open throttle. I was dazzled that the boat showed zero signs of slipping or sliding at better than 55 mph. We made full circles one way and then again the other. Entering into an inlet and blasting through the mouth of the mother Atlantic can be one heck of an experience. McCauley was not about to disappoint any of us on board.
Looking ahead and down range, we were running close to 70 mph and right outside the inlet was a 70-foot sport fish pulling a huge wake. This was a time where you hope your faith in a captain's judgment is prudent. The wake resembled a small house. Gregg approached it correctly and the 42 popped over it with ease.
Running by South Beach in true three-foot seas, the 42 performed flawlessly throughout our sea trials, hitting speeds close to 70 mph without adjusting the engines or tabs. The passengers were all happy, and most importantly, dry. The patented hull design is very efficient, not just in top speed but also in fuel burn at cruise. We recorded 39 gph at 40mph, which equates to more than 1 mpg with the quad Mercury 300 Verados. This efficient design, coupled with a 450-gallon fuel capacity, yields excellent fuel range.
The team at MTI have once again designed a model that appeals to performance boaters that like to stand out from the crowd. With vanity aside, the MTI-V 42 also shines in the SUV segment, not only in performance, but in unique, functional styling, and comfort and practicality. It does come with a price tag well above your average SUV, but again, this is not your average boat. It's for discerning, experienced boaters who appreciate the fine detail of performance and comfort. MTI owner Randy Scism and his team at the Missouri-based facility most certainly have a winner on their hands. This is undoubtedly a model that raises the bar in the SUV center console arena and warrants significant praise for the 2014 season. PRA