If a manufacturer of high-end wizardry is going to survive today, they must adapt to meet the needs of today's performance boaters, while still providing value and efficiency. That's exactly what Outerlimits Offshore Powerboats achieves with its series of impressive models, including the recently introduced Super Legera (SL)36.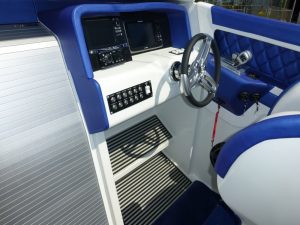 The Bristol, Rhode Island, boat manufacturer has always produced boats of the highest quality. For the SL36, the company was not about to lower its standards to find a lower price point. Instead, by saving on exotic materials such as carbon fiber and standardizing some of the features, they developed a more affordable model without compromising strength, quality, and handling.
To accomplish this, they had to build new tooling and molds and then laminate together the stringers, a finished engine compartment, a section of the cabin and some bulkheads for insertion into the hull. In addition to saving construction costs, this procedure generally adds strength. The preferred material for layup remains epoxy and all hulls are control "baked" for optimum curing. The foam-cored, vacuum bagged hull and deck are bonded and bolted at the seam. The transom, with its seven-inch setback, is all composite. With this process, it's hard to imagine any significant cost savings. However, Outerlimit's Paul Fiore told me they saved enough to offer an SL36 that is competitive with mainstream offerings, yet is better built.
Naturally, I figured the SL36 would be marketed as a "bare bones" boat with a list of options as long as my arm. I was wrong. The only options are A/C, underwater lighting and a transom shower. Some of the standard features that you will appreciate are a hydraulic helm, LED lighting, non-skid cockpit liner, a four-inch thick V-berth cushion, an enclosed head, a roll-up cabin door and cockpit cover. Even the touch screen Raymarine GPS/chart plotter comes standard.
The low profile design with acrylic wind deflector defines a sporty performance. From top side, looking down on the boat, the cockpit gunnels sweep inwards, towards the padded engine cover in order to accommodate two large air intakes. On the underside, the SL36 boasts seven steps.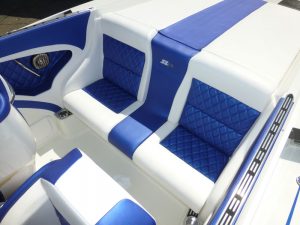 The cockpit measures 68 inches wide and 58 inches, fore to aft. The average gunnel height of 47 inches keeps passengers safe and dry. The helm is as clean as it is square. The "Glass Cockpit", with a helm comprised of Vessel View 7 and a Raymarine GPS, eliminates round gauges completely. Twelve stylish push button switches operate accessories. A driver can stand behind the wheel or sit with a choice of two separate non-skid foot rests. Identical seating options are in place for the front seat passenger. Rather than opt for a rear bench seat, the SL36 has two custom bucket seats. It's more comfortable, unless a third person was relegated to sit in the middle. The attractive cabin, while basic, is stylish and has respectable headroom, tapering from 62 inches to 48 inches.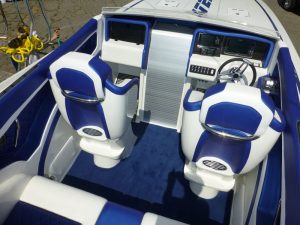 Mercury Racing, a separate division of Mercury Marine, is by far the largest manufacturer of offshore racing engines. They also recognized a need for an engine that matches their reputation for performance, while setting new standards in efficiency. When you want all-out speed, gas mileage is the last thing on your mind. For non-race applications, however, fuel prices have created a growing demand for an economical V8 with lots of torque and power. To meet this need, Mercury Racing developed the 520 sterndrive. This naturally-aspirated engine provides recreational boaters a cost-effective power option that fits nicely, in both value and performance, between the MerCruiser 8.2L MAG HO and Mercury Racing 525 EFI. It also offers Digital Throttle and Shift (DTS) and is backed by an unprecedented two-year limited factory warranty.
Mercury Racing enhanced power and torque of the 520 by increasing cylinder bore size to a displacement of 8.6 L. The larger displacement, combined with Mercury Racing cylinder heads, multiport fuel injection and an electronic throttle body, results in nearly 100 additional horsepower over the 430 hp MAG HO. All of this power comes using 87 posted octane pump gas, which is a major benefit in both operating costs and convenience. The CNC-machined cylinder block includes many Mercury Racing designed components including a balanced crankshaft, forged I-beam and shot-peened connecting rods plus forged aluminum pistons. Mercury Racing aluminum cylinder heads utilize optimum valve angles for improved air flow. The greater displacement, combined with the enhanced airflow, results in exceptional mid-range punch.
The 520 is closed-cooled for more uniform temperature distribution, optimal running quality and salt water applications. It comes equipped with a 65-amp charging system, providing an ample supply of power for an array of marine electronics. The 520 features the same Propulsion Control Module (PCM 09) microprocessor as found on the 565 and QC4v family. In addition to digital throttle and shift control, the PCM optimizes fuel and