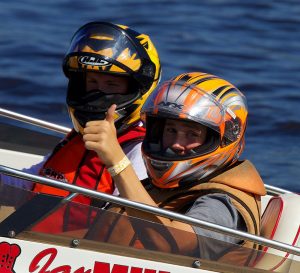 Photos courtesy of Sharkey Images
Jay Muller had a busy couple of days last weekend. He helped organize and bring to town the Offshore Powerboat Association's Lake Hopatcong Grand Prix in New Jersey, doing everything from helping to get cars parked to tying up boats.
In competition, he throttled the 42' Fountain/MTI catamaran, Bat Boat, with owner Eliot Gray in the Class 2 race. When the time came for the eight boats in Class 7 to take to the water, Muller was looking forward to that race as much as he had anticipated any event this year. That's because he and his 17-year-old son Jason were racing Muller's 21' Hustler, Wicked Racing, which was powered by a 280-hp Mercury Racing 2.5 EFI outboard.
As if racing with one of his sons wasn't enough, Muller's other two boys, Chase, 16 and Jax, 14, were racing in the same class in the 22' Velocity, Chug It, and its 225-hp 3.0-liter Mercury outboard. The boat is owned by Kevin Smith, who races the canopied 30' Phantom, Tug It, in the Super Vee Lite class. Smith lets Jax and Chase race the boat as long as they maintain it so they wanted to make sure they gave special thanks to Smith.
"It was just a fun experience," said Jay Muller. "I was wearing a lot of hats. I was trying to get my boat ready. I was trying to get my boys' boat ready."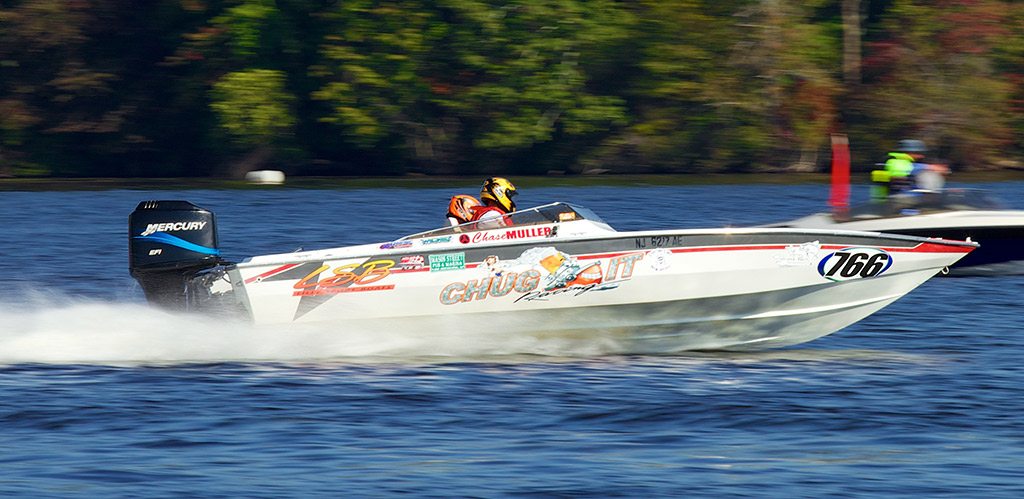 Jason may be the oldest of the three boys, but Lake Hopatcong was his first race. Throttleman Jax and driver Chase ran together last year at their home race. "They have so much experience," said Jay Muller. "They take out my 32 Skater, they can run it, dock it, they can do it all."
Prior to the race, the Muller family had tested the two boats running side by side. None of them was planning to let their siblings or father win without a battle.
"I wasn't going to put anyone in jeopardy, but both boats were set up well," said Jay Muller.
Unfortunately, the head-to-head competition between the two boats never materialized. Jay and Jason Muller's engine loaded up from an extended idle while waiting for the race to start. This let John Hughes of Copiague, N.Y., and his Mercury-powered 21' Redline, Hangin' N Bangin' and the younger Mullers get out to an early lead. "By the time I got on plane, my kids and Hangin' N Bangin' were ahead of us," said Jay Muller. He and Jason ran as hard as they could, running similar lap times to the lead boats but they couldn't close the gap.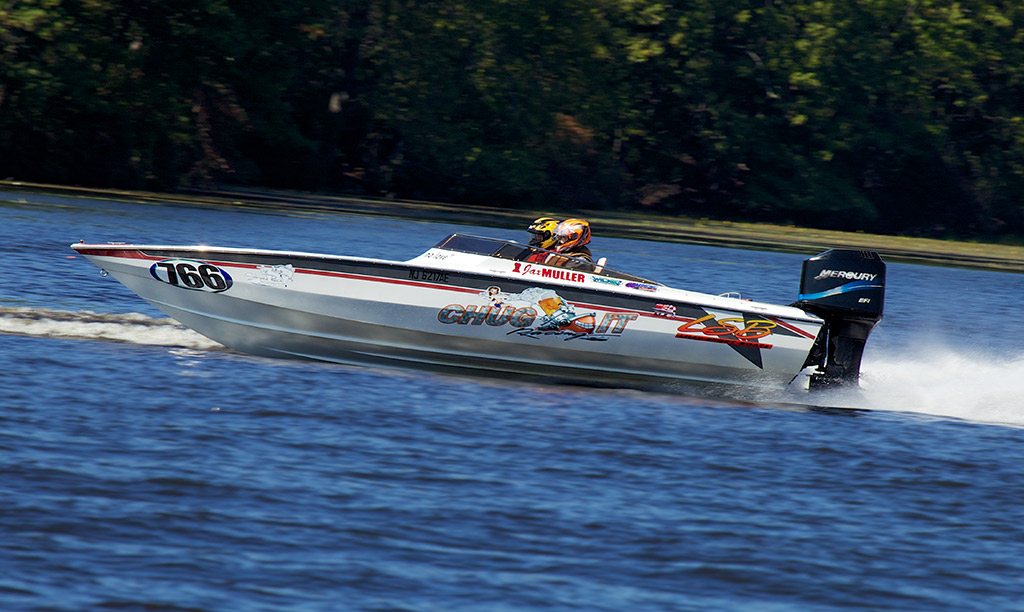 Hangin' N Bangin' got the Class 7 win at Lake Hopatcong. Jax and Chase Muller finishing second in Chug It, taking the family victory. "I was comfortable that we had the skill to do it," Jax said after the race. Of course, when the family talked among themselves, the younger Mullers let the older ones have it. "My kids talked it up, 'Like you never had anything for us anyway,'" said Jay Muller. "It would have been a great three-way battle up front for sure."
When they're not going fast on the water, the Mullers compete on the motocross course. Chase and Jax determined who would throttle and who would drive Chug It based on their dirt bike riding styles. Jax is more aggressive while Chase consistently hits his marks on the track. Jay, Jason and Chase all ride Yamaha YZs, while Jax rides a Suzuki RM. There is another Muller, Jay's 12-year-old daughter, Regan
Jay Muller's next race is going to be this weekend at the Superboat International Clearwater National Championship in Clearwater, Fla., where he will team up with owner/driver Billy Mauff in the 40' Skater, WHM Motorsports. His sons want to get back on the liquid racecourse at the OPA World Championships at the Englewood Beach Waterfest November 15-19 in Englewood Beach, Fla., and if they do, Jay and Jason will be looking for a little payback on Jax and Chase.