Mystic's M3900. The company is currently in the early design stages of a new M4500 center console.
In recent years, Mystic Powerboats has branched out from its long standing reputation as a sole offshore race boat builder to designing models for the recreational go fast crowd, hitting the mainstream boat market with open-cockpit models and SUV-style center consoles. So far, the results have been nothing but impressive with consistent production and a strong vision of the future.
While speed is still the name of the game as the company is still active producing competitive hulls on the offshore racing circuits, reaching out to the mainstream market is a concept Mystic is excelling in, producing new designs that combine optimum comfort with speed and performance.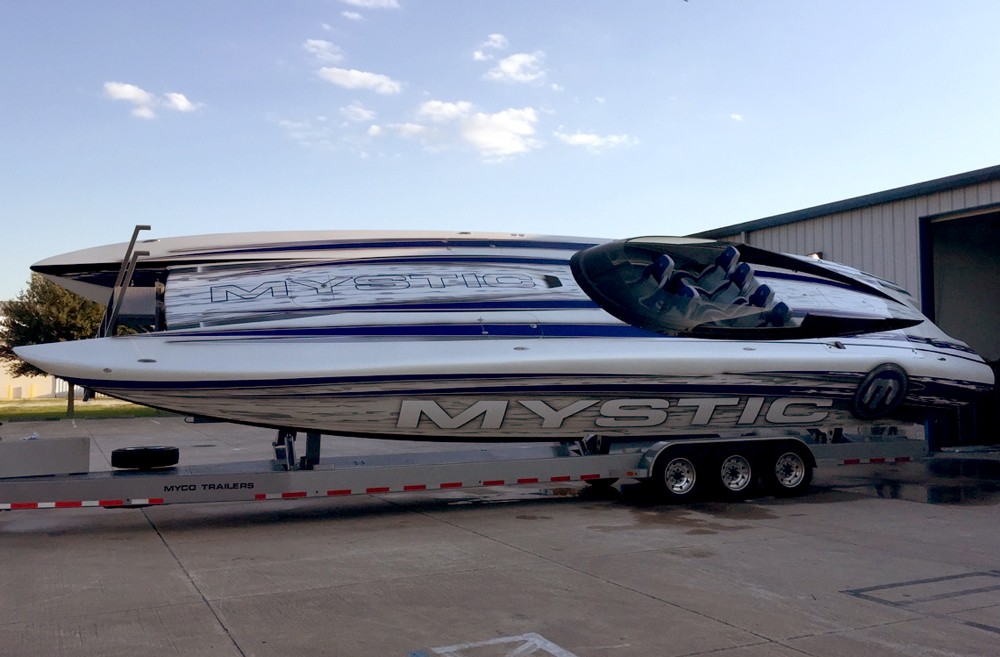 "Its been a real transition for us in the last year as we branched out from the niche  racing market or designing hulls for other builders, and becoming more of a mainstream builder with models lines and consistent production," said John Cosker, owner of Mystic Powerboats. We are simply building on our racing heritage as the racing market is only so big."
Following the successful launch of its M3900 Center Console at the 2015 Miami Boat Show, Mystic is currently in the early stages of designing a new M4500, a long-range center console available with quad or twin outboards, and a diesel option with surface drives.
"We are just starting the ground work and it will complement the M3900," said Cosker, "It will be very similar, but it will be longer, wider, and have a larger cabin area.  You could spend a week on it easily. It's still in the infancy stage but the model will certainly develop as we move forward."
Other projects that are currently in the works include a new C5000S powered by twin 1350 hp Mercury Racing engines with surface drives and will be completed in time for Lake of Ozarks Shootout August 21 – August 30.
"Its kind of the next generation of the Mystic pleasure boats," explained Cosker. "It has a new 44 dash, but is expanded for the extra cockpit space and the upholstery features heavy duty gauge stitching, which makes the interior more high end than we have ever done before, and the graphics are being completed at The Art of Design. It's going to be very high end boat."
With other projects on the radar from Mystic in the coming months and next year, be sure to check back with PRA for more updates and news.  
For more information visit www.mysticpowerboats.com