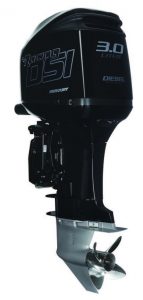 Mercury has introduced a diesel outboard for commercial and military applications. The new Diesel Spark Ignition motor features direct fuel injected 2-stroke technology that lets it run on ultra-low sulfur diesel fuel. The 3.0 Liter V-6 diesel produces 175 prop-shaft hp and shares 95 percent of its components with the gasoline 2-stroke Mercury engine from which it was derived.
A two-stage, direct-injection system uses a small charge of compressed air to finely atomize the diesel fuel as it injects into the combustion allows for ignition via spark to occur and deliver enhanced high rpm running quality.
A glow plug works in concert with the spark plug for improved cold weather starting and idle quality. An on-board Propulsion Control Module (PCM) microprocessor optimizes fuel and spark timing. SmartCraft® Engine Guardian provides real-time, self-protecting engine fault diagnostics and messaging.
The 3.0-liter powerhead is customized with a cylinder head designed specifically for combusting diesel fuel and is matched with high-performance cylinder liners for maximum horsepower and optimal engine running quality. For aesthetics, the motor features new DSI graphics. It's available with a 25-inch (635 mm) center section and the 2:1 Fleet Master gearcase in both right-hand and left-hand rotation.