The Victory Team won the first race of the 2016 XCAT series with Mercury Racing's new 400 ROS outboards.
A familiar name to offshore racing fans won the first race for the new Mercury Racing 400 ROS competition out-boards. Dubai's Victory Team won the Fujairah Grand Prix on April 8 on the Gulf of Oman in Fujairah, United Arab Emirates. The race was round one of the 2016 XCAT World Series and it was historic because it marked the first victory for the new four-stroke racing outboard.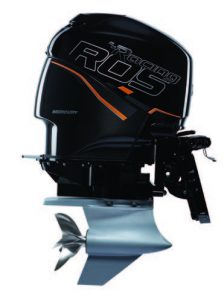 Of the 14 boats racing, 10 were powered by twin 400 ROS motors. The Victory team of Arif Saif Al-Zafeen and Nadir bin Hendi took the lead from the start and never looked back. The Dubia natives also earned double points for the weekend because they also were the fastest boat in the Dubai Duty Free Speed Cat trials the day before.
The 14-lap race consisted of a starting circuit of the course followed by 11 normal-length laps and two long laps. Competition had to be stopped early when Team Australia flipped. Fortunately the in-boat team was OK. On the restart, Victory Team blasted to the lead and won in convincing fashion over second place finishers Tom Barry Cotter and Ross Willaton in Gold Coast Australia. Swecat, with Erik Stark and Mikael Bengtsson, crossed the line in third. Team Dubai and Carpisa Yamamay rounded out the top five and all five teams were powered by 400 ROS outboards. Learn more about the new motors and their accomplishment at www.mercuryracing.com.