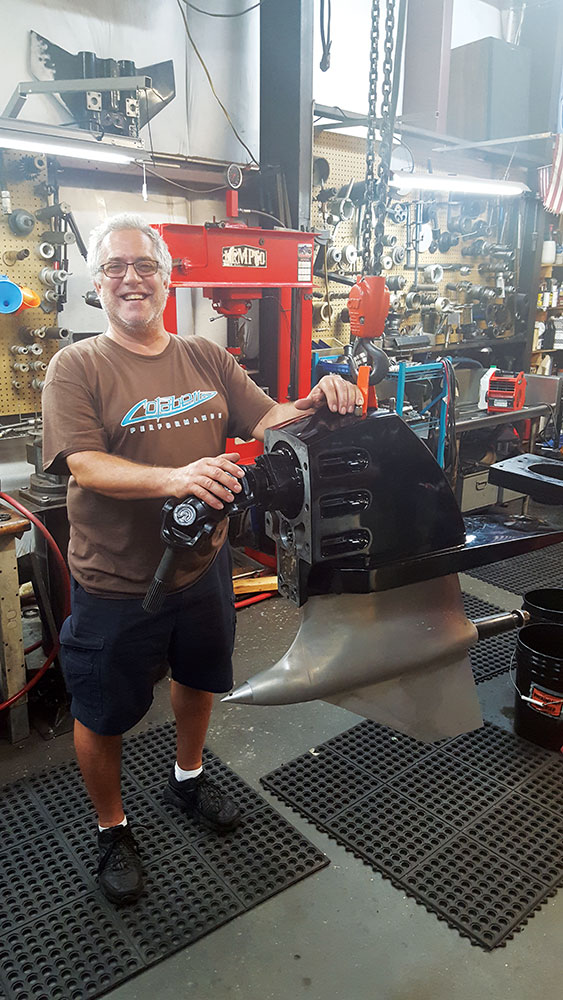 Craig Colabella has combined an extensive knowledge of performance outdrives and an honest approach to business to build a successful company.
By Eric Colby

When Craig Colabella left Mercury Hi-Performance's Lake X test facility in St. Cloud, Fla., to start his own performance-drive repair facility, his first customer was Curtis Morris. "I told him, Curtis, I don't have any money so if you could forward me the money for the parts, I'll do the work," recalled Colabella.
Morris didn't have to think twice about trusting Colabella to live up to his word. He paid Colabella up front and 17 years later Colabella Performance in St. Cloud, Fla., is one of the most trusted and respected performance drive repair and manufacturing facilities in performance boating. He doesn't have a website. He doesn't spend time on Facebook. He works hard and treats people well. Karma and word of mouth take care of the rest.
Colabella, 57, has been successful because he lives and conducts his business on a basic, but important principle. "I want to treat people the way I want to be treated," he said.
There's an easy-going side to Colabella that makes him easy to like. He's a hard-working, honest guy who, when he was with Mercury Hi-Performance, spent more than his fair share of Saturday nights during the offshore racing season under a tent or in the back of the famed Mercury trailer re-building a drive. He was happy doing it and would enjoy a cold beer when he was done with an honest day's work.
He grew up in Rutherford, N.J., until he was 10, where his father Bovio, worked for the Mattel toy company as a plastics engineer. The family matriarch, Theresa, was a stay-at-home mom and there were a total of six kids. Bovio, Jr., 66, lives in Connecticut, while Ralph, 64, lives in Chicago. Sixty-two year-old Terry (named after her mom) lives in St. Cloud, Fla. There is a older sister, Kris, 58, and younger brother Keith, 55, lives in Sarasota, Fla. Colabella said that he's close to all his siblings.
He's been married to his wife Vicki for 37 years and has two daughters, Nicole, 33 and Jessica, 31. He has two grandchildren, Dexter, 4, and Amelia, 6, whom he calls, "My hobbies."
You might imagine Colabella spending his time on the water in a hot-rod. He does, sort of. He owns a 1989 Starcraft pontoon boat. He added a third pontoon and powers it with a 125-hp Mercury outboard. It runs 32 mph and he enjoys pulling his grandkids on a tube behind it.
When Craig was five years old, he had to have back surgery and he said that he's got a better back today than many people half his age. He credits his father and Bovio, Jr., for instilling a strong work ethic in him.
Bovio, Sr., left Mattel and moved the family to Florida when he took a job with Mercury Marine. After graduating from Osceola High School where he was a baseball player, Craig spent a little time working construction with Bovio, Jr., in Connecticut. Then he said, "My pops took care of me."
Bovio, Sr., got Craig his first job at Mercury Marine at the endurance-testing facility at Lake X test facility in 1979. After a year, he was laid off, but then the legendary Don Schwebbs who ran Hi-performance department at Lake X facility and he hired Colabella.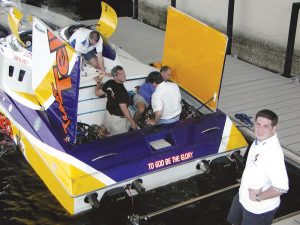 "Best bossman I ever had," Colabella said when describing Schwebbs. About six months after he was hired, Colabella said the Lake X facility needed a volunteer to go to Mercury Hi-Performance headquarters to learn how to work on drives. "It was so we could change gear ratios to do testing down there," he recalled.
Eventually, Colabella started rebuilding drives for customers and for much of the time he was at Lake X, Colabella was the only one working on drives. Dennis Hanson was the Shop Foreman at Plant 38A and he taught Colabella how to rebuild the Speedmaster III drive. Eventually Mercury started competing against Betty Cooke and her Kaama drives and then the Arneson surface drive was introduced. Mercury was fighting to keep up with its competition with the III, so Colabella was instrumental in the development of the Speedmaster IV racing drive. "It was a nightmare keeping those things together," Colabella said of the Speedmaster IV.
After the IV, Mercury developed the more robust Speedmaster V for racing and then the IIIA for pleasureboat use. Of course, Colabella became well-versed in the nuances of all of them. Today, Colabella Performance specializes in Mercury Racing Speedmaster IIIs, IIIAs, IVs, Vs, Sixs, M8s, M8Rs, NXT's, all MerCruiser Bravo drives and all outboard gearcases.
After Mercury Hi-Performance bought the Number Six drive from Kiekhaefer Aeromarine, Colabella was the first to learn how to build them from Steve Draves. It was so early in the drive's history that Colabella was learning about the drive while Mercury technician Howard Blades was writing the manual for it.
One thing Colabella learned quickly about Schwebbs, who was best known as "Schwebbie," was that when he asked a question the man of few words expected an answer. Colabella bought calendar books and started writing down every repair or job he did for a given customer. "Schwebbie started asking, 'What did you do for this guy?' I have 14 years of calendar books. We could spend hours reading that stuff."
In his 20 years at Lake X, Colabella became known as the go-to guy for rebuilding Mercury Hi-Performance drives that held up. He contributed to more than 200 world and national championships in offshore racing, building drives for such teams as Popeye's, Jesse James, Team USA, Agitator, Spirit of Norway, Spirit of the Amazon and WHM Motorsports. If you want proof that Colabella treats people the right way, consider that he calls the team managers/throttlemen for each of these teams friends to this day. The list reads like an American Power Boat Association Hall of Champions roster and includes Kirk Duntemann, Bobby Moore, Jim Dyke, Richie powers, Digger Durgins, John Tomlinson, and Joe Impressia
"That's the best part about the whole offshore racing thing is camaraderie, the friends and family you make while you're doing it," said Colabella.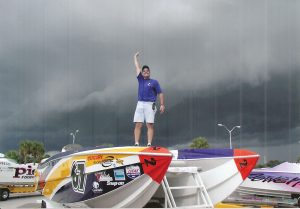 Of course, Colabella got into his share of trouble with Schwebbie who tolerated his employee's hijinks because Schwebbs knew he had a rare talent who could build drives that would stay together. Colabella recalled a time when he ate lunch and then channeled his inner Gator Boy and slipped a rope around the neck of one of the many alligators that frequented the Lake X facility. The gator swam away with rope still around its neck and Schwebbs made Colabella coax the animal back to the docks and remove the rope.
Even though he was a baseball player in high school, Colabella loved playing basketball with the racers who visited Lake X. "Some of my favorite times out there were when we would play basketball," said Colabella with a smile. "I played with Billy Seebold and Mike Seebold, Felix Serralles. "We used to love our basketball.
Another time, a crew was filming the short-lived TV show Thunder in Paradise, which starred Hulk Hogan, and the professional wrestlers stunt man ran a boat into the building at Lake X so hard that it dislodged some bolt bins from the inner wall of the facility. At various times in his career, Colabella also met Don Johnson, Kurt Russell and Chuck Norris, all of whom spent time racing offshore.
Unfortunately for all of us in the offshore racing community, Schwebbs passed away, and Colabella said that Lake X was never the same. After numerous managers were brought in to try to run the facility, Colabella finally got fed up with the growing presence of the corporate office at the secretive test site and he packed up his tools and left.
"It was real scary because my wife got fired from her job two weeks after I quit," said Colabella.
One of his first opportunities was an offer from Big John Kiely to become the Crew Chief for the Kiely racing team, which ran a Skater 36 in the then-new Factory III class in offshore racing. Colabella couldn't pass it up because it was a steady paycheck while he built his new company Colabella Performance. The team ran Mercury Racing HP500 EFI motors with Number Six drives and top speed was 107 mph. The team didn't win a lot, but it finished every race, which was good enough to win a national championship.
Colabella Performance built its reputation just as its owner had, re-building high-performance outdrives that stay together. Most of his customers from Lake X followed Colabella to his new venture and 17 years later, Colabella Performance is thriving. He trained the instructors in a drive-rebuilding course at Seminole Community College and is the only facility in the United States that services gearcases for 7 Marine, which builds the most powerful outboard motors in the industry. He also trained the only authorized repair shop for the motors in Italty.
Customers from as far away as New Zealand, South America, the Bahamas and Puerto Rico continue to ship their drives to Colabella Performance because they know two things—Colabella rebuilds them the right way and he's a standup guy who charges a fair price. "I was always nice to people and I took care of them," he said. You can't go wrong with that approach.
For more information, contact Colabella Performance Inc. at 407-498-0094.