Under the leadership of owner Scott Sjogren, Shogren Performance Marine is changing the boat buying experience for the better.
By Eric Colby
Over the last 13 years, Shogren Performance Marine (www.teamshogren.com) has sold an average of 125 boats per year. In 2017, Sjogren has changed his direction and pro-forma for re-structure and position.  The company is making adjustments to sell more new Mystics and DCB Outboard boats and fewer used and consignment boats. Scott Sjogren is perfectly happy with that with goals to be all new boat sales with exceptions of trades on new boats by the end of this year.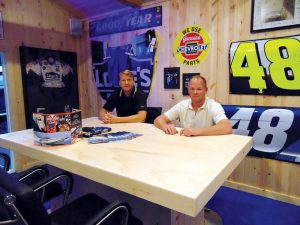 "We're more focused on developing a relationship with the manufacturer so we are an extension of the manufacturer," he said. "We want to develop a family with Mystic (Powerboats) and DCB Outboards (Dave's Custom Boats) then plan outings with the owners of these brands to build our community."
Shogren Performance Marine is the Global Distributor for Mystic and is representing outboard-powered boats for DCB east of the Mississippi including Missouri.
Sjogren also explained his approach when it comes to customers. "We're very involved with the customer," he said. "Everything is personalized. You make it an experience. It's like a custom home. Shogren Performance Marine has a Mystic M4200 in its showroom in McHenry, Ill., and will have a M3800 when this new model is completed. Eventually Sjogren said he hopes to have a Mystic single engine center console that will retail for $100,000.00. Additionally, every Mystic that Shogren Performance sells includes trips to the factory in Florida so the buyer can be involved in all facets of the build.
"A consumer who owns an older Cigarette 35 Café Racer doesn't say, 'I have a Café Racer,' he says, 'I have a Cigarette,'" said Sjogren. "People want to say, I have a Mystic, we are seeing and hearing it more and more."
The Shogren Performance facility is set up to enhance that experience. There is 22,000 square feet of indoors showroom and service center with another new 7,500 sq. ft. storage building coming in Spring 2017.  The 48 Lounge is a customer lounge area where boat owners can hang out and chat while checking out some Jimmy Johnson memorabilia.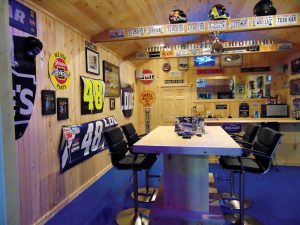 Shogren Performance Marine is a full-service facility with a small, but talented team. Greg Weber, who is in sales, has been with Sjogren for 13 years. Alan Gordon, whom Sjogren called, "one the most underrated riggers in the industry," has been with him for seven years. When we talked, Gordon was in the midst of a re-rig on an Outerlimits catamaran with Mercury Racing 1350s. Izzy Mendoza has been at Shogren Performance since Day One and details every boat for delivery. Ashley Jasiak handles all closings and Chris Larsen is in charge of social media for Shogren Performance Marine.
Sjogren's experience as the Number One volume dealer for Fountain Powerboats for eight straight years gave him the vision he needed to establish the new direction for his company. He admits that he misses working with Reggie Fountain, II, the founder of Fountain Powerboats, and his boats.
Sjogren feels the industry is moving away from the high-output stern drive V-bottom and that outboard powered center consoles, O/B cats under 35' and I/O catamarans are the future of performance boating.
"Most boat dealers are victims of, "If you always do what you always did, you'll always get what you always got," he said.
Of the boats Sjogren wants to sell in 2017, he said that more than half will be new models and the others will be "good clean trades against Mystics and DCBs." Of the new boats, he estimates that 25 will be outboard-powered center consoles and DCB cats. Shogren Performance is sold out on Mystic M4200 center consoles until August 2017.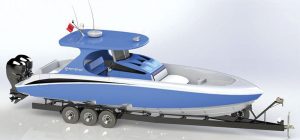 "The nice thing about selling the outboards is that I can sell them with up to an 8-year warranty," Sjogren said. Focusing things even further, Shogren Performance is only selling new boats with Mercury outboards. "It's easier to give the customer better service because Mercury has more than 2,000 outboard dealers," he said. If Sjogren sells a boat powered by Mercury outboards to a customer who takes it across the country, the dealership can use the customer's zip code to find a certified repair facility nearby.
Given Sjogren's unconventional approach to the traditional dealership, some might find it unusual that his company actually increased its presence at boat shows last year. Shogren Performance displayed at Miami, Fort Lauderdale, Chicago and many regional shows in 2016.  Sjogren said the shows are the best place to find new center-console customers.  The easier we make it for the consumer to get involved with our brands, the more loyal customers we will have.
When it comes to poker runs, Sjogren enjoys attending those that will help him sell Mystic center consoles and catamarans or outboard-powered DCB's.  Regarding the Mystic M4200 center console, he said, "Everybody likes to ride on the center console and ours is the driest, the best wind-deflecting, fastest best riding in it's size category." It doesn't hurt that the boat has a seating capacity of 18 passengers.
He said that the Mystic M4200 proved its capabilities at this year's Boyne Thunder Poker Run, where rough conditions kept many participants at the docks. With Weber driving, Sjogren said the M4200 showed everyone what a great center console is capable of.
For owners who want to find an easier way to scratch their speed itch, Sjogren explained that the DCB F29 powered by twin Mercury Racing Verado 400Rs is a turnkey package that easily runs triple digits. "They don't want a big semi or a crew to help them launch the boat, so they go out early in the morning for a 100-mph blast," he explained. Additionally, because an owner isn't spending millions of dollars on a bigger boat with turbocharged or supercharged engines, he doesn't stress out if he's not using the smaller outboard-powered boat. Sjogren said he sells a fully loaded F29 on a trailer for $299,000 and an owner doesn't need a dedicated tow vehicle to take it to the ramp.
Moving forward, Sjogren said he's excited about the future with Mystic and DCB. He would like to host a Mystic owner's run to Bimini next year and will continue to increase his focus and efforts to enhance the customer's experience.
"Our approach was to go Range Rover," said Sjogren. "It was never to go Corvette. We're specialized, we've carved a niche."