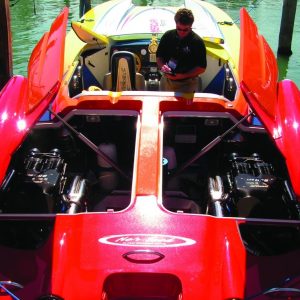 I'll be the first to admit that the deep rumble of a high performance engine firing up makes the hairs on the back of my neck stand up, and gets the testosterone flowing. But even as a performance boat enthusiast, the high noise levels do have a tendency to grate on the nerves after a period of time. Those with sensitive ears or who have absolutely zero interest in performance boating can find the rumbling exhaust noise even more bothersome, if not downright annoying.
With the issue of high noise levels becoming an increased topic of debate, Nor-Tech opted to challenge this issue head-on, and created a unique sound suppressing system for use with a variety of power plants. What's so unique about it? Nor-Tech has managed to develop a system that dramatically reduces sound levels without negatively affecting performance. Recently, at the Miami International Boat Show, we checked out this exhaust system that was fitted on an awesome 3600 Supercat rigged with Mercury Racing 850 SCi's.
First, let's look at the boat itself. The Cape Coral, Florida, builder has a proven track record of creating high quality, high performance products. Unlike many manufacturers, Nor-Tech started big, with a 50' cat, and worked its way down in size. The 3600 Supercat is one of three large cats produced by the manufacturer, and the most popular model in the Nor-Tech line.
Sporting a 56" wide tunnel with no center pod, this true catamaran is built with hand-laid, tri-directional and bi-directional fiberglass. For added strength without sacrificing weight, the entire deck and hull is cored with high-density foam. All stringers and bulkheads are made of marine plywood encapsulated in fiberglass and resin. For an extra strong bond, the hull-deck joint is screwed and fiberglassed together. Below the waterline, each sponson features six steps, or 'Nor-Steps' as the manufacturer likes to call them.
Six pop-up cleats are strategically placed around the hull, but there's no need to clutter these cleats with fender lines. A unique pushpin system allows fenders to be snapped into receptacles that are flush-mounted into the hull. The acrylic windshield is integrated into the deck mold, and it is flanked by a set of functional, low profile side-view mirrors.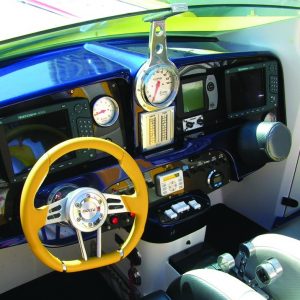 The cockpit is laid out with three well-padded seats aft, each with an armrest and padded hand holds. The operator and co-pilot enjoy the comfort of high-back bucket seats mounted side-by-side.
The helm of the Nor-Tech 36 is extremely well designed and engineered, with the most notable feature being the dual helm positions. This setup allows you to drive the boat from either side, or to operate the boat in a two-person, throttleman/driver fashion. But no matter what side you choose to drive on, you'll find a full set of instrumentation mounted in easy-to-view locations. Chrome bezel Livorsi gauges adorn the carbon fiber dash, and a large-face GPS Telltale and the Livorsi trim indicators are predominantly mounted in the center of the dash. Nice touches include two Northstar 6000 I GPS/Plotters that are mounted ahead of each forward seating position. A unique feature of this arrangement is that it is interfaced with the Mercury SmartCraft System. To ensure all engine systems are functioning properly, vital engine data can be called up onto either or both Northstar displays. There's also a stand-alone Mercury SmartCraft monitor.
High performance cats aren't typically known for having lavishly-appointed cabins, but Nor-Tech did incorporate a functional space ahead of the helm. Access to the cabin is to port. It's a bit of a challenge to negotiate the relatively narrow hatch, but it served as a reminder that I should start to lay off those extra slices of Key Lime pie. Once below, you'll find a bench seat with a padded backrest to port that offers plenty of headroom while seated. A double berth is found amidships. You'll also find a VHF radio, and the main controls and amps for the Pioneer sound system. On the forward bulkhead, two large fabric covers can be easily removed to allow quick and easy access to each sponson. Back outside, a set of gull-wing hatches open to reveal a gleaming engine compartment. Our test boat sported the optional engine dress up kit that includes brightly finished Mirroflex plating and color-matched components throughout. All of the wiring and rigging was neatly routed and well secured. Along the forward bulkhead is a functional set of fender holders.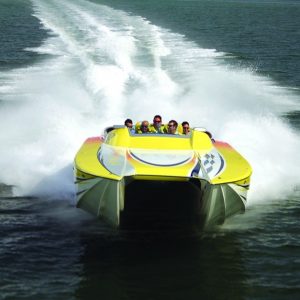 Our test boat was powered with a pair of Mercury Racing's new 850 SCi's hooked up to Dry Sump Six drives that were spinning a set of 17" x 34" five-bladed stainless steel Hering propellers. A pair of Lysholm twin-screw superchargers, in conjunction with multi-port fuel injection (two per cylinder), offers relatively smooth idle quality, as well as the kind of blistering top-end performance you would expect from an engine developed from Mercury's awesome HP 1075 SCi.
On the crowded docks at Miami's Sea Isle Marina and Yachting Center, I met up with Nor-Techs' Terry Sobo, who explained the workings of the new exhaust system that he and his team developed in response to mandated noise level reductions in several states. He pointed out that Missouri, for example, has been enforcing a law that dictates that a sound meter reading taken five feet behind the boat must be below 89 decibels – a tough challenge to say the least.
Initial experiments, including running two mufflers on a single exhaust, produced limited results. If a muffler system was made to work well enough, the horsepower was restricted, and a significant loss of top speed was the net result.
Sobo came up with the idea of discharging the exhaust below the water line. The concept itself is not new, as many cruisers and motor yachts utilize this muffling method today. What is unique, however, is utilizing this method on a high performance boat without negatively effecting performance. Nor-Tech's answer is to run the two exhausts from each side of the manifold into a Y-pipe, and then feed it down into the engine compartment where it exits through the transom below the gimbal bearing.
Sobo pointed out that pushing the exhaust down almost two feet below the surface of the water does have its challenges. For starting purposes, and to allow the engine to idle properly, a one-inch relief vent that discharges above the water line has been incorporated into the design. When idling, the only exhaust noise you hear is from the relief vent, which is almost the equivalent to a generator exhaust. During the first sea trials, there were concerns over how loud the exhaust would be once the hull was on plane and the transom was exposed. "What in fact happens is the exhaust is directed into the prop stream, and the spray and turbulence has a muffling effect," explained Sobo.
Mercury also had some concerns, particularly when it came to the issue of back-pressure. After thorough testing, the results determined the modified exhaust system created zero back-pressure. According to Sobo, the system actually created a bit of a vacuum, which in essence pulls the exhaust out of the back of the boat.
Anxious to put these claims to the test, Terry, myself and two passengers set out on to Miami's Biscayne Bay to put the 3600 Supercat through its paces. As we were preparing to get underway, a passer by commented to his companion, "plug your ears as they fire this sucker up!" With little fanfare, the twin 850 SCi's came to life and quietly idled at the dock. The look of dismay on the couple's faces was almost priceless. I immediately grabbed my sound meter. True to word, the sound levels in the cockpit were a very comfortable 87 dbA.
The 850 SCi's have a remarkable low and smooth idling speed of just 800 rpm, which makes for smooth shifting in and out of gear – a real treat for close quarter maneuvering! Once clear of the marina and the many no-wake zones, we advanced the throttles. The props hooked up and we were smoothly on plane in 4.9 seconds. At 2,500 rpm, we ran along effortlessly at 44.9 mph. A quick check of the sound meter show only a slight increase to 89 dbA. With solid mid-range acceleration, we broke the 100 mph as the tachs approached 5,000 rpm. Since Biscayne Bay has manatee zones and obstacles such as bridges, we were unable to really open the boat up and test its full performance capabilities. That being said, we did reach 120.1 mph as we approached 5,800 rpm, before we had to throttle back to make a turn. Sobo did point out that his team was experimenting with different props. Apparently on previous test runs, and in more ideal conditions, they have cracked the 137 mph mark. Before we throttled back, I took yet another look at the sound meter to see yet another impressive reading of 101 dbA. This sound level would be comparable to what I have experienced while testing numerous sport boats or offshore fishing rigs, and much of the reading can be attributed to wind noise.
Heading back to the marina, we weaved our way through the increasingly congested traffic on the Intra-coastal Waterway. In a turn, some cats will have a tendency to lean out, or away from the turn, and some may even lean in like a V-bottom hull does. The 3600 Supercat remained almost perfectly flat, with almost no noticeable lean in either direction.
Nor-Tech is so sold on this new muffler system that it is now standard on all boats they produce. If someone really wants to make noise, the new exhaust system can be capped and traditional pipes can be installed. Quite frankly, I don't see why someone would opt for that. And as Terry put it, driving the Nor-Tech 3600 the way it's rigged is "like driving a real high performance sports car, rather than some ol' Hot Rod." I couldn't agree more. It delivers exhilarating performance without the headache – for you or your neighbors. What's not to love about that?