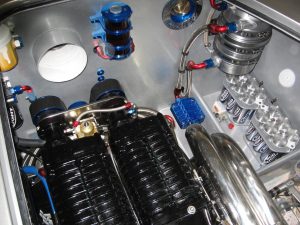 If you want to make an impact, there's nothing like putting your logo on a 44-foot traveling billboard, especially when that billboard will be seen by millions of beer drinkers throughout the country. Bud Light, long-time sponsor of Seebold Racing and the Formula One Champ Boat Series, will be joining the Poker Run circuit in 2008.
Anheuser Busch, brewers of such famous brands as Budweiser, Budweiser Select and Bud Light, clearly understand the value in promoting and advertising their products via the motorsport community. Having sponsored several of powerboat racing's most triumphant teams, the Budweiser family of brands always plays a key role in developing each series or class they participate in.
Bud Light Poker Run Team owner Todd Beckman is passionate about performance boating and has signed some high-profile names to meet the goals of his organization. Beckman, a veteran racer on the F1 tour, will be joined in the cockpit by Dean Kreschmar, an avid performance boater and former Porsche GT1/GT2 race car driver. When his busy racing schedule permits, offshore world champion and F1 star Mike Seebold will also strap-in. Rigging expert Gary Stray assumes responsibility for related technical and mechanical aspects.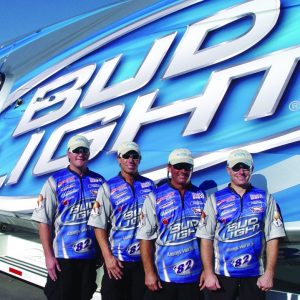 Poker Runs America was first to speak to the St. Louis based entrepreneur upon his arrival to Key West during the SBI World Championships in mid-November. When asked how this project came about, Beckman answered, "We wanted to be the first corporately branded (non-racing) boat in the Poker Run Series and are currently working on a 10-event schedule. In 2008, Bud Light will be exposed to Offshore, Formula One and now Poker Runs – with Anheuser Busch pulling it all together".
Beckman's Bud Light-sponsored cat is a 44-foot MTI, an ex-raceboat campaigned in the Supercat class. It has been stripped, restored and re-powered with brand new Mercury Racing HP1075 SCi's coupled to Trimax Surface Drives. "Spinning Mercury's latest five-blade CNC 16 1/2" X 38" pitch cleavers, it ran 140 MPH straight out of the box and is estimated to reach 155 MPH", says Beckman.
Budweiser spokesperson Brad Brown explained that an arrangement with Beckman had been established in 2007. "We put together a short-year deal with Todd with a plan of securing a full-year platform for 2008. In the last five to six weeks, the opportunity came about to hit some late-season poker runs – they married up with our offshore program, with David Scott and our retail accounts so we activated it this year". In addition to primary sponsor Bud Light, several other logos have found their way onto Beckman's' canopied cat. The Tan Company, XG-ad.com, Pier57, Planet, Schneider Graphics, Custom Marine and Mercury Racing Propellers each have a slice of the action.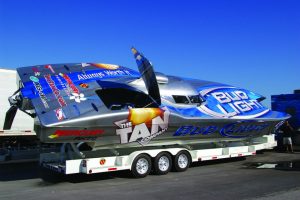 While Bud Light's striking Silver and Blue graphics are very cool indeed, what lies under the hatch is pretty neat too – such as a dry-sump oil tank shaped like a Keg of Beer, and batteries camouflaged as two Bud Light Six-Packs. If you don't get a charge out of those, check your heartbeat!
Stay tuned for upcoming on-the-water action with the Bud Light Poker Run Team in 2008. This is definitely one cat that will quench your thirst for speed!