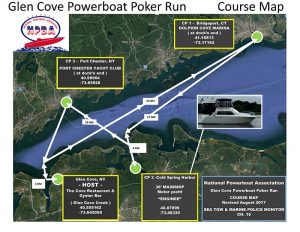 Summer isn't over yet for performance boaters in the southern Connecticut and New York area. This Saturday, the National Powerboat Association will hold the Glen Cove Poker Run.
Just announced is a $2,500 purse for the best poker hand and that figure will increase by $200 with each boat entry that exceeds 10 participants. For example, if 15 boats sign up, the purse will climb to $3,500.
Each entrant will receive a poker hand, two tickets to the awards barbecue, two event T-shirts and a helicopter video. The entry fee is $350 and to reserve a dock spot, email NPBA president Billy Frenz at Billy@nationalpowerboat.com.
The headquarters for the run will be The Cove restaurant in Glen Cove, N.Y., and sign-in starts Saturday morning at 9 a.m. with coffee and bagels being served. T he NPBA will present trophies for the King Cat navigator and the King V-bottom navigator.
Starting at noon, the boats will leave the Cove and head 29 nautical miles northeast to the first card stop at Dolphin Cove Marina in Bridgeport, Conn. The fleet will then head 17 miles south to the second card stop, a 36' Mainship cruiser, Enginee, that will be anchored in Cold Spring Harbor, N.Y. A quick 10-mile jaunt takes the boats to Port Chester Yacht Club in Port Chester, N.Y., and then they return to the Cove restaurant to finish the day's festivities. Sea Tow and the Marine Police in the area will monitor radio channel 16.