Offshore racing is the lifeline of the recreational performance boating phenomenon. Racers on the competitive circuit spend thousands every season to enhance power and speed to be more competitive. Yet, breakdowns occur for any given boat at any given event. Boat – even engine manufacturers – learn from these unfortunate experiences.
Hulls crack in high-stress areas and engines breakdown due to over-heating and excessive wear and tear. However, they are quickly repaired, modified and tested to withstand the next competition. Racing is considered by some to be the godfather of recreational performance boating. It wasn't that long ago when intelligent, forward thinkers at Wellcraft Scarab, Fountain Powerboats, and even Mercury Racing spent fortunes on research and development, perfecting technology to develop more speed, performance and power. It was a time when manufacturers throughout the industry gained a lot of insight and knowledge through these masterminds.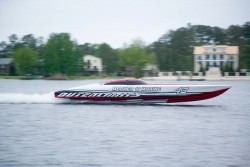 One of the key forerunners of racing and promoters of kilo speed events, Wellcraft Scarab, was taking the center podium race after race (with such acclaimed racers as Donny Waddick, Gus Anastasia, Steve Simon, Bill Sirois and Don Johnson) – all the while going head-to-head with Reggie Fountain. This expertise was brought to the masses and the recreational performance boat market exploded throughout the late 1990s and 2000s. Manufacturers were introducing sophisticated hull designs with unstoppable stock and modified power while still incorporating the flair and exterior styling of offshore racing. When executives at Wellcraft pulled the plug on its offshore efforts, Scarab was put to rest, leaving Fountain to go full steam ahead to pursue kilo records and race titles – but it didn't happen easily.
With strong efforts, they kept pushing the envelope, modifying hull designs, bottom configurations, and lowering the center of gravity to pursue kilo records and race titles. They dominated the performance world recruiting some of top owners/drivers including Joey Gratton, Art Lilly, Tres Martin, Jerry Gilbreath, Mike Seebold – to name but a few. They were the team to beat on the race course and couldn't be touched on the kilo course. While a race team may commonly spend upwards of $100,000 for a used Fountain or Outerlimits hull, plus engines and rigging, there's practically no limit that a poker runner will spend on a new boat with hefty horsepower to exceed speeds of 150 to 160 mph – that's serious stuff.
These players are big spenders and its offshore racing that fuels it. With this strong interest and as kilo speed runs became more prevalent across the country – where the name of the game is pure speed – competition heated up.
With the increasing popularity of Outerlimits Powerboats, and a young Mike Fiore racing and winning on the U.S. and European circuits, Outerlimits became more and more competitive against Fountain and began turning heads on and off the race course. There's no better proof of this than Outerlimits earning a series of World Championship titles on the APBA, SBI, and OSS circuits. Yet, one of the most noted victories in recreational performance boating was when Bob Russell of Duvall, WA, and his 42' Outerlimits powered by twin 1400 hp Sterling Performance engines ran a blistering 147.61 mph during an official Poker Runs America Kilo Shootout on the Pamlico River in 2003. With a misconception that Fountain could not be defeated, owner Reggie Fountain didn't enter a factory boat in the event, and went wild at the newly set V-bottom record for poker run boats by Russell and Outerlimits.
It was no surprise to learn, however, that Reggie and Benny Robertson came back strong and set an official APBA V-Bottom kilo speed record of 171 mph with a 42' cut-off Fountain with 1550 hp Sterling engines in 2004. Fast forward to 2014 with the efforts of Mike Fiore, Joe Sgro, Brian Forehand, Dave Scotto and Mark Tuck (of the Atlantic Coast Powerboat Association) who organized an APBA-sanctioned Kilo event to break the long-standing Fountain speed. In the end, following months of preparation and determining tough logistics, Sgro's SV43 Outerlimits with Canadian Dave Scotto's 1650 hp Mercury Racing powerhouses with Number Six drives and six-bladed Hering props were the driving force to set a new official APBA-sanctioned kilo record of an astonishing 180.470 mph, again, in the heart of Washington, NC, on the Pamlico River.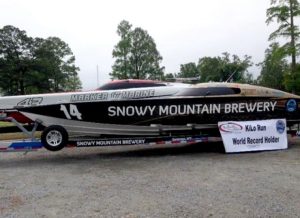 This didn't come easy either. Fiore first devised the project last December following a conversation over dinner with SBI World Championship racer Steve Curtis, whom inquired as to why Outerlimits hasn't yet organized a kilo event to beat the Fountain record. With a decision to move forward, Fiore made a series of calls the next day to Sgro, Forehand, and Scotto and put a team in place. "I called three people in 10 minutes and we put a plan together," said Fiore. "Our goal was to run at least 10 mph faster than the Fountain record – anything less than that would have been disappointing." Forehand spent months working on Sgro's race-bred SV43, adjusting drive heights, gear ratios and propellers. Once everything was in place, he tested the boat for six to seven weeks (with Sgro's smaller 1350 hp Mercury Racing engines) just to determine how the boat would run.
When it came time to install the motors, Dave Scotto had his 1650s at Mercury Racing head quarters for tuning and the Merc' mechanics gave the engines the green light, ensuring the motors were in top form to 
proceed. "Putting a boat together and making a boat go fast is only part of the equation," said Fiore. "Having a body of water and organizing a kilo event is an entirely different story. For that we enlisted Mark Tuck (who formed The Atlantic Powerboat Association for the event). If it wasn't for Mark, his wife Nancy, the volunteers, and all that hard work, there's no way this could've happened. They spent weeks and weeks of tireless work dealing with the coast guard, the local authorities, and the APBA."
When it came time to run, hardship hit early. On the first day, with a lone Forehand at the wheel, a log was hit on the first pass, breaking a skeg and prop, causing a delay. "That was an expensive day," added Sgro. "People who have never organized a Kilo event don't understand how much effort it takes to do something like this. We put together the right group of people and we got it done." On day two, Fiore explained conditions were windier than expected with a 9 mph cross wind, yet they were ideal enough. With Forehand on the wheel again with Sgro in the boat, Forehand pushed the Outerlimits to an official Kilo World Speed Record of 180.746 mph, with unofficial speeds two or three mph above that.
"The boat was so stable. If we had more power, the boat would've kept going and going – we would've hit 190 mph," said Sgro. With victory claimed by Outerlimits and a new record kilo set, it's anyone's guess who will be next to step up to the plate. "Reggie was very good for the sport and he put his whole life into it," said Sgro. "Why did Outerlimits build a better, faster boat everyday? Because Reggie was building a better, faster boat everyday. However, we did the Kilo event on the same course and in very similar conditions as when the Fountain record was set to eliminate any doubt – and we did it. If anyone would ever want to beat us, Outerlimits and everyone would make it happen. We would put the band back together and do it again." PRA